Victoria's Secret's New Era Already Looks Like a Time Capsule
Its new campaign harks back to an era before social distancing.
---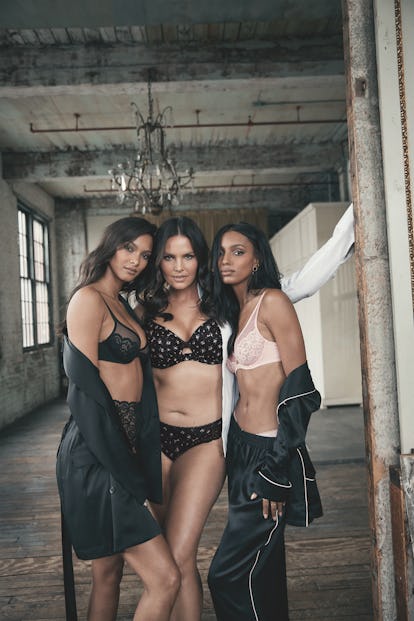 Helena Christensen
Last month, Victoria's Secret attempted to put its past year and a half of turmoil in the rearview mirror by cutting ties with L Brands, its longtime parent company. For the first time in decades, it's operating sans Leslie Wexner—the man who put the company on the map back in the '80s, and stepped down as L Brands's CEO last month amid scrutiny over his ties to the late sex offender Jeffrey Epstein. Victoria's Secret has yet to announce a successor—not to mention one to creative chief Ed Razek, who recently left the company after 36 years after giving an unabashedly discriminatory interview about "transexuals" and plus-size models.
Given those past two controversies, it stands to reason that Victoria's Secret would want to signal a new era by appointing a woman. And, as of this week, it has—though not to a role anywhere near as powerful as its former kingpins. Instead, the brand bestowed the honor of photographing its spring 2020 Body by Victoria campaign upon the photographer, supermodel, and Victoria's Secret Angel vet Helena Christensen.
Christensen made it into a number of the photos, too, conveniently allowing the brand to boast that not only was the campaign photographed by a woman; it also stars one over the age of 50. The now 51-year-old was named a so-called Angel in 1997, as was now 49-year-old Daniela Pestova, who's also in the campaign. They're joined by plenty of younger faces (and bodies). In fact, perhaps too many.
It's unclear when Christensen took the photographs, but even if it was just a month ago, they already serve as a time capsule of a bygone era. It's not so much that Angels with years of loyalty to the brand are still starring in its campaigns. This time around, Barbara Palvin, Jasmine Tookes, Lais Ribeiro and Romee Strijd are joined by Valentina Sampaio, its first openly transgender model, and two models who aren't sample size. (Candice Huffine has worked with Victoria's Secret before, though the campaign marks a first for Solange van Doorn.) If there's any space between each model's body, it's a matter of centimeters—nowhere near the CDC's current guideline of six feet.
Is Victoria's Secret really moving forward? Is Sampaio more than a token trans model to the brand? And is Christensen just the first of a line of women—perhaps not all white, straight, and cisgender—who will step up to its helm? Perhaps. But the campaign is less likely to make you ponder as much as to make you squirm at the sight of so much flesh in such close proximity, with nary a single rubber glove, face mask, or even hazmat suit in sight. Of course, Victoria's Secret is far from the only brand to struggle with moving forward in the midst of a pandemic. But out of all of them, it's difficult to imagine the brand weathering the future when its first sign of it is a symbol of the past.
Related: Victoria's Secret Has Been Sold to a New Owner
A Look Back at the Earliest Victoria's Secret Fashion Shows
Beverly Peele at the first Victoria's Secret Fashion Show, inside the Plaza Hotel in New York, 1995.

Getty Images
Natane Adcock at the first Victoria's Secret Fashion Show, inside the Plaza Hotel in New York, 1995.

Getty Images
Beverly Peele backstage at the first Victoria's Secret Fashion Show, inside the Plaza Hotel in New York, 1995.

Getty Images
Angelika Kallio at the first Victoria's Secret Fashion Show, inside the Plaza Hotel in New York, 1995.

Getty Images
Tyra Banks backstage at the 1996 Victoria's Secret Fashion Show, inside the Plaza Hotel in New York.

Getty Images
Heidi Klum backstage at the 1997 Victoria's Secret Fashion Show, inside the Plaza Hotel in New York.

Getty Images
Tyra Banks backstage at the 1996 Victoria's Secret Fashion Show, inside the Plaza Hotel in New York.

Richard Corkery/NY Daily News Archive/Getty Images
Stephanie Seymour at the 1996 Victoria's Secret Valentine Fashion Show, inside the Plaza Hotel in New York.

Getty Images
Naomi Campbell backstage at the 1998 Victoria's Secret Pre-Valentine's Day Fashion Show, with Jeff Probst, inside the Plaza Hotel in New York.

Getty Images
Claudia Schiffer backstage at the 1997 Victoria's Secret Fashion Show, inside the Plaza Hotel in New York.

Getty Images
Rebecca Romijn-Stamos at the 1997 Victoria's Secret Fashion Show, inside the Plaza Hotel in New York.

Getty Images
Naomi Campbell at the 1997 Victoria's Secret Fashion Show, inside the Plaza Hotel in New York.

Getty Images
Georgianna Robertson in a Valentine's Day ensemble at the 1997 Victoria's Secret Spring Revelations Fashion Show in New York.

Getty Images
Naomi Campbell at the 1997 Victoria's Secret Spring Revelations Fashion Show in New York.

Getty Images
A model wearing a black scuba-diving femme fatale corset at the 1997 Victoria's Secret Spring Revelations Fashion Show, inside the Plaza Hotel in New York.

Getty Images
Naomi Campbell on the runway of the 1998 Victoria's Secret Fashion Show at the Plaza Hotel in New York.

Getty Images
A model wearing a silk handkerchief and a satin thong at the 1999 Victoria's Secret Fashion Show in New York.

Getty Images
Heidi Klum, who wore that year's $10 million "millenium bra," and Karen Mulder backstage at the 1999 Victoria's Secret Fashion Show.

Getty Images
Gisele Bündchen at the 1999 Victoria Secret's Fashion Show in New York.

Getty Images
Tyra Banks at the 1999 Victoria's Secret Fashion Show in New York.

Getty Images
Stephanie Seymour at the 1999 Victoria's Secret Fashion Show in New York.

Getty Images
Gisele Bündchen at the 1999 Victoria's Secret Fashion Show in New York.

Getty Images
Heidi Klum in front of a Concorde jet after arriving for the 2000 Victoria's Secret Fashion Show and charity gala for amfAR during the Cannes Film Festival.

Getty Images
Adriana Lima at the 2000 Victoria's Secret Fashion Show and amfAR charity gala during the Cannes Film Festival.

Getty Images
Gisele Bündchen at the 2000 Victoria's Secret Fashion Show and amfAR charity gala during the Cannes Film Festival.

Getty Images
Alessandra Ambrosio backstage at the 2001 Victoria's Secret Fashion Show at Bryant Park in New York.

Getty Images
Karen Elson backstage at the 2001 Victoria's Secret Fashion Show fittings in New York.

Getty Images
Gisele Bündchen backstage at the 2002 Victoria's Secret Fashion Show, inside the Armory in New York.

Getty Images