Video Explores All of La La Land's Homages to Classic Musicals
La La Land may be that rare original movie musical, but it still takes tons of inspiration from its predecessors.
---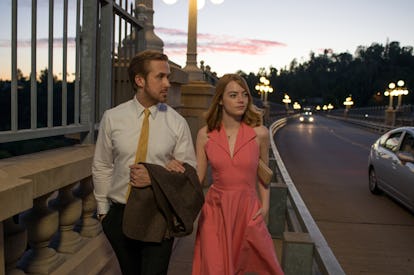 Dale Robinette
La La Land's record-tying 14 Academy Awards nominations seem to make it the film to beat. A surprising feat for one of the first all-original musicals to even be recognized with a Best Picture nomination.
Well, La La Land's plot and music may be all original but certain elements of the film, intentionally, are not. Director Damien Chazelle has been quite open with the fact that his film is an homage to movie musicals of a different era. In particular, he's singled out French director Jacque Demy's 1960s films The Umbrellas of Cherbourg and The Young Girls of Rochefort as his main inspiration.
"I remember when I saw Umbrellas Of Cherbourg for the first time," Chazelle once told Deadline. "Of course I saw it on a crappy VHS tape. It didn't matter. I had never seen a musical like that, a musical that was just as kind of high-flying as the sort of MGM style that it was borrowing from, but dealing with both the highs and lows, so to speak, trying to actually kind of reflect a somewhat more realistic version of life and how things don't always work out in life. There's something just so beautiful and poetic about it, and it's still probably my favorite movie ever. So I feel like [La La Land] kind of started there."
Indeed, Demy's films also owe something of a debt to the classic Hollywood musicals that preceded them. So the result is that La La Land is filled with tiny homages to musical films from throughout history. As IndieWire notes, editor Sara Preciado put together footage from the film with the tidbits they reference from the classics.
There's a healthy share of French films represented in the clip: the aforementioned Umbrellas and Rochefort, but also The Red Balloon, well-known American musicals like Grease, Singin' in the Rain, and West Side Story, plus not quite as well remembered but still classic flicks like A Broadway Melody of 1940, An American in Paris and Band Wagon. Apparently Boogie Nights had its inspirational say as well.
Direct references to classics aren't particularly noteworthy. Quentin Tarantino owes his entire career to mashing up references and homages (incidentally, Chazelle made sure to hire Tarantino's frequent production designer for the film and has also cited Pulp Fiction as an influence). Best Picture winner The Artist was chock full of references to silent classics. Even, the Star Wars saga started off as a space-age homage to Akira Kurosawa movies.
The reason that La La Land has many so excited is that no one's really been bothered to draw inspiration from many of these films in quite a long time.
Watch Emma Stone explain why she sucked her thumb until she was eleven: