Viktor & Rolf Can Still Make You Laugh This Digital Couture Week
The Dutch designers are touting features like spikes to encourage social distancing and padding to "soften the impact of muffled horror."
---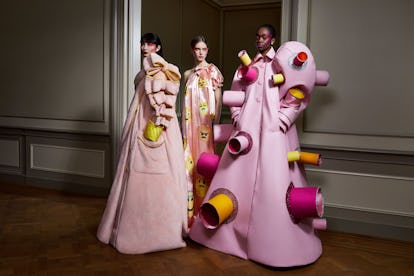 Marijke Aerden
Have you been feeling anxious and confused? So have the Dutch designers behind Viktor & Rolf—to the point that they made an "Anxiety Wardrobe" and "Confusion Wardrobe" for fall 2020 couture. On Wednesday, Viktor Horsting and Rolf Snoeron debuted the collection in a campy, social distancing-friendly video narrated by the singer Mika. And unlike the traditional salon-style couture shows of yore that inspired them, there's a good chance it'll make you laugh.
Each of the three mini-wardrobes—themed love, confusion, and anxiety—is comprised of a nightgown, a dressing gown, and a coat. In the confusion portion, the latter is covered in spikes. "There's a lot to feel angry about, and this garment will communicate exactly that," Mika says.
As for the confusion portion's massive, asymmetrical nightgown: "Its shell of bows endeavors to soften the impact of muffled horror." Completing the "manic mini-wardrobe" is an even more gigantic coat: "Its generous A-line volume guarantees you will remain in your own safe zone while venturing out into the world."
Other standouts include a "one-of-a-kind bathrobe" to rival Palomo Spain's, a rain cloud-covered negligee, and "the smartest new accessory of the season," aka a face mask. But once again, the real crowd pleaser is a nod to the Internet age. Having already made memes into couture, this time, Horsting and Snoeron turned to emojis. "Confusion already reigns in the shoulder line of this nightgown," Mika says as the model twirls, showing off the full range of emotions, fit for couture in satin and lace.
Related: Viktor & Rolf's Spring 2019 Couture Collection Is Full of Memes to Bookmark
Viktor & Rolf's Wildest Wearable Art From the Past 25 Years Show Fashion at Its Most Performative
The House at the End of the World, featuring Heather Marks photographed by David LaChapelle, 2005. Featuring Viktor&Rolf, Bedtime Story, ready-to-wear collection, AW 2005, and featured in the exhibition "Viktor &Rolf: Fashion Artists 25 Years," up until September at the Kunsthal Rotterdam.

© David LaChapelle. Collection Han Nefkens Foundation / promised gift to Museum Boijmans Van Beuningen
Photo © Team Peter Stigter
Viktor&Rolf, Action Dolls, haute couture collection, AW 2017.

Photo © Marijke Aerden
Installation view of Viktor&Rolf, Wearable Art, haute couture collection, AW 15/16, featured in the exhibition "Viktor &Rolf: Fashion Artists 25 Years" at the National Gallery of Victoria, Melbourne, 2016.

Photo: Wayne Taylor
Model Yumi Lambert, seen walking Viktor&Rolf, Van Gogh Girls, haute couture collection, SS 2015.

Photo © Team Peter Stigter. Han Nefkens Foundation / promised gift to Museum Boijmans Van Beuningen
Viktor&Rolf, Hana, Bedtime Story collection, AW 2005.

Photo © Team Peter Stigter
Installation view of Viktor&Rolf, Performance of Sculptures, haute couture collection, SS 2016, featured in the exhibition "Viktor &Rolf: Fashion Artists 25 Years," up until September at the Kunsthal Rotterdam.

Photo © Team Peter Stigter
Viktor&Rolf with Tori Amos, Paris, 2005, photographed by Uli Weber for Vogue.

Photo © Uli Weber
Installation view of Viktor&Rolf x Bob Wilson's stage costumes 'Der Freischütz', presented at the Festspielhaus Baden-Baden, April 2009, featured in the exhibition "Viktor &Rolf: Fashion Artists 25 Years," up until September at the Kunsthal Rotterdam.

Photo: Team Peter Stigter
Installation view of Viktor&Rolf, Action Dolls, haute couture collection, AW 2017, featured in the exhibition "Viktor &Rolf: Fashion Artists 25 Years," up until September at the Kunsthal Rotterdam.

Photo © Team Peter Stigter