Vine is Shutting Down and All It Gave Us Was a Bunch of Famous Teenagers
Vine is shutting down, and perhaps its biggest legacy may be the army of cool teens it gave to the world (and Dolce & Gabanna front rows).
---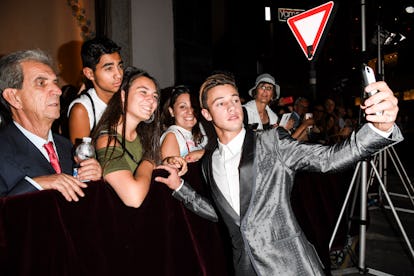 Getty Images for Dolce&Gabbana
Vine, Twitter's attempt to bring their short-form touch to video and a hotbed for a particular style of comedy in which teenage boys wore t-shirts over their heads to signify that they were playing a female character with long hair, will be shutting down in the next few months. Launched in 2013, the site allowed users to upload looping videos limited to run for just six seconds. After an initial burst in widespread interest and creativity, the network soon settled into becoming almost the exclusive domain and teens and tweens thanks in large part to a cabal of homegrown stars who soon came to dominate the app.
Vine's popularity was blunted first by the introduction of Instagram videos in 2013, and then by the platform's budding stars' realization that to extend their 15 minutes they'd have to extend past six seconds and on to other platforms (besides, it's hard to fit sponsored product placement in such a short amount of time, don't you know).
While some of the site's stars may wither like, uh, grapes off the vine, many have already established themselves elsewhere and may prove to be the site's true legacy. Of course, the fashion world, always hungry for what's next and what appeals to Millennial and Gen Z consumers, has adopted many of the Viners as their own.
Kids who first came to attention by filming themselves one-tenth-of-a-minute at a time in their suburban bedrooms now find themselves sitting in the front of European fashion shows and signed to modeling agencies. Here now are the cool teens who represent Vine's greatest gift to fashion:
Cameron Dallas Stats: The site's sixth most followed user, though he hasn't posted since July. Vine Claim to Fame: Comedy, usually performed shirtless or in a tanktop. Fashion Cred: The now 22-year-old has two Calvin Klein campaigns under his belt, appeared on the cover of Teen Vogue and in the page of Vogue Hommes International, went to a Met Gala, and is now in the latest Dolce & Gabanna campaign. In December, he'll also star in his own Netflix series, Chasing Dallas.
Shawn Mendes Stats: 4.5 million followers. Vine Claim to Fame: Short singing clips. Fashion Cred: Most recently seen in the pages of L'Uomo Vogue, Mendes is also signed to Wilhelmina Model's celeb board, though, he's best known for his music endeavors. The Toronto-born teen is like Canada's attempt to give the world a more Canadian Justin Bieber. He's more polite and he plays guitar. His latest track, "Treat You Better," is currently 10th on the Billboard Ho 100.
Neels Visser Stats: 243.5K followers Vine Claim to Fame: Appearing in short comedy sketches. Fashion Cred: Signed by the modeling agency IMG, the 6'1 Visser has a burgeoning legitimate fashion career both on the runway (he walked Dolce's most recent men's show, natch) and in ads (he's currently one of the faces of American Eagle).
Nash Grier States: Vine's second most followed account. Vine Claim to Fame: "Comedy," again. Fashion Cred: Grier's mainstream viability was blunted thanks to a controversy surrounding some homophobic videos the North Carolina teen made in the app's early days. Still, he's found himself front row at a Vivienne Westwood, represented by Next, and the face of a line for Aeropostale. Bret Easton Ellis, of all people, has decided to be Grier's career savior. The author has cast Grier to star in The Deleted, a thriller series that will mark Ellis' directorial debut.
Of course, the App gave birth to several other stars who find themselves excelling in other areas. Disney Channel recruited one Viner, Jake Paul, for a series. Others have signed record deals, expanded their brand of comedy to successful YouTube endeavors, or have burgeoning acting careers. Yet, incidentally, the Viners embraced by the fashion world might have the biggest chance of extending their brands beyond tween-friendly media (social or otherwise), at least in the medium turn.
Though, if you're wondering why this list seems to be made up solely of a certain "type," well, we are talking about a list that represents the middle of a Venn diagram representing the tastes of both teen girls and fashion people.