Viola Davis and Annette Bening Kick Off Oscar Hype in Dueling Trailers
Viola Davis stars in Fences, while Annette Bening leads the cast of 20th Century Women. Both films are expected to be Oscar contenders.
---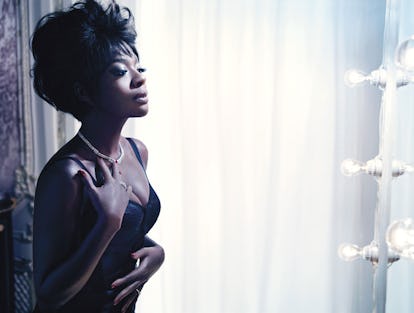 Photography by Mario Sorrenti, Styled by Edward Enninful
Despite the fact that even critics haven't actually seen either's film yet, Annette Bening and Viola Davis are both very much expected to be in the thick of the race for the Oscar statuette for Best Actress. Davis has already won the Tony for her 2010 performance in the Broadway revival of Fences, and she's expected to at least pick up an Academy Award nomination for the film adaptation. Bening, a previous three-time nominee in the category, is garnering pre-release buzz for her role as a single mother in the 1970s-set coming of age flick 20th Century Women.
As it happens, the first official teaser trailers for both films was released today.
Fences comes to the Oscar race with an already gilded pedigree. Davis and Denzel Washington co-starred in the 2010 revival that swept the Tonys that year, picking up awards for both actors as well as for Best Revival of a Play. In the 1950s-set film, Washington reprises his role as a standout baseball player who never profited from his talent because the color line had not yet been broken in the major leagues and now works as a garbage man. Davis plays his wife, and the couple struggles with changing race relations in America through the lens of their sons own athletic ambitions.
Washington directs in his third go-around behind the lens and is expected to be a competitor in both the Best Actor and Best Director race as well. Basically, Fences could have Oscars all around. Which isn't a surprise giving the story's pedigree, and the previous Academy recognition for the main players. Davis has previously been nominated once each for Best Actress and Supporting Actress, while Washington has racked up 4 leading role nods and two supporting nods, winning one of each.
The film only completed shooting this summer, and post-production isn't expected to end until mid-November. The film will debut in select theaters on December 16th and then find a wide release on Christmas Day.
Also announcing her entrance into the race via trailer today is Annette Bening. She leads the female-centric cast of the dramedy 20th Century Women playing a free-spirited mom trying to raise her son in 1970s California. It's a role right in Bening's wheelhouse. Her four previous nominations all come from films with darkly comic undertones.
Greta Gerwig and current W magazine cover girl Elle Fanning round out the cast as a photographer and a friend of Bening's character's son respectively, and both could prove to catch a buzz in the supporting category, but it seems to be Bening's film to carry towards gold statue glory.
Women is director Mike Mill's first film since Beginners. That film won Christopher Plummer the Best Supporting Actor statue in 2011. Women will debut for critics next month at the New York Film Festival, and will receive a limited release on Christmas day.
When both films do find their way before critics, the Best Actress should become a lot clearer.
Also in the midst of the race are actresses like Natalie Portman (Jackie), Ruth Negga (Loving), Emma Stone (La La Land), Meryl Streep (Florence Foster Jenkins) and Amy Adams (Arrival), but most of those films have at least already premiered somewhere on the intercontinental festival circuit.
Watch Viola Davis take Lynn Hirschberg's Screen Test: