Viola Davis Delivers Powerful Speech About Self-Acceptance at the Critics' Choice Awards
"It's hard to accept being a role model for women when you're trying to lose weight," said Viola Davis, who won the award for Best Supporting Actress.
---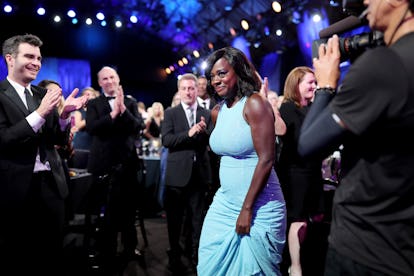 Christopher Polk/Getty Images
If there was a clear winner of this year's Critics' Choice Awards, it was Viola Davis.
On Sunday night, the 51-year-old not only nabbed the honor of Best Supporting Actress thanks to her work in the drama Fences, but also took home the first-ever #SeeHer Award because of the incredible work she's done to further the representation of women onscreen, The Cut reports. Davis received a well-deserved round of applause from her fellow actors and nominees as she walked to the stage to accept the honor from former co-star Amy Adams. "It's hard to accept being a role model for women when you're trying to lose weight," she joked before launching into a speech that proved why she deserved the win.
"I've always discovered the heart of my characters by asking, 'Why?'" the actress told the audience before outlining the mental struggles she went through in preparing for her role as Annalise Keating in How to Get Away with Murder. "I said, 'Oh God, I've got to lose weight. I've got to learn how to walk like Kerry Washington in heels. I've got to lose my belly.' And then I asked myself, 'Well, why do I have to do all of that?'"
Thankfully, Davis discovered that to embody such a strong character all she needed to do was accept herself and the audience would follow suit. "I think my strongest power is that at 10 o'clock every Thursday night, I want you to come into my world," Davis said. "I am not going to come into yours. You come into my world and you sit with me, my size, my hue, my age, and you sit and you experience. And I think that's the only power I have as an artist, so I thank you for this award."
Watch the speech in its entirety, below.
What Everyone Wore to the 22nd Critics' Choice Awards
Emma Stone in Roland Mouret at The 22nd Annual Critics' Choice Awards on December 11, 2016 in Santa Monica, California.

Getty Images
Jessica Biel and Justin Timberlake at The 22nd Annual Critics' Choice Awards on December 11, 2016 in Santa Monica, California.

Getty Images
Nicole Kidman in Brandon Maxwell at The 22nd Annual Critics' Choice Awards on December 11, 2016 in Santa Monica, California.

Getty Images
Amy Adams at The 22nd Annual Critics' Choice Awards on December 11, 2016 in Santa Monica, California.

Getty Images
Michelle Monaghan in Monique Lhuillier at The 22nd Annual Critics' Choice Awards on December 11, 2016 in Santa Monica, California.

Getty Images for Porsche
Sarah Paulson and Amanda Peet at The 22nd Annual Critics' Choice Awards on December 11, 2016 in Santa Monica, California.

Getty Images
Naomie Harris at The 22nd Annual Critics' Choice Awards on December 11, 2016 in Santa Monica, California.

Getty Images
Busy Philipps in Martha Medeiros and Michelle Williams at The 22nd Annual Critics' Choice Awards on December 11, 2016 in Santa Monica, California.

Getty images/WireImage
Rami Malek at The 22nd Annual Critics' Choice Awards on December 11, 2016 in Santa Monica, California.

Getty Images
Mandy Moore at The 22nd Annual Critics' Choice Awards on December 11, 2016 in Santa Monica, California.

Getty Images for Moet & Chandon
Judith Light at The 22nd Annual Critics' Choice Awards on December 11, 2016 in Santa Monica, California.

Getty Images
Lily Collins at The 22nd Annual Critics' Choice Awards on December 11, 2016 in Santa Monica, California.

Getty Images
Anna Elisabet Eberstein and Hugh Grant at The 22nd Annual Critics' Choice Awards on December 11, 2016 in Santa Monica, California.

Getty Images
Kate Beckinsale in Reem Acra at The 22nd Annual Critics' Choice Awards on December 11, 2016 in Santa Monica, California.

Getty Images/WireImage
Greta Gerwig at The 22nd Annual Critics' Choice Awards on December 11, 2016 in Santa Monica, California.

Getty Images/WireImage
Ryan Gosling at The 22nd Annual Critics' Choice Awards on December 11, 2016 in Santa Monica, California.

Getty Images
Hailee Steinfeld at The 22nd Annual Critics' Choice Awards on December 11, 2016 in Santa Monica, California.

Getty Images
Viola Davis in Michael Kors at The 22nd Annual Critics' Choice Awards on December 11, 2016 in Santa Monica, California.

Getty Images
Emmy Rossum in Giorgio Armani at The 22nd Annual Critics' Choice Awards on December 11, 2016 in Santa Monica, California.

Getty Images for Moet & Chandon
Janelle Monae at The 22nd Annual Critics' Choice Awards on December 11, 2016 in Santa Monica, California.

Getty Imaes/WireImage
Bella Thorne in Swati Dhanak at The 22nd Annual Critics' Choice Awards on December 11, 2016 in Santa Monica, California.

WireImage
Felicity Huffman at The 22nd Annual Critics' Choice Awards on December 11, 2016 in Santa Monica, California.

Getty Images
Allison Williams at The 22nd Annual Critics' Choice Awards on December 11, 2016 in Santa Monica, California.

Getty Images/WireImage
Evan Rachel Wood at The 22nd Annual Critics' Choice Awards on December 11, 2016 in Santa Monica, California.

Getty Images for Moet & Chandon
Kerry Washington at The 22nd Annual Critics' Choice Awards on December 11, 2016 in Santa Monica, California.

Getty Images for Moet & Chandon
James Marsden at The 22nd Annual Critics' Choice Awards on December 11, 2016 in Santa Monica, California.

Getty Images
Tracee Ellis Ross at The 22nd Annual Critics' Choice Awards on December 11, 2016 in Santa Monica, California.

Getty Images
Casey Affleck at The 22nd Annual Critics' Choice Awards on December 11, 2016 in Santa Monica, California.

Getty Images
Amatus Sami-Karim and Mahershala Ali at The 22nd Annual Critics' Choice Awards on December 11, 2016 in Santa Monica, California.

Getty Images
Gillian Jacobs at The 22nd Annual Critics' Choice Awards on December 11, 2016 in Santa Monica, California.

Getty Images/WireImage
Watch a video interview with Viola Davis: