Watch Viola Davis Make Her Case For a Second Oscar in 'Ma Rainey' Clip
Here's your first look at what will likely be the next Oscar nomination for Viola Davis.
---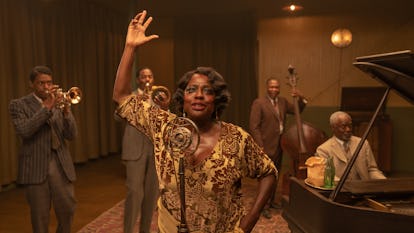 Courtesy of Netflix.
The first trailer for Ma Rainey's Black Bottom revealed that Viola Davis certainly looked the part of the 1920s blues icon, finger waves and all, but the latest clip that Netflix shows Davis taking her performance to the next level.
Davis stars in the film as the titular Ma Rainey, Mother of the Blues, alongside Chadwick Boseman in his final role, Colman Domingo, Michael Potts, and Taylour Paige. Based on August Wilson's play of the same name, the film will focus on a late 1920s recording session in Chicago, wherein Ma Rainey bumps heads with a precocious trumpeter (Boseman) about the potential death of blues and a pivot to incorporating jazz into her band's sound.
When the casting for Ma Rainey's Black Bottom was announced months ago, everyone instantly had one thing on their minds: Oscar nominations. And this clip of Davis embodying Ma Rainey in the film that Netflix released yesterday only further drives home the idea that Davis may snag her fourth Oscar nomination for her role in this film. The actress has been nominated three times before, and took home the Academy Award in 2017 for Best Supporting Actress. She won for her performance in Fences, another August Wilson production from his "Pittsburgh Cycle" that was turned into an acclaimed film, so it's quite possible she could snag another Academy Award nomination for this one.
And in a single tweet, one person summed up what everyone has been thinking ever since this clip was launched: just give her the Oscar already.
Related: Viola Davis to Play Michelle Obama in TV Series—But That's Just The Beginning