Viola Davis Leads an Uncompromising Crew in the New Trailer for Gillian Flynn's Widows
A new trailer for the film cowritten by Gillian Flynn and Steve McQueen shows Viola Davis in charge of a cluster of avenging widows.
---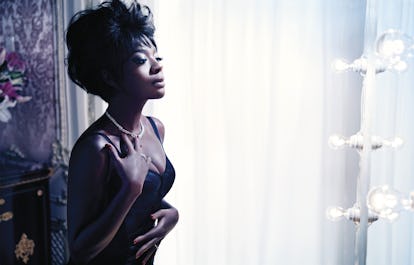 Viola Davis is, once again, coming for that Oscar (or at least a Golden Globe) this fall with her new film, Widows.
Based on a British television series from 1983, Widows follows the grieving wives of four armed robbers who die during an attempted heist, with Viola Davis leading the crew to complete the mission. The film is simmering with a stacked cast—in addition to Davis in the lead, rounding out the cluster of widows tasked with pulling off their dead husbands' final heist job are Michelle Rodriguez, Elizabeth Debicki, and Cynthia Erivo. The rest of the ensemble cast features Colin Farrell, Atlanta's Brian Tyree Henry, Get Out's Daniel Kaluuya, Carrie Coon, Robert Duvall, and Liam Neeson.
Widows boasts a screenplay that was cowritten by Steve McQueen (who also directed the film), director of Shame and the Academy Award–winning 12 Years a Slave, and Gillian Flynn, the mastermind behind the best-selling novels Gone Girl and Sharp Objects. If anyone can successfully adapt some prior source material into an intense film that pleases both the crowd and the critics, it's those two.
The trailer for the film has all the trappings of an action heist thriller—multiple car explosions and presumably narrow escapes from death, ominous mob guys surreptitiously showing up at a funeral, the dramatic unfolding of a blueprint (for robbing, obviously). Plus, there's Cynthia Erivo hitting a punching bag to get swole in the gym, Elizabeth Debicki and Michelle Rodriguez reluctantly going to a shooting range only to realize they are maybe not that skittish after all when it comes to pulling the trigger, and that signature Viola Davis ugly cry. It could potentially be a recipe for some prestigious awards when the film is released in November.
Related: Meet Eliza Scanlen, the Breakout Teenage Troublemaker of HBO's Sharp Objects