Virgil Abloh's Latest For Louis Vuitton May Be His Most Divisive Yet
His spring 2021 men's collection features "puffer jackets" which may as well be art school projects.
---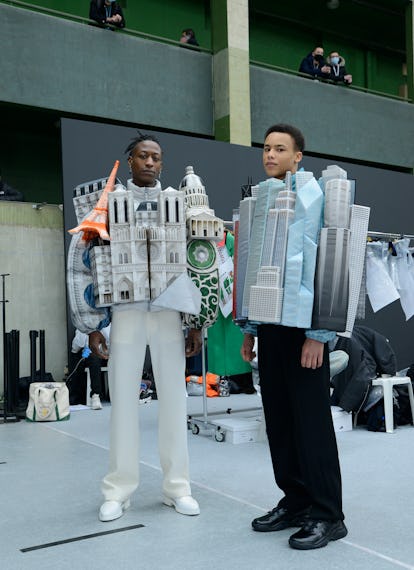 Photo by Mattiheu Dortomb, via Louis Vuitton
Few, if any, designers could have shifted the fashion industry's attention away from the many sartorial statements made on Inauguration Day. But 12 or so hours after Kamala Harris and Jill Biden stepped out in, respectively, Sergio Hudson and Gabriela Hearst, Virgil Abloh managed to do just that. The controversial designer seemed to pour his heart and soul into the Louis Vuitton fall 2021 menswear collection he debuted on Thursday morning. It should come as no surprise, then, that it may be his most divisive yet.
On the one hand, Abloh nailed the themes of diversity, inclusivity, and unconscious biases, symbolized by 70 models who embodied different archetypes. The cast, which was almost entirely nonwhite, included Yasiin Bey (Mos Def) and Kai-Isaiah Jamal, who is now the first Black transgender model to walk for Louis Vuitton. (The show notes features a map of the models' places of birth, as well as those of their parents.)
On the other hand, pulling off such a feat rendered the aforementioned show notes 71 pages long. The PDF contains not just item-by-item breakdowns of each look, but also quotes by philosophers like Nietzche, and four paper dolls. There's even a glossary, with entries ranging from "Zoom call" ("the magic mirror of a globalminded generation in lockdown") to "Kanye West" (Abloh's "mentor and friend"). Abloh knows it's a lot to process; the 54th page features a note thanking readers for their time.
But there's one thing you won't find in the show notes: why some of those models resemble architecture school projects. What the house simply describes as "puffer jackets" are actually wearable sculptures, with miniature recreations of landmarks like the Pantheon, Notre Dame, and the Eiffel Tower. "This what rappers [meant] when they said they got they city on they back," one Twitter user quipped.
The glossary contains two entries under Abloh: the designer's mother, Eunice, and father, Nee. Virgil didn't give himself an entry, but perhaps that's what the show notes are in sum. His first name appears throughout the PDF a whopping 163 times.
Related: Virgil Abloh's Louis Vuitton Shows Keep Driving the Internet Wild