Catching Up with Virginie Courtin-Clarins
The French It girl talks Mugler, nightlife, and more at the Cannes Film Festival.
---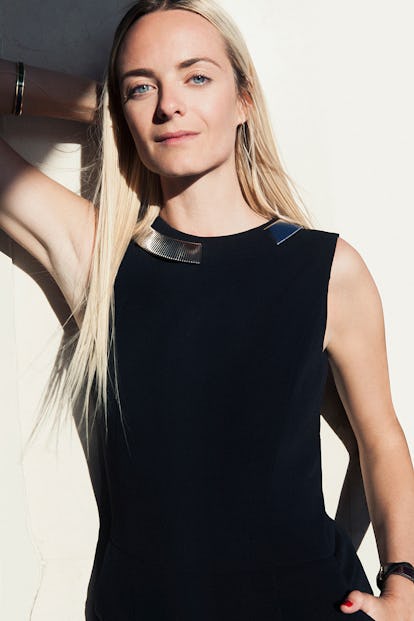 While she's only in Cannes for 24 hours, Virginie Courtin-Clarins—who heads up development, communication, and marketing for French fashion house Mugler— plans to make it a trip to remember. "It's hard to believe I've never been since I live in Paris! I showed up and was like, 'Oh my goodness, this is the Croisette!' I had heard about it, read about it, saw it in films, and now I'm here!" Courtin-Clarins headed to the Côte d'Azur to show off Mugler's SS15 collection, which creative director David Koma describes as "masculine, tailored, and confident." Here, she elaborates on all things Mugler and shares her Cannes to-do list.
What is your first impression of Cannes? Sunny! It was pouring this morning in Paris. It's also crowded and weird. I've been watching the mix of people passing by, from models I know going from one fitting to another, to tourists clamoring to see the movie stars. And then there are all these people looking like they're trying to get cast in films wearing the craziest outfits – it's like Halloween. And it's 3 p.m. It's not even nighttime!
Will you partake in the evening events? Absolutely! I woke up at 5 a.m. to catch my plane but I don't care. I'm having dinner with friends, going to the Mark Ronson concert and then heading to Chez Albane—the owner is known for doing all these parties with movie stars so I feel I have to check that out. And then I really want to go to Le Baron!
Anything you're dying to do before you leave? Yes! I'm dying to go into the ocean. I didn't bring a bikini so I'm thinking of just going in my underwear. That's how much I'm dying to go.
Who's your Côte d'Azur partner in crime? It would be my husband but he's back in Paris. He doesn't like fashion at all – he would never go to anything fashion related. When I stress out about something like whether or not I can have a model for a show, he's like "That's your biggest problem?"
Speaking of shows, how would you describe this collection? David really wanted to do something within the DNA of Mugler – she's a real woman with boobs, curves, and an ass. A sexy woman that's not vulgar. The Mugler woman is strong, interesting, and confident. We wanted to take her from the runway and onto the street, so we introduced all these metal details. It's a material that was really important back in the day for Mugler, helping to accentuate the curves and sexiness of the body.
What other projects are you working on? We are showing resort 2016 in June, and we're also focused on getting the collection ready for the September catwalk. And of course I help with Clarins – it's a family-owned company, so there are always things to do.