Your Guide to The Best Virtual Events, From Studio Visits to Concerts
Check this ongoing calendar for details on the art shows, concerts, and fundraisers we'll be celebrating online until we can reunite in person.
---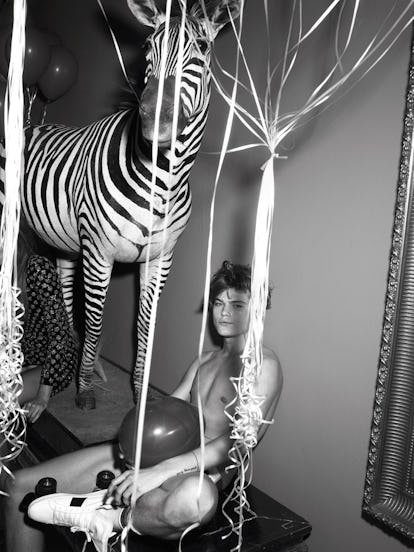 Since shelter-in-place guidelines in response to the coronavirus pandemic were enacted, the once robust events calendar associated with the fashion and pop culture industries has been dismantled—this much is obvious. Not so obvious are the creative ways artists, musicians, designers, and performers are pivoting, moving what would have been in-person events to digital platforms.
To keep track of what's happening when, we've put together this ongoing events calendar, which will be updated regularly. Check back for details on the art shows, concerts, galas, and fundraisers we'll be celebrating online until we can reunite in person.
May
Pace Gallery
Behind the Scenes of Nigel Cooke's "Midnights"
When: Thursday, May 28 at 12 PM Eastern
Where: Pace Gallery's online viewing rooms.
To coincide with his online exhibition "Midnights" at Pace, the artist Nigel Cooke will virtually open up his studio in Canterbury, England, giving art buffs a rare glimpse into his practice and life as an artist who thrives, creatively speaking, on isolation. Pace curatorial director Mark Beasley will moderate the digital studio visit, which is open to the public with RSVP. Reserve your spot here.
The Shed
Up Close Part Four: "What Connects?"
When: Sunday, May 31 at 6 PM Eastern
Where: On The Shed's Instagram (@theshedny) and website.
The Shed, a museum and arts center in New York's Hudson Yards complex, was just hitting its stride with exhibitions featuring Agnes Denes and Sondra Perry. Then COVID-19 hit, and the doors to The Shed closed. In response, curators and staff have created new programming fit for The Shed's Instagram account and website. Up Close is its banner series: every other Sunday, artists are invited to participate in intimate performances, conversations, and even release curated playlists that explore what it means to make art while distanced from their audiences. The fourth installment of Up Close, DIS OBEY, features commissioned works from artists Nova Cypress Black, Tasha Dougé, and Gabriel Ramirez, all of whom are teachers from the DIS OBEY program for young writers and activists. The pieces presented will address the United States' management of and response to the pandemic.
Pride 2020
When: Sunday, May 31 at 3 PM Eastern
Where: On The Lavender Effect's website.
While Pride's annual march won't take to the streets nationwide this year, a slew of virtual Pride events will hit the internet this month. One "parade" is being thrown by nonprofit The Lavender Effect, and will feature appearances by Lily Tomlin, Sean Hayes, Kathryn Hahn, and more. Purchase tickets here.
June
Waxahatchee's Concert Series
When: Every Monday in June.
Where: Noonchorus, an online music venue.
The musician Waxahatchee, née Katie Crutchfield, released her new album Saint Cloud in March, with a tour originally planned for spring. In the wake of her concert postponement, Waxahatchee has announced a series of live streams in which she'll play not only her latest music, but her entire discography. The ticket sales, ($15 per show, and $50 for all five shows) will benefit her band and crew, and a portion will also go to indie promoters with whom Waxahatchee has worked in the past. The series begins on June 1, when Waxahatchee will play her first album, American Weekend, and runs until June 29, whereupon she'll give a live rendition of Saint Cloud in full. Tickets are available here.
Art Basel Forges On
When: From June 19-26.
Where: Art Basel's Online Viewing Rooms
Following Art Basel's completely digital edition of Art Basel Hong Kong in late March, the international art fair is launching its second iteration of Online Viewing Rooms. This time around, 279 galleries, including Blum & Poe, Gagosian, and Tornabuoni Art, are participating. Works will be on view from June 19 to June 26, 2020, with preview days from June 17 to June 19, 2020. And an as-yet unreleased digital events program will be announced soon.
Director Susan Seidelman, in Conversation
When: Tuesday, June 2 at 5 PM Eastern
Where: Indie Memphis's website.
Susan Seidelman redefined the 1980s rom-com, blending dark humor and independent film with the box office hit genre. Her first film Smithereens was the earliest American indie feature to premiere at the Cannes Film Festival, and Meryl Streep and Madonna starred in her movies (you might remember Desperately Seeking Susan). On June 2, the director will join former film critic and W contributor Miriam Bale for a conversation on Indie Memphis's new weekly series, Movie Club.