Vote Jemima! Artists Hank Willis Thomas and Zoë Buckman On Their Choice
The two artists, who collaborated on a campaign poster for W's Art Issue, explain why they nominated their own fictional candidate for 2016.
by Hank Willis Thomas and Zoë Buckman
---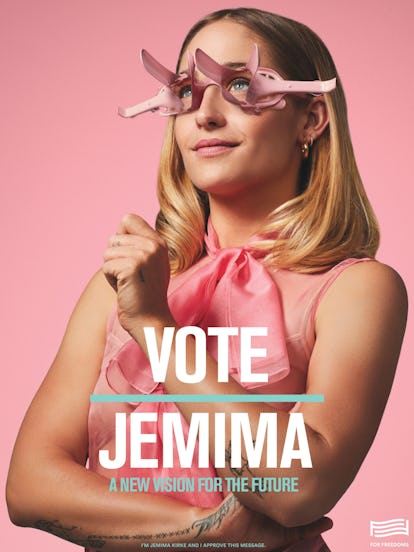 Styling by Sarah Zendejas; hair by Johnny Rackleff at Marie Robinson salon; Makeup by Hiro Yonemoto for Dior at Atelier Management; Manicure by Yuko Wada for Dior at Atelier Management; lighting technician: Hai Ngo; digital technician: Marion Misilim; lighting assistant: Ben Berry; fashion assistant: Alexandra Pastore; Kirke wears Gucci top; Bodas top (underneath); (from left) Theodora Warre earring; Paige Novick earring. Produced by Diane Solway.
Hank Willis Thomas: Zoe, it's been so great working with you this election season on For Freedoms, the artist-run Super PAC that Eric Gottesman and I created earlier this year. You were one of the first artists we asked to come on board. Your work is both unabashedly political and personal, so it can speak to a multitude of issues on many levels. Thank you for taking this journey with us. This project with Jemima Kirke came almost out of nowhere. I remember brainstorming with you about one thing, and the next thing I knew we were talking to W's Diane Solway about creating a political campaign poster.
Zoë Buckman: Hank, thank you for giving me the opportunity to work with you. I'm so inspired by your art practice and by what you're doing with For Freedoms. During many of the politically-motivated conversations we've had, you've expressed the notion that it is better to start conversations, not arguments, with our work. I'm struck by how the concept of community and inclusion is deeply rooted in your work. You produce shows and projects that come solely from you and your mind, and yet you also embark on collaborative projects, oftentimes giving other artists a platform that they wouldn't have been able to get alone. This commitment to a communal practice, in tandem with the work you do alone, is something that goes against the stereotype of the navel-gazing, self-obsessed, tortured artist. Where do you think this came from? What are some of the challenges you face in having such a multi-faceted practice?
Thomas: I'm not sure I'm any less self-obsessed than anyone else. I think I just see myself as integrally connected and dependent on other people, many of whom I don't know. My art practice is an attempt to get to know myself (i.e., "Them"). Muhammad Ali said, "Me, We." I have modified it a little to say: "Us is Them and They are Us." So my practice in its various forms allows me to communicate with many aspects of myself through different approaches.
With this project for W, what do speculum eyeglasses mean for you? Why did you feel we needed to work with another artist (Jemima in this case) to bring this work to life? How do you feel this work could be misinterpreted?
Buckman: I've been working with surgical gynecological instruments for a while, powder-coating them and creating sculptural entities that feel somehow more appealing and yummy than the cold harsh metal we're used to seeing. This work was my response to the attacks on Planned Parenthood (both legislative and physical). It angers me deeply that a woman's access to free sexual health care, as well as her right to choice, is constantly being threatened in the U.S. I believe that women are in fight mode right now, and I was speaking to Jemima about it. I admire her on so many levels — as a mother, artist, friend, actor… she's also really funny and fearless. When W proposed that you and I make a campaign poster for a faux political candidate, I knew Jemima would be up for creating a character. The glasses came out of the idea that we need a politician who, amongst many other things, can really see women and see the world through the eyes of one, but to also give the ad an absurdist quality. We are in a ridiculous situation, and the very notion of a political advertisement is in itself pretty obscene.
Critical thinking and discussion is very much part of what we're aiming for, so misinterpretation is fine with me if it leads to discourse. Sometimes I worry that the artwork we make is preaching to the converted… do you share this fear ever? If so, what do you do about it?
Thomas: I used to, but then I adjusted my lens. I think we, I mean all humanity is in constant process of "conversion." New ideas are like viruses, they spread quickly from person to person. This can have positive and negative outcomes, probably both simultaneously. Most progressive change comes as a result of creative thinking. Naturally, people more prone to conserving are resistant to this. We fear we will lose our innocence or worse if we embrace something new. I think there is something valuable and noble in conservative agendas, because they are always fighting a losing battle. Progress is inevitable. The challenge for progressives is that their work never stops, either. The road to "Progress" is always under construction. Every time we reach a new mile marker, we have to acknowledge that there is even more work to be done.
Buckman: What does it feel like to have gotten married this autumn, and taken such a beautiful and personal step forward in the context of this election and the political climate of 2016?
Thomas: It is really exciting, actually. I only wish my wife was an American so she could vote, but then again her international identity forces me to think of everything in the larger global context. I am both scared and optimistic about the things that have finally been unearthed. A lot of things that we are now finally opening up about in public have been seething below the surface for decades, if not centuries. Now that the doors for discourse have been opened, no matter how ugly, I think we can finally begin to address some deep-seated problems in our culture and our political system. Getting married is a pretty big head trip because the assumption is that we will be together no matter what is to come, hell or high water. In light of what we have learned and continuously ignored about the environment, we might actually be expecting to face both. That is very scary, but I think I have the right shipmate.
Zoe, what does it feel like to be an English woman becoming an American in the time of Trump and Brexit?
Buckman: I was incredibly cynical about becoming a citizen. We are in the midst of a national disaster here in the U.S., and then Brexit (the worst thing to happen to my home country since I've been born) became a reality. I felt like a total fraud taking the pledge of allegiance in the spring given how defeated I felt. And then something truly moving happened when I was sworn in: An elderly female African-American judge overseeing the ceremony made a speech that was truly uplifting. It was a call to action. She told everyone in the room that even though none of us were born in the U.S., we have as much right to be here as anyone else, that no one can take that right away from us but that it comes with a serious responsibility: To vote. I felt excited in that moment to be living here at this time. There's also something liberating about realizing you're at such a low point. All that's left is to act.
The Art of Politics: What Happens When 15 Artists Take On the Campaign Poster
The Italian provocateur Maurizio Cattelan is best known for satirical art works that send up art history and notions of grandeur—institutional or national—such as his life-size wax effigy of Pope John Paul II downed by a meteor. For W, he created an original image suggesting the quackery threatening our most revered symbols.

Produced by Diane Solway
Nina Chanel Abney's large-scale paintings confront the social issues of the Black Lives Matter movement and the relationships between police officers and people of color. Irreverent, bold, and pop-savvy, they're layered with words and faces in a bright mash-up that recalls Matisse's cut-outs.

Photograph by Teddy Wolff. Produced by Diane Solway.
George Condo burst on the scene in the early 1980s alongside artists like Keith Haring and Jean-Michel Basquiat, helping to usher in a new age of painting that mashed up classical sources with a street-art edge. His most widely seen artwork is likely the five provocative covers he made for Kanye West's 2010 My Beautiful Dark Twisted Fantasy. He has titled his W poster All Saints All Souls Election Day…CAMPAIGN FOR FREE TIME.

All Saints All Souls Election Day…CAMPAIGN FOR FREE TIME. Produced by Diane Solway.
The Berlin-based artist duo Elmgreen & Dragset, who created the pool at Rockefeller Center in New York City this past summer and the Prada store in Marfa, Texas, explore identity, sexuality, and mortality in site-specific sculptures and works that are often tinged with dark humor. Their election poster is no different. (There's always hope, right?)

Produced by Diane Solway.
Marcel Dzama, 42, and Raymond Pettibon, 59, began collaborating in the summer of 2015, when they first swapped and completed each other's drawings. In this poster, as in their joint drawings, their styles combine so seamlessly that it's as if each artist absorbed and anticipated the approach of the other.

Oh beautiful tyranny: Courtesy David Zwirner, New York/London. Produced by Diane Solway.
Zoë Buckman and Hank Willis Thomas teamed up to produce a poster for the campaign of a powerful woman—in this case, Jemima Kirke, an artist and star of the HBO series "Girls." Here she wears rose-colored glasses made of specula to envision a brighter future. The London-born Buckman has focused on feminism in her work, while Thomas has long examined how race, class, and sexuality have been depicted in mainstream media and advertising.

Styling by Sarah Zendejas; hair by Johnny Rackleff at Marie Robinson salon; Makeup by Hiro Yonemoto for Dior at Atelier Management; Manicure by Yuko Wada for Dior at Atelier Management; lighting technician: Hai Ngo; digital technician: Marion Misilim; lighting assistant: Ben Berry; fashion assistant: Alexandra Pastore; Kirke wears Gucci top; Bodas top (underneath); (from left) Theodora Warre earring; Paige Novick earring. Produced by Diane Solway.
Founded by American artists Nicole Eisenman and A.L. Steiner, Ridykeulous mounts exhibitions and events primarily concerned with queer and feminist art. Their work uses humor to critique the art world as well as the culture more broadly. As a solo artist, Steiner has worked in performance, video, and photography to explore questions about sexuality, gender, and politics. Eisenman, best known as a painter, was the subject of a solo show earlier this year at New York's New Museum and a 2015 recipient of the MacArthur Genius Grant.

Produced by Diane Solway.
The Turner Prize–winning artist Jeremy Deller, who represented the U.K. at the 2012 Venice Biennale, creates collaborative installations and projects that have included parades and battle re-enactments. His 2001 The Battle of Orgreave, which was filmed, brought together nearly 1,000 people in a public re-enactment of a violent confrontation between miners and government forces. Here he creates a poster in the style of famed 19th-century British designer, craftsman, activist, and poet William Morris, who pioneered the Arts and Crafts movement and was also a social activist. Vote for the artist as social activist.

Vote William Morris, designed by Fraser Muggeridge Studio. Produced by Diane Solway.
Kathryn Andrews's first U.S. solo museum show, "Kathryn Andrews: Run for President," riffed on Bozo the Clown's presidential bid—something Bozo's alter ego, Larry Harmon, actually pursued in 1984. (You might say there are still imitators.) The exhibition included a mural of political-documentary photographs that invited viewers to think about how politicians, celebrities, and artists use imagery to gain and maintain power.

Produced by Diane Solway.
Moscow-born, New York-based painter Sanya Kantarovsky loves pictures—whether by the Russian masters, Western modernists, or Soviet political cartoonists—that tell stories. Drawing on a wide range of sources, his tantalizing paintings and drawings are tense with drama and dark humor.

Photograph by Adam Reich. Produced by Diane Solway.
Born in Poland and based in London, Goshka Macuga, a 2008 Turner Prize nominee, makes large-scale tapestries, sculptures, photographs, and theatrical installations that explore how art can be used to spark public debate and bring about social change. She was the subject of solo shows earlier this year at the New Museum in New York and the Prada Foundation in Milan.

Produced by Diane Solway.
The Art of Politics: What Happens When 15 Artists Take On the Campaign Poster