Step Lively
New French label Vouelle is enchanting girls-about-town, one festooned *chaussure* at a time.
---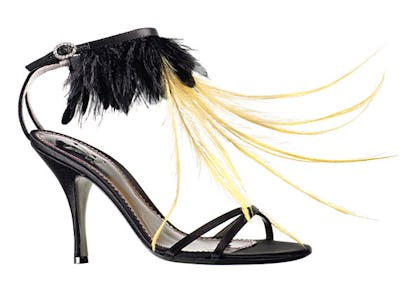 Her wedding was mere days away, but Melissa Regan—soon to become Melissa Regan de Vogele—was missing one crucial piece of her trousseau: the shoes. "I found two different pairs that I returned, and then bought a super­expensive pair, which I wore, and they tore up my feet," Regan de Vogele says with a sigh. A Paris-based former finance executive who admits to scrutinizing a woman as soon as she walks into a room—"Does she have a manicure, and does she have nice shoes?"—Regan de Vogele swiftly became a newlywed on a mission, enlisting her friend Michelle Boor, a Theory design alum and a fellow Paris transplant, to design a few wedding shoes. Twelve satin, lace and Swarovski-studded styles and an order from Galeries Lafayette later, et voilà: Vouelle was born for fall 2008 with a bridal focus, which for spring the partners are expanding into a full evening collection.
And though one might argue that department store shoe floors are rife with Jimmy Choo and Christian Louboutin look-alikes, the pair's frothy lineup of peacock feather–festooned stilettos, python-wrapped pumps and satin slingbacks is anything but been-there, worn-that.
"The woman who wears our shoes is going out; this is not sportswear," says Boor, who interned with Alber Elbaz at Guy Laroche after graduating from New York's Fashion Institute of Technology. Indeed, with their pheasant plumes and black lace, these shoes, which are named for the two women's friends, can hardly be imagined tucked under a denim hem. A distinctive, elaborate glamour runs through the collection, with Paul Poiret–inflected pieces like the Carla (a black organza loop sits atop the sandal) and the Dana (feathers fan out from the pump's side seam) mixed with more straightforward strappy sandals in shades from plum to icy pink. With the exception of one flat—the Jeanne, a slingback covered in silk pleats—this is fragile, high-heeled fare, though Boor says the fall lineup will include more patent leather and a platform or two. ("But we're not going down the road of RuPaul sandals," she says.)
It helps that the burgeoning cobblers have a technical adviser with shoemaking in his blood: Alain Mancini, son of René Mancini, who designed shoes for Cristóbal Balenciaga and was said to be a favorite of Grace Kelly's. Mancini is a friend of Boor's and came aboard Vouelle last year as the partners were trying to navigate the clubby world of Italian workshops. "It's like having a master sewer on your team," explains Boor. "I can stick to sketching and designing, and Alain makes sure all our samples get made." Which leaves Regan de Vogele (who, along with her husband, Julien, is a director of the company) the task of getting the delicate creations on girls-about-town, not to mention brides-to-be.
Despite the woeful retail climate, and a price tag of about $850 a pair, Vouelle, contends Regan de Vogele, will be no flicker on the accessories scene. Buyers at Harvey Nichols, she says, "loved" the spring collection, but they felt British women would be keen on a higher heel. So up, up, up went the prototypes for fall, from nearly four inches to four and three quarters. "We're incorporating changes based on what buyers want," Regan de Vogele says. "Not neglecting our signature look, but making sure the whimsy gets worn."