Round Trip
Travel is the theme of Louis Vuitton's new fine jewelry collection.
---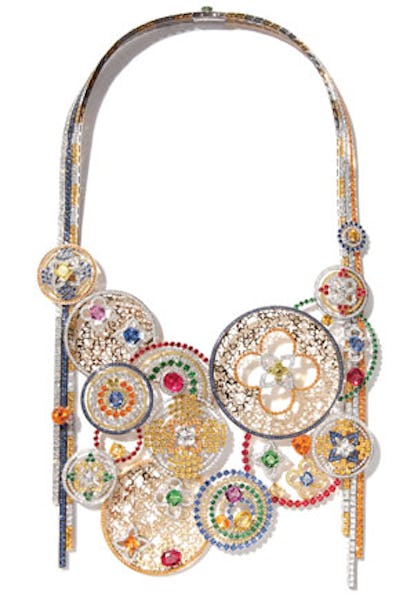 Send Lorenz Bäumer to an exotic destination and he's liable to come back with tales of circles. "In all the cultures, civilizations and trips that I've encountered, there are always circles, and they always symbolize perfection," the jewelry designer marvels from behind a desk at his offices in Paris's Place Vendôme, with their stunning view of the square and its—what else?—circular column. In his hometown alone, Bäumer has oodles of rounds to inspire him, from the colorful macaroons at the pastry temple Ladurée to the rose windows at Notre Dame, designed, he says, to "tell stories for the people who couldn't read…[showing] the beauty of God through stained glass."
The talk at the moment, however, is of Bäu­mer's first collection of high jewelry for Louis Vuitton. The firm gave him a free hand, and the results, to be unveiled in October in Paris, are six sets, a one-of-a-kind necklace the focal point of each, with prices running up to $2.5 million.
Named L'âme du Voyage ("the soul of the trip"), the line connects Louis Vuitton's travel heritage with Bäumer's own penchant for going places. The son of a diplomat, he has lived in Bonn, Germany; Amman, Jordan; Montreal; and Tel Aviv. Picking up a copy of The Egoistic Dictionary of Lorenz Bäumer, published in 2007 to mark his first two decades as a Place Vendôme jeweler, he flips to a spread of objects collected on his journeys for his cabinet de curiosités. "It's really interesting to see Egypt, South Africa, Beirut, Japan, Burma, Indonesia," Bäumer says, jabbing his finger onto the page as he recalls each one. "All the things that inspire me, they come from all over the world."
Vuitton hired Bäumer—who, in addition to creating for his namesake firm, had designed anonymously for Chanel and Baccarat—to herald its arrival onto the international haute jewelry scene, eight years after house creative director Marc Jacobs designed a charm bracelet on a whim. "We thought it was time to go to the next step," says Yves Carcelle, Vuitton's chief ­executive. "Vuitton has a strong point of view on everything we do."
Bäumer, for his part, says his mission is to help Vuitton be "recognized, admired and respected as a jeweler. We wanted to show at the beginning the vision, the capacity of creating incredible pieces in terms of craftsmanship, and the ability to tell a story. It's like writing a book. We just wrote a chapter."
So far, it's gripping stuff. Circles—in white, red and yellow gold, overlapping and glinting with colorful stones—make up one bib style, which Bäumer refers to as Masai in honor of the bright collars worn by the semi-nomadic African people. Another piece is an architectural marvel of swooping ovals and loops that intertwine, with sapphires the faintest blush of pink sheltered amid a roller coaster of small white stones. The inspiration? "It's a mixture between a wire, an umbrella and a bow," says Bäumer, who's wearing his signature head-to-toe black. "It could be [inspired by] the architect Santiago Calatrava, who does really deconstructed things, or it could [reflect] the details in a Gothic church. That's the idea. When you come back from a trip, you see things flash back in your memory."
While Bäumer is the type of jeweler who emphasizes design over materials, he's delighted that in his arsenal of gems are two Vuitton diamonds with patented cuts—a rounded-cut flower and a pointed-cut version—that mirror the shapes of the house's monogram motif. The stones, which boast between 61 and 77 facets, are extremely rare. "There's only one place you can find these diamonds, and it's at LV," he says, a big smile spreading over his boyish face.
The monogram shapes also register subtly in a laser-cut gold lace Bäumer created to use on the bib necklace, as well as on earrings and rings. He says he relishes the chance to play with other Vuitton hallmarks, from the gold and brown color combinations to the hardware on trunks. Still, it's hard to pin Bäumer down to a specific design aesthetic. He collects everything from 19th-century tie pins to the Campana brothers' furniture and has to pick his way through the myriad objects cramming his offices—a rare Art Deco chair here, a framed but not yet hung contemporary photo there. Meanwhile, Vuitton's travel roots should give Bäumer plenty of fodder for future collections, for which he plans to take a wardrobe approach, creating jewels that correspond to everything from a bikini to a couture dress.
And how will he measure his success at Louis Vuitton? In the same manner as at his own firm. "If you're a jeweler, you're selling love, feelings, happiness, so the more you can cater to this, the more of a jeweler you are," he says. "When a woman gets jewelry and glows, then you're a great jeweler."