W Art Issue May 2015: Editor's Letter
W's editor-in-chief weighs in on art's new frontier.
---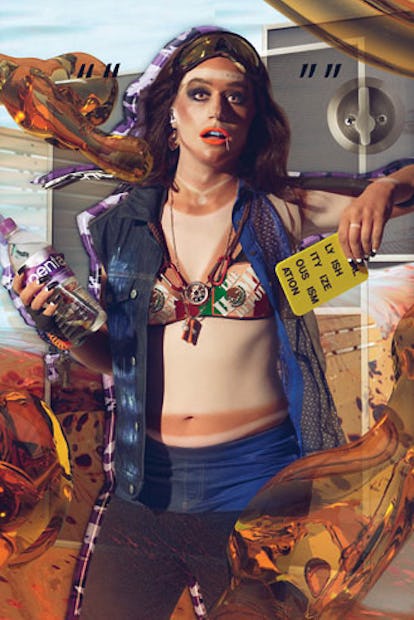 "You remind me of karaoke," quips the artist Ryan Trecartin in the hybrid poem-script-essay that he included in the catalog and wall texts for "Surround Audience," the exhibition he co-curated with Lauren Cornell for this year's New Museum Triennial, in New York. That particular tidbit caught my eye because it's undeniable that a lot of today's digital art has the entertainment value—not to mention the layering and appropriation of ideas, and the dependence on technology—of an immersive karaoke performance. Trecartin, a Net Generation guru, was the subject of one of my favorite stories from W's November 2010 Art Issue, in which he gave a visionary quote: "I think technology is us, not something we invented. When people start seeing technology as us, as humanity, our whole idea of what existence is is going to shift." Undoubtedly, technology is now an absolutely essential part of many artists' practices. In this issue of W Art, we explore the influence of the digital world on the art world and celebrate artists who are taking risks, challenging their audiences, and ultimately flattening age and time.
We started by looking at art organizations that exist entirely online, selling work (paddle8), covering the news (Artnet), and connecting the dots (Artsy), all the while creating digital communities. In "Art 2.0", Associate Editor Fan Zhong surveys a generation of artists who grew up with broadband and are making work entirely on their computers that contains some of the DNA of traditional mediums like painting, photography, and performance. Net artists like Petra Cortright, Jordan Wolfson, and Cory Arcangel may have started out on the fringes of the art world, but they've come to represent the emerging establishment. And if many of these artists find it difficult to translate their ideas into 3-dimensional (read: sellable, collectible) objects and prints, that is exactly the point—canvases are things their grandparents hung on their walls over the sofa.
Curiously, this discomfort with traditional forms is something that the new generation shares with many artists now in their 80s, whose groundbreaking work from the '60s and '70s is only now being truly appreciated. As Linda Yablonsky reports in "Young at Art" , the art world's obsession with youth might very well be fading. It is finally ready to give credit to a group of game changers who, driven by feminist, racial, and gender-identity politics, altered every existing medium and invented a few new ones along the way, too, opening the doors for much of the cutting-edge video and digital art we have today.
Nobody personifies the revolutionary spirit of this issue better then our cover heroine, Yoko Ono, who, at 82, is being celebrated by the Museum of Modern Art in "Yoko Ono: One Woman Show, 1960–1971." It's about time—Ono's importance as a conceptual artist has long been overshadowed by her celebrity status and her place in history next to John Lennon. As you will read in Arts and Culture Director Diane Solway's passionate profile, more than 40 years ago, Ono created a guerrilla-style happening she called The Museum of Modern [F]art, in which visitors exiting the institution were asked about her show there, which hadn't actually taken place. For this issue, she collaborated with W to create a unique cover reminiscent of one of her posters from 1961, and also reenacted Cut Piece, a powerful performance from 1964, in which people from the audience sliced clothes off Ono's body. Like many contemporary artists today, Ono implicated viewers in the completion of her work, in an effort to change their perception of the world. Like Trecartin, and so many of the talents featured in this issue, Ono was well ahead of her time.