New Pop-Up Brow Bar at Topshop SoHo
London's Blink Brow Bar, b London, has opened a pop-up at Topshop in SoHo through December 23rd. Beauty editor Katie Becker goes in for the tweeze.
---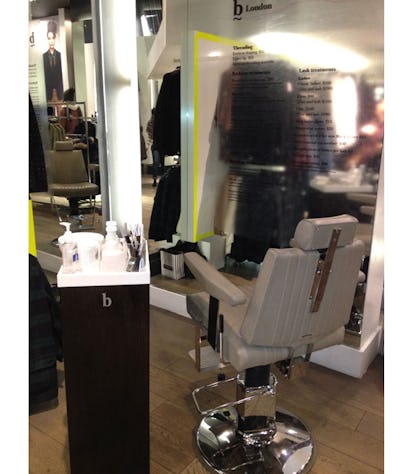 Here's a serious high point for me as a beauty editor: Last fall, backstage at Michael Kors Spring 2013 show, makeup artist Dick Page was telling a group of editors, "Everyone looks better with a strong brow"—then added, looking straight at me—"as you very well know." If you've ever been flattered by the flirtatious Brit, you know what I mean.
Blush.
Even though I naturally have a good pair, they're still a far cry from the Cara Delevingne arches I've been dreaming of since September. So yesterday, I visited the pop-up shop for the UK's Blink Brow Bar, b London, which is newly nestled inside Topshop in SoHo. I met with Sabah Feroz, whose skilled hands will be working at this location through the holidays as well as her usual station midtown at Henri Bendel. Her Brow Enhancement treatment included tinting, shaping, and the promise of "maximum impact." Perfect. Feroz not only managed to make me feel comfortable lying in a treatment chair amid the store's winter outwear, but now, a day later, even without a stitch of makeup on them, my brows are about half a Cara, wouldn't you say? And that's definitely not half-bad.
B London x Topshop will be open until December 23rd with a menu that includes basic threading, lash tinting, and other lash and brow treatments.