W is With Her
In his November 2016 editor's letter, W's editor-in-chief Stefano Tonchi reflects on the annual Art Issue and endorses Hillary Clinton for president: "This election, like no other, is about a clear, moral choice.'
---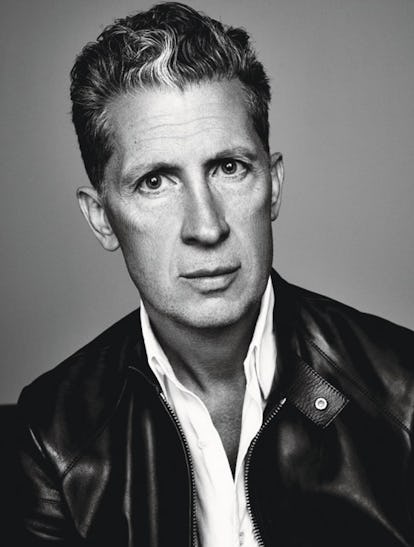 Photograph by Steven Klein
This November marks the 10th anniversary of W's Art Issue, in which we feature unique collaborations with leading artists from all generations, working across all mediums. From Barbara Kruger's nude Kim Kardashian to Maurizio Cattelan's controversial Linda ­Evangelista, from George Condo's painterly Jessica Chastain to Richard Prince's glamorous celebrity head shots, the covers of our special Art Issues have long mirrored our obsessions with pop culture and contemporary art through the years.
We could have simply looked back and revisited all the things we have already accomplished, but we decided to celebrate this milestone by inviting to the party a new group of ­artists who are challenging the meaning of art itself and blurring the lines between disciplines like never before.
As always, capturing the time we're in was our main objective. No matter the era, the best artists have always layered multiple messages and meanings in their work—be it painting, sculpture, ­performance, photography, or film. How could we connect the dots between the rarefied world of museums and galleries and what's happening in fashion, on the streets, and even in the digital arena, which has become its own creative universe?
Our cover artists, Lizzie Fitch and Ryan Trecartin, were the perfect choice to bring all these elements together. The duo, known for mesmerizing, immersive video installations that upend conventional notions of perception and identity, have been featured in the Venice Biennale and at museums like MoMA PS1, in New York, and the Museum of Contemporary Art, Los Angeles; and yet, they are keenly in sync with what is happening in the culture at large. We paired them with Kendall Jenner and Gigi Hadid—the models and social media stars of the moment—who gamely embraced the unconventional shoot, in which they were transformed into human-animal hybrids from an imaginary future. As Trecartin told our [Arts and Culture Director, Diane Solway, in her amusing yet incisive profile: "There's a certain power that animals have over us when they respond to us in unexpected, friendly ways. It's really them domesticating us more than us domesticating them, because they're training us to want them."
In addition to dealing with anthropomorphic transformations, Solway, who has been a driving force in covering the art scene for W for most of the decade, reached out to Isa Genzken, another artist who deals with shifting notions of identity. In an exclusive project, Genzken created a series of her signature mannequins, which she dresses and arranges using clothing and props that hold meaning for her—only in this case, she worked with specially selected looks from the fall collections.
In the meantime, Features Director Alix Browne flew halfway around the world, to Shanghai and Beijing, to meet the artist Liu Wei as he collaborated with Max Mara on a collection of luxurious clothes with an unexpectedly strong edge. She also worked with the novelist Hanya Yanagihara, who gave us "Achilles and Patroclus on the Upper East Side," a beautiful piece of fiction to accompany an eccentric visual story conceived by the artist Alex Da Corte. Set in a renowned art world couple's Jacques Grange–designed Manhattan apartment, this is anything but a conventional interiors spread.
Finally, for "The Art of Politics," we persuaded 15 ­artists to create the campaign posters they wish they had seen in this incredibly surreal election cycle. The results are simultaneously witty, thought-provoking, and, at times, terrifying.
Just in case you were wondering where I stand: This election, like no other, is about a clear, moral choice. Our children will have to live with the consequences of our decisions, so…I'm with her!
We hope that these posters—and this entire issue—will remind you of art's enduring power to promote progressive ideas and encourage freedom of expression and thought. Here's to the next 10 years.
Watch W's most popular videos here: