W Movie Club: '90s Rom Coms, Real-Time Experiments, and Artsy European Fare
Features editor Andrea Whittle recommends her favorite films, from 90s rom coms like My Best Friends Wedding to drawn-out romances like Cleo from 5 to 7.
---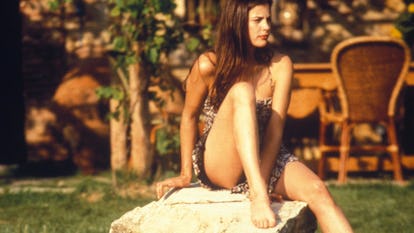 Welcome to the W Movie Club, a new series in which W magazine's editors pick five iconic films to watch while in quarantine. This week, features editor Andrea Whittle shares some of her favorite '90s romantic comedies and artsy European classics.
I couldn't make it through the first episode of Tiger King. At the end of a stressful day, I want to watch beautiful things that make me feel good. I want to lie down and be swept up in wit and romance, to be inspired by great clothes and the kind of soundtrack that makes you want to get in your car and drive around just so you can sing every word at the top of your lungs. If gritty, dark, and dramatic is your thing, this is not the list for you.
These are some of my all-time favorites. They're all highly aestheticized, sentimental fare with a nice balance of humor and heft. But as I started writing, I realized there were a few specific elements that hold them all together: Two of the films play out in real time in Paris; two of the protagonists are sharp, funny takes on the archetypical New York Woman; two pivotal scenes feature very well-deployed Nina Simone songs, and all of the stories center around love stories that grow out of long, deep conversations rather than the classic Hollywood meet-cute trope. I think it's more interesting to watch a connection between two people develop naturally instead of just having to assume it's there based on four seconds of intense, slo-mo eye contact and a dreamy montage set to a Shins song. It's more like real life.
So if any of that sounds appealing to you, put your phone in the other room, pour yourself a big tumbler of cold white wine or a nice cup of tea, wrap yourself up in something soft and hit play.
My Best Friend's Wedding
This late '90s rom com is the pinnacle of the form. A childhood favorite that really, really holds up. It's Julia Roberts at her absolute best, playing a spiky, impulsive Manhattan food critic on a mission to break up her best friend (a brooding Dermot Mulroney) and his bride to be (Cameron Diaz, as a pitch perfect Chicago princess) after convincing herself she's madly in love with him. It's dated in a good way (cell phones are the size of bricks, and the pair made a pact to marry each other if they were still single at 28), but the fact that Roberts' character strays away from the stereotypical "nice girl" heroine keeps the whole thing feeling fresh. Also, the soundtrack includes not one, but two versions of I Say A Little Prayer.
Cleo from 5 to 7
Last Friday night, I sat on my bathroom floor, gave myself a manicure, and watched this. Both activities cheered me up and depressed me in equal measure. Agnès Varda's first feature follows a young singer as she goes about two hours of her life in Paris in 1962, awaiting the results of a medical test. She visits a fortune teller, wanders in and out of cafés, tries on hats in a boutique, steps into a crowded bus—all totally banal activities that take on extra poignancy during life in lockdown. Cleo, who lives in one of the best apartments in film history, is childish and entirely self-absorbed, but Varda's lens holds back from judging her too harshly. It's a sweet, simple, human story. As an added bonus, the clothes are exceptional and the men are all gorgeous.
Stealing Beauty
I first learned about this movie a couple of years ago from my friend Julian, who has impeccable taste in everything and an encyclopedic knowledge of Italian film history, and I've watched it over and over again since. The screenplay was written by one of my favorite novelists, Susan Minot (if you haven't read Evening, do it now!), and it's one of director Bernardo Bertolucci's quieter, more romantic films. The story centers around a teenage girl (played by Liv Tyler, in costumes designed by Armani) who spends the summer in Tuscany at the compound of friends of her late mother, among a cast of characters that includes an ailing Jeremy Irons and a cold, scheming Rachel Weisz. She has two missions: to figure out who her father is, and to lose her virginity, both of which lead her on a strange, dreamlike journey through olive groves and dilapidated villas and a series of interactions with men whose intentions span the spectrum of innocence. One of the most memorable scenes (linked above) takes place during a trippy, debauched party populated by modern dancers and drunk aristocrats, set against the sounds of Nina Simone.
You've Got Mail
Being in quarantine has put virtual romance at top of mind. There has never been a better time to strike up a passionate e-mail correspondence with a stranger—which brings me to this gem. Sometimes I feel like the fact that this is one of the smartest, sharpest, warmest romantic comedies ever written (by Nora and Delia Ephron!) gets eclipsed by the discourse about its schlocky Internet 1.0 aesthetic. It's one of the great Manhattan movies, depicting the microcosm of the Upper West Side in loving detail, from the decor in Meg Ryan's parlor floor apartment to the publishing industry jargon thrown around by Parker Posey's character.
Before Sunset
If you haven't watched Before Sunrise, do that first and then read this wonderful New York Times oral history about the making of the film. I will wait here. Okay, have you watched it? Did you love it? Great. The second installment in Richard Linklater's "Before" trilogy is even better. Like Cleo, it takes place in real time, following Ethan Hawke and Julie Delpy's characters around the streets of Paris, nine years after they spent the night together as strangers in Vienna. While the first movie is pure adolescent escapism, this one feels more grounded and grown up, the tension more real, the stakes higher. And, like Stealing Beauty, it includes another great Nina Simone song, closing out the film with a sequence that could melt even the most hardened heart.
Craving more movie recommendations? Check out the previous editions of W Movie Club:
The Films that Remind Sara Moonves of Her Favorite Shoots
Maxine Wally's Serious Drama Lineup (Plus Legally Blonde)
The Best New York Movies, According to Lynn Hirschberg