In the Era of the Impossible News Cycle, Artist Wade Guyton Is Translating Screenshots to Painting
The artist's new exhibition at the Serpentine Galleries freezes the news cycle into painting.
---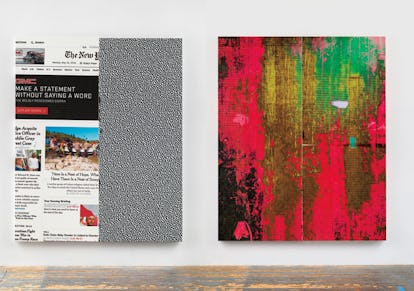 Ron Amstutz, courtesy of the artist
Wade Guyton makes art in the disorienting space where the digital and analog, the real and immaterial, blur—or jam up. For more than a decade he has been feeding canvas and linen through Epson inkjet printers, generating his black monochromes, letters, and flames from computer files, and letting the works carry the marks where the process malfunctioned. "We recognize them as paintings, but they are really on the very, very edge of what painting can be considered to be," says Rebecca Lewin, exhibition curator at the Serpentine ­Galleries, where "Das New Yorker Atelier, Abridged," the 45-year-old New York artist's first solo London show, opens ­September 29 (through February 4, 2018).
The exhibition maps Guyton's practice through an intriguingly diverse range of paintings from 2015 and 2016. One was made with a picture of One World Trade Center that he shot on his iPhone from his studio window, others with photo-saturated screenshots of the New York Times home page. Frustrated with his progress on a particular painting, Guyton recalls reading the news and realizing, "I just need to make something."
The resulting works, a few of which debuted in New York in the wake of the Trump victory, are snapshots of both technology and the news cycle, quick-flowing forces eerily frozen in time. "We installed that show the day of the election," Guyton says. Once the winner became known, "suddenly all the work looked completely different."
See W's most popular videos: