Now and Zen
The rags-to-riches story of Chinese jewelry designer Wallace Chan.
---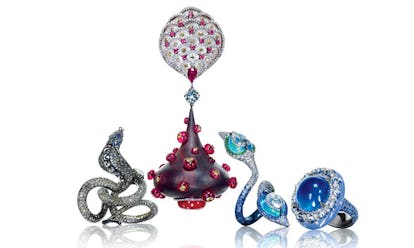 As a child growing up in the poverty-stricken ranks of Hong Kong, Wallace Chan spent his days folding sweaters and assembling plastic flowers to earn extra income for his household. At age 16 he became a full-time carver's apprentice, whittling traditional Chinese tchotchkes and religious figures. Nearly a decade later he turned his sights on Western sculpture to master cameo and intaglio techniques.
Wallace Chan
By the early Nineties, however, Chan, 53, had transitioned into jewelry design. "I started to explore different facets, light and reflection," he says. When he couldn't find the appropriate equipment for his increasingly experimental cuts—including the Wallace Cut, which creates multiple reflections within a stone—he studied mechanical engineering, "so I could make the right tools." Fast-­ forward to today, and his current collection, sold at Neiman Marcus and Bergdorf Goodman, features handcrafted objets d'art—among them, butterfly brooches with real lepidoptera wings encased in crystal, and pearl rings engulfed in diamonds—and maintains that same focus on light and color. Much of it is also influenced by Buddhism: In 2000 Chan went on a yearlong Buddhist retreat. "[The experience] made my works more sensual, not spiritual," he explains, "because I now felt that this world was the only thing we have. There is no beyond, no afterlife." Chan is referring to the Buddhist concept of nirvana. Ask about his design sensibility and he is similarly elliptical; phrases such as "illusion breeds reality" and "all is me, and I am all" come up in conversation.
Whether jewelry enthusiasts will grasp the metaphysical symbolism at the heart of his elaborate creations, there's no denying their stunning seduction. Chan embeds lavish gemstone into gemstone and, rather than the oft-used gold or silver, employs diamonds, jade and emeralds as prong settings. He also eschews traditional metals for titanium. "Imagination, not weight or material, is the limit," says the designer. Yet imagination doesn't come cheap—his pieces retail from $50,000 (for a gold, crystal and diamond ring) to upwards of $7 million (a jade necklace-and-earring pa­rure). This fall, however, he launched a secondary collection priced from $8,000 to $100,000. The line is named, fittingly, Chan & Zen.
Styled by Talya Cousins.