Firm Foundation
Philanthropist Wallis Annenberg—and her family foundation's $2 billion money pot—wows Los Angeles.
---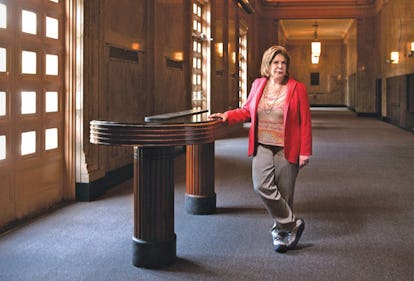 The Los Angeles branch of the Annenberg Foundation, a family philanthropy that has given away $3.6 billion over the past two decades and still has $2 billion in reserve, perches a few floors up from the powerhouse Creative Artists Agency in a gleaming Century City tower. The office is a neutral-tone study in corporate beige, but the woman who steers the foundation from its glass boardroom is anything but bland. Wallis Annenberg, in her 60s, the only surviving child of the late press lord and billionaire philanthropist Walter Annenberg, is largely unknown outside of nonprofit circles, but she is a stealth patron of the Los Angeles arts scene and, despite her low profile, a Technicolor personality. Among the many recipients of her largesse, Annenberg enjoys almost royal deference, yet when she sits down for a rare interview, she speaks less like a cultivated grande dame than a worldly pragmatist—she's a taking-care-of-business kind of leader whose business just happens to be giving away a family fortune.
Not a Cornfield, a project in downtown L.A. by her daughter, artist Lauren Bon.
"Every cause sounds wonderful," she says when asked how she sorts through the countless calls for her time and money. "[But] it's like reading a real-estate ad. You get there and you're like, 'Where's the wood-burning fireplace?'"
Annenberg, who grew up in Washington, D.C., but has lived in Los Angeles for some 30 years, became the foundation's vice president upon her father's death in 2002. (His widow and Wallis's stepmother, Leonore, is president, although, at 90, her role is increasingly emeritus.) With little fanfare, Annenberg has slowly but surely emerged from his shadow and, as she has directed $65 million in foundation funds toward cultural institutions in her adopted hometown, quietly become one of the biggest cultural benefactors on the West Coast.
"I'm very partial to Los Angeles," she acknowledges, before bluntly pointing out the obvious fact that museum directors all over the country are very partial to her. (She recently gave $5 million to the Museum of Modern Art in New York for initiatives such as "audience development.") "I will admit that many institutions have sent gold chariots for me. It's very nice, but it doesn't impress me. I have a knack that I inherited from my father: I can pretty well size up a situation in about two seconds. I don't waste too much time."
Like the evening she was having dinner with Michael Govan, the Wallis Annenberg director of the Los Angeles County Museum of Art, where she is a trustee. Their conversation turned to photography, her artistic passion, and they discussed a major collection assembled in Los Angeles by
Marjorie and Leonard Vernon—a history that includes vintage masterpieces by Julia Margaret Cameron, Edward Weston, Imogen Cunningham and Edward Steichen—that was about to be sold.
An Imogen Cunningham photograph in LACMA's Vernon Collection, bought with a $23 million Annenberg Foundation grant.
"She just said to me, 'We can't let that collection leave Los Angeles,'" recalls Govan. Her $23 million gift, which he calls "herculean" and typical of Annenberg's preference for "the very big gesture," covered the costs of acquiring the Vernon trove, endowing its upkeep and building a study room for the public to digitally access all 3,500 prints.
Annenberg sits on boards at top cultural institutions all over town—the Los Angeles Philharmonic, the Huntington Library, the Geffen Playhouse and the California African American Museum—and she supports numerous others. "She has very eclectic taste," says Deborah Borda of the L.A. Phil, to which Annenberg donated $5 million for children's education in 2004. "Musi­cally she loves everything from Pink Martinito Beethoven's Ninth. There's no pretense. She enjoys what she enjoys and can do anything she wants—and does. But it's never for appearances."
Indeed, as Annenberg notes with some pride, she's not just a patron of the "crème de la crème." Annenberg grants have also paid to build a handicapped-accessible tree house in Torrance, California; transform actress Marion Davies's former beach house in Santa Monica into a public space; and help open the Wattstar Theatre and Education Center, the first commercial cineplex in L.A.'s impoverished Watts neighborhood in 40 years. (Her top political causes have included women's and children's services, education, gay and lesbian rights, and animal welfare.)
Los Angeles Mayor Antonio Villaraigosa says that he has watched Annenberg become a significant figure on the city's broader cultural scene during the 10 years he's known her: "She's someone who has quietly transformed Los Angeles into a world-class center of the arts, but she's not looking for a press conference."
And, unlike some donors who expect a bang for their buck, Annenberg's not looking for a photo-ready party, either. As Govan delicately puts it, she is "a bit impatient with the niceties" that to some might constitute the privileges of board membership, such as attending galas while dressed in couture and jewels.
"It's a socially accepted way of showing off your peacock feathers of wealth," huffs Annenberg, practically rolling her eyes. "I don't knock it, but do I participate? No. I loathe it."
When LACMA suggested it would like to honor her Vernon donation with a splashy dinner, she said not to bother—a simple cocktail reception would suit her fine. "In New York this would've probably been a major black-tie affair," says Annenberg. "It would be a way to launch myself socially by attracting people who feel like, 'Gee, if I were as skinny as Mercedes Bass, my life would be perfect.'"
A week later Annenberg wears running shoes with her blazer and slacks as she passes through the side door of the former Beverly Hills Post Office, a stately 1933 building that was retired from government use 10 years ago. A sheet of
paper taped to the window identifies the building as the Wallis Annenberg Center for the Performing Arts, a promise based on the foundation's $15 million gift. (She may disdain parties and the press, but clearly Annenberg is not averse to bestowing her name around town.) Ground will be broken next year on an edgy copper-clad 500-seat state-of-the-art auditorium designed by Zoltan Pali.
Annenberg settles herself into a worn wing chair and pulls a sheaf of talking points from her large Hermès bag. But the first question posed reveals one subject she hasn't prepared herself to discuss: perhaps the most obvious, her father. "Well, this is a tough topic to talk about," she says when asked to reflect on how his philanthropy informed her own philosophy of giving. A look of emotion briefly unsteadies her features. It might be annoyance at being caught off guard, or just a mixture of sadness and nostalgia, because after a brief pause she adds with a tepid stab at humor, "I didn't know we were going to do this, or I would've read [his biography]."
The thumbnail is that Walter Annenberg, the only son (along with seven daughters) of publishing magnate Moses Annenberg, took the reins of the company at age 32 and grew it into a publishing juggernaut with TV Guide and Seventeen. Even before selling Triangle Publications to Rupert Murdoch in 1988 for $3 billion, the Ambassador, as he always liked to be known after his posting as Richard Nixon's envoy to the Court of St. James's, was a significant donor to numerous causes. In his final years, though, Walter entered the ranks of America's most generous philanthropists, surpassed at the time only by John D. Rockefeller and Andrew Carnegie. In 1991 Walter gave his art collection, assessed then at $1 billion and incalculably more valuable now, to the Metropolitan Museum of Art in New York. In 1993 he wrote checks totaling $365 million to the Peddie School in New Jersey and the University of Pennsylvania, his alma maters; Harvard University, which his son, Roger, attended before committing suicide in 1962 at age 22; and the University of Southern California, a nod to the state where he and wife "Lee" spent half the year. Soon after he signed the last checks, Walter stood in the Roosevelt Room of the White House alongside President Bill Clinton to announce a gift of $500 million to improve public education.
"He gave on a grand scale," says his daughter, laying aside her notes. "But one thing he did that left me quite touched was when President Kennedy was assassinated—there was a police officer involved by the name of Officer [J.D.] Tippit [who was shot by Lee Harvey Oswald following the assassination]. My father paid the mortgage on Officer Tippit's house in Dallas, which was something that went without publicity or a mention in the paper. That impressed me. That's what I thought I wanted for my philanthropy: Where could I make the impact? How could I effect change?"
Because her father doubted the wisdom of putting excess cash in young hands, she and her elder brother, Roger, had a more frugal upbringing than the children of her more lavish aunts. In 1960 she dropped out of Columbia University to marry a Princeton-educated neurosurgeon named Seth Weingarten, and during their 15 years of marriage they lived in New Haven, Connecticut; New York; and Roswell, New Mexico, where he served for two years as an Air Force captain. The couple had four children—the first son, Roger, was eventually diagnosed as schizophrenic—but the marriage later turned "turbulent," according to Christopher Ogden's biography of Moses and Walter Annenberg. Wallis's excesses during the time included drugs and drinking, and she indulged in extramarital dalliances. The couple divorced in the mid-Seventies. Wallis, who, according to Ogden, dried out at the Betty Ford clinic and joined Alcoholics Anonymous, went to work in the L.A. office of TV Guide.
At the time of her father's death, Annenberg became a steward of the foundation's $2 billion share of Walter Annenberg's estate. The foundation's five trustees include Leonore, Wallis and her sons Gregory and Charles Annenberg Weingarten, and her daughter, Lauren Bon, an artist whose large-scale outdoor artwork Not a Cornfield was funded by a foundation grant. After Annenberg took over, the foundation's center of gravity slowly shifted from Radnor, Pennsylvania, near her father's primary residence, to L.A., where the younger family members convene for monthly board meetings. Together they review grant proposals—some 5,200 to date—with managing director Leonard Aube, while Leonore continues to support her favored cultural institutions and oversees the building of a visitors center at Sunnylands, the palatial estate near Palm Springs where the Annenbergs hosted three presidents and Queen Elizabeth II. Asked how she gets along with her stepmother, whom Annenberg refers to as "Mrs. Annenberg," she offers only a crisp "Oh, very well. Thank you."
While steeped in her father's philanthropic philosophy, Annenberg has put her own stamp on the foundation, running it less as a one-person show and more like a family corporation. She's not a major art collector in her own right—she has a few photographs by Edward Weston and Ansel Adams—and prefers investing in public venues. In addition to the Vernon gift to LACMA, the Annenberg Foundation is building a 10,000-square-foot photography center downstairs from its offices.
"She's allowing herself to be eccentric and to follow her passions," says Ann Philbin, the director of the Hammer Museum in Los Angeles. "That's unusual at a major foundation today. They're so professionalized that you usually don't see one individual's influence."
Annenberg likes to speak of finding her philanthropic "niche," but with $2 billion in foundation assets under her control, what she really has is a world-class platform to act upon. "[My father] used to say that I would be sitting on a butter tub," she recalls, "that I would be in a wonderful position. I told him, 'Dad, that's the only thing that I really want from your legacy.'" Legacies can also be a burden, however, and one can't help but wonder if Annenberg enjoys the responsibility that comes with the family name.
"I love it," she answers brightly. "Who wouldn't?"