Meet Johanna Senyk, the Parisian Behind Cult Label Wanda Nylon
With a brand-new ANDAM Award grand prize, two runway seasons, and a collaboration with La Redoute under her belt, Johanna Senyk's cult label isn't just about rainwear anymore.
---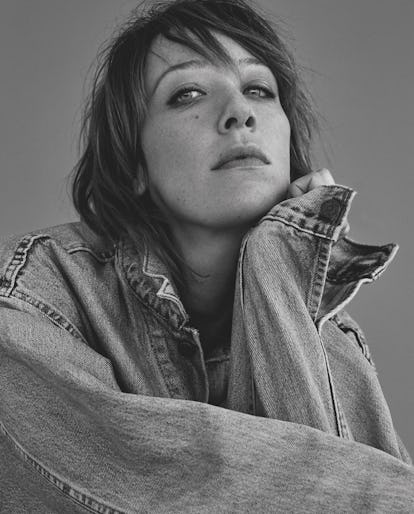 The water was only just receding from the streets of Paris, after days of flooding that caused the Seine to rise higher than it had in 30 years, when designer Johanna Senyk rang me over Skype in early June. It might not have been a fortuitous coincidence, exactly, but it felt relevant, given that Senyk's label, Wanda Nylon, entered the market in 2012 as a rainwear brand — and given that it was pouring rain where I sat in New York.
"We sent it over there!" Senyk cackled gleefully when she learned of the dismal weather across the pond.
But Wanda Nylon is no longer just about rainwear. In 2015, Senyk parted ways with Peter Hornstein, one of the label's founding members, and struck out on her own. She killed menswear, expanded womenswear to include a full ready-to-wear line and showed her first runway collection during Paris Fashion Week in September. She showed again the following season, and, when we spoke, she was already humming with excitement about the possibilities for spring 2017.
"I'm a challenge girl, so every season I love to test something," she said. Last season, she experimented with printing on leather; now, she's toying with iridescence, knitwear, and new silhouettes. "I need something fresh," she said.
Senyk's work has also earned her a coveted capsule collection for French online retailer La Redoute, which made its debut on this month, and a spot among the finalists for the ANDAM Awards, the international fashion prize that counts Iris Van Herpen, Christophe Lemaire, and Martin Margiela among its winning alumni. She's nominated alongside peers like Aalto, Jacquemus, and Tim Coppens; the winner will be announced Friday. (Senyk was later confirmed as the grand prize winner.)
Senyk, 34, may have started her label relatively recently, but she has worked in and around fashion since she arrived in Paris at age 18. Born to Polish parents, Senyk's family decamped to Algeria when she was a child, subsequently moving to the Loire Valley where she finished school. She grew up poring over the pages of the La Redoute catalogue and saving her Christmas and birthday money for its democratically priced designer capsules. When she arrived in the city, she landed an internship at Hearst almost immediately. (She lasted about a week, she estimated.)
She explored styling alternative magazines, working with legendary The Face and Crash, a biannual French fashion magazine. But that, too, didn't stick — "I think you should have talent with the words," she said, and her skills hew more towards the visual than verbal.
After a brief stint in costume design and a collaboration on a Jamiroquai music video, Senyk landed at the Hyères Fashion and Photography Festival, where she met, and befriended, a young, pre-Saint Laurent Anthony Vaccarello, as well as her future collaborator Hornstein and Maida Grégori-Boïna, a casting director with a client roster that then included Christian Dior and Calvin Klein.
"C'est la Steven Meisel du casting," — the Steven Meisel of casting — she told me, moving back and forth between French and English periodically. Her newfound mentor placed her at Givenchy during the Alexander McQueen years. From there, Senyk expanded her reach to J.W.Anderson, casting his shows from Fall 2011 to Men's Spring 2014, and to The Row, assisting Grégori-Boïna from Fall 2012 to 2013. By late 2013, though, she was focusing on Wanda Nylon full-time; the brand launched officially with the Spring 2013 pre-collection in June 2012.
She seems to have picked up a little bit of everything along the way, voraciously consuming and regurgitating her influences in new combinations to create something with, as she described it, "la cool Parisian attitude." And those influences aren't just limited to her experience in the industry; she also credits art, architecture, and music, finding some sort of harmony in polar opposites (Caravaggio and photographer Joel-Peter Witkin, for example, or Wu-Tang Clan and soprano Maria Callas). Her designs have been likened to Helmut Newton's fetishistic images of women in transparent raincoats, Courrèges's late-'60s rainwear, and the futuristic fashion of Blade Runner.
The parallels are no accident — before launching her brand, Senyk had perused a book of Newton's photography, examining his photography and wondering how she could improve on the raincoat design. She constructed her first sample from a shower curtain she found at French department store BHV.
"I have something physical, maybe a bit fetish…to understand the possibility of a fabric," she explained. "I need to try. I like to smell. I need to touch." This obsession with the sensory dimensions of fashion led her to develop her own fabric for those first raincoats — at risk of getting too technical, many raincoats are made from PVC, which doesn't cope well in the cold (it becomes brittle and cracks), fogs frequently, and yellows with age. She recruited Hornstein, who had experimented with plastics in fashion — his PVC-heavy "Bionic" collection won the 1.2.3 prize at the 2007 Hyères Festival — and Guillaume Befve, a brand strategy consultant with experience in the business side of building a label. They spent nearly two years developing a recyclable polyurethane with UV protection that formed the basis of their early pieces.
Yet even developing her own fabric and building something of a cult following for her core collection proved insufficient to quench Senyk's desire to "go deeper." Her rainwear line had become constraining — "When you come with the niche concept," she explained, "they known in which box they can put you. For me, I build my own box."
"Johanna was getting really frustrated," Befve explained. "She was doing a classic shirt, and you have some buyers always asking if the shirt was water-repellent, for example, so it became like a joke."
They faced an impasse: They could either expand to a mass market to grow the business, or they could delve further into designing fewer collections. So Senyk decided to break out of her box, and out on her own, building on the vinyl silhouettes that identified Wanda Nylon and adding a full wardrobe and accessories.
Her ready-to-wear collections have maintained that retro futurism — translucent smocks worthy of Patrick Bateman, metallic field jackets, black vinyl bombers — and infused it with a sporty edge. She combines luxe materials like cashmere and brushed silk with vinyl and patent leather, plush fur with sparkly knits. A hooded Fall 2016 sweatshirt and matching skirt was crocheted from strips of plastic and vinyl on an antique weaving machine in Paris. It's that meeting of opposites above all that defines the label's eccentric aesthetic; Wanda Nylon might not be a real woman, but since Senyk has started designing for the runway, her ideal girl has taken on living contours.
"It's a little bit of everything," she said. "There's no logic…Still, the beginning of the show, I can change everything. I'm kind of a nightmare to work with, maybe. I'm changing and I'm testing, still, the first moment." (She added five or six silhouettes just before the Fall 2016 show, she told Numéro, propelled by the adrenaline of her LVMH shortlist nomination in March.) Her energy is exuberant; it's easy to imagine her bounding up in the middle of the night, as she said she does on occasion, to jot down an idea or rough out a new silhouette.
Wanda Nylon is now stocked at some 50-odd retailers, but Befve said they hope to nearly triple that number within two years. For Senyk's part, she has begun sketching for her next collection, but she said she isn't one to make concrete plans. All she knows, she said, is that she wants "more" — more savoir-faire, more technical ability, more range. And more time.
"It's not a 'second life,' because nobody died," Senyk said of Wanda Nylon's new direction. "But it's a second part of history."
Johanna Senyk at the finale of Wanda Nylon Spring 2016.

Photo © Shoji Fujii.