Watch Amy Schumer and Goldie Hawn Play Mother and Daughter in the First Trailer for Snatched
It's the mother-daughter pairing of our dreams.
---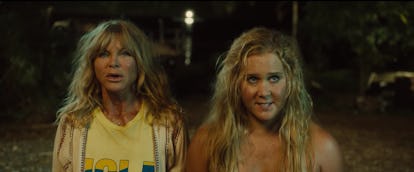 Courtesy of YouTube/20th Century Fox
Trainwreck was just the beginning. Amy Schumer is back on the big screen in her newest film, Snatched—and this time, comedic legend Goldie Hawn is coming along for what looks to be a very wild ride, if the film's first trailer is an indication.
In the first glimpse of Snatched, released Friday, December 16, we learn that Schumer's recently dumped character takes her conservative mom, Hawn, on whirlwind vacation to South America. Of course, the pair is thrown way off the beaten path and plenty of mother-daughter hijinks ensue.
The script is thanks to Katie Dippold, the former Parks and Recs writer who has since become one of Hollywood's most in-demand comedy writers. Earlier this year, she told W that she based the script on her own interactions with her mother.
"She's divorced and retired, so I'm always pushing her to do new things, like online dating," she told W. "Then I thought, 'What if I took her on some crazy vacation, just to shake things up?' But instead of planning the trip, I wrote a movie about it."
The movie is also an especially big deal because it's Hawn's first since The Banger Sisters in 2002. In August, Amy Schumer told the Los Angeles Times that it took persistence to convince the actress to make a triumphant return to the limelight for the film.
"I met her on an airplane a couple of years ago and told her there's a movie I really want to make with her," Schumer said. "And she was very nice. 'OK, honey.' She probably thought I was a psycho. 'OK, crazy person.' Then I'd meet her at different things, saying, 'We're making this movie together,' and I think, eventually, some people got in her ear and told her I wasn't crazy, that I make things."
Right airplane, right time, if you ask us. See the first look at the duo's adventure in the hilarious, red-band trailer below:
Watch Dan Stevens explains his crush on Goldie Hawn: