Watch Gigi and Bella Hadid Rap Nicki Minaj's "Starships" in Their Lingerie
Olivier Rousteing makes an appearance as well.
---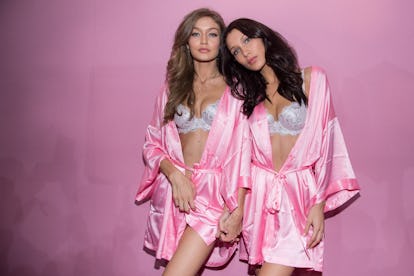 Pascal Le Segretain/Getty Images
Usually the music everyone talks about at the annual Victoria's Secret Fashion Show happens on the runway, like The Weeknd's recent performance of his Starboy title track. But, this year, Gigi and Bella Hadid changed that.
Backstage, there was plenty of music being made, and it wasn't from the late-night R&B crooner who was tapped to provide the soundtrack; Gigi and Bella Hadid covered Nicki Minaj's 2012 breakthrough hit "Starships" and there's video to prove it.
"I know the whole rap," Gigi boasted before kicking things off. She wasn't kidding, either. In the video, which has been making the rounds on social media, Gigi and her younger sister nail each lyric in unison, complete with hand motions, which is all made even more surreal by the fact that they're still in their Victoria's Secret lingerie.
Impressively, the performance was strong enough to earn an accolade from Minaj herself. The rapper posted the clip on her Instagram with a kissy face emoji, which has since been viewed over two million times. So does this mean a collaboration is imminent? We can only hope.
If you're wondering what Balmain creative head Olivier Rousteing is doing in the clip, he was on hand to cover Rihanna's "We Found Love" with the Hadids' BFF Kendall Jenner. James Corden if you're listening, this would be an excellent time to book the Hadids and Jenner for Carpool Karaoke.
Of course, this wasn't Hadid and Jenner's first time attempting to sing a pop song. Back in October, she gave W her interpretation of Justin Bieber's "Baby."
Gigi Hadid, Karaoke Star, Takes On "Baby" by Justin Bieber
…"Popular" from Wicker.
Gigi Hadid Dramatically Reads "Popular"
And, with Jenner, a dramatic reading of the lyrics from Bieber's "Baby":