See Margot Robbie Completely Transformed as Tonya Harding in the First Trailer for I, Tonya
The 27-year-old Australian actress is earning serious Oscar buzz for her movie about the renegade figure skater.
---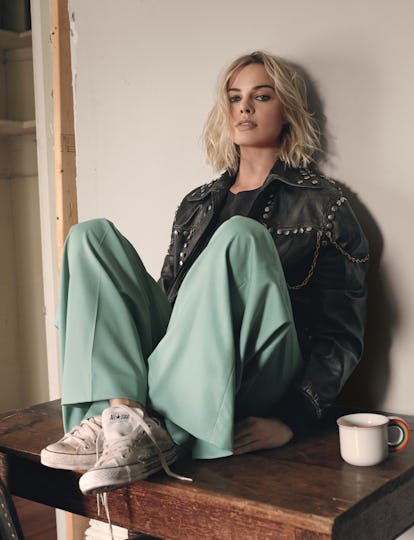 Photographs by Craig McDean, Styled by Melanie Ward
"I couldn't do a triple axel like Tonya, but I was able to master her laugh," Margot Robbie said in a recent W cover interview. The Australian actress stars in I, Tonya, director Craig Gillespie's upcoming biopic of infamous figure skater Tonya Harding, who, in 1994, was banned from the sport after her abusive ex-husband Jeff Gillooly (Sebastian Stan) and her bodyguard Shawn Eckhart (Paul Walter Hauser) hired a hitman to injure Harding's Olympic teammate and rival Nancy Kerrigan (Caitlyn Carver) so she would not be able to compete in that year's Olympics. (Kerrigan recovered in time to claim the silver medal.)
And judging by the first teaser trailer for I, Tonya, which was unveiled Thursday, Harding's laugh wasn't the only thing Robbie mastered. (The actress is already earning a measure of Oscar buzz for her troubles.) In the trailer, Robbie is almost unrecognizable in an extremely '90s, hairline-altering wig and bleached eyebrows. (She might not have managed to stick the landing of a triple axel, but not for lack of trying; over the course of four months, the 27-year-old actress trained four hours, five days per week.)
At the beginning of the trailer, she's seen leaning nonchalantly against a wall, having a smoke in a corridor at an ice rink. She lets the cigarette fall to the ground and stomps it out with a skate blade. Edgy.
"America," begins Robbie's voice-over, her husky voice barely recognizable through the northwest drawl she adopted from Harding. "They want someone to love; they want someone to hate." There's a brief glimpse of Allison Janney, who plays Harding's abusive mother, drinking at a bar while one of Harding's routines plays on the television, and of avid spectators screaming and holding up signs. (The trailer does not, however, delve into the abuse Harding suffered at the hands of both her mother and her ex-spouse, scenes that have turned some critics off to the film given their "ironic" tone.) And between flashes of Harding's feats of athleticism—she was, notably, the first American woman figure skater to perform a triple axel in competition—there are also scenes interspersed that hint at the shady behind-the-scenes intrigue that ultimately got Harding removed from the sport.
Even the most ominous scenes are underscored with a bit of camp, though—this is, after all, a dark comedy, a bit of a diversion from the usual Oscar-bait biopics. The fluorescent, bejeweled skating costumes that have become the sport's trademark will also make several starring appearances in the film, if the trailer is any indicator. Robbie, as Harding, circles the rink, setting up for a lutz, in a bright blue dress with a deep-v trompe l'oeil neckline; in the opening scene of the trailer, it's a deep purple with a high neck and ribbons of sequins across the bodice. Harding sewed her own costumes, which were reproduced for the film, but Robbie's immersion in that particular element of her character only went so far: "During filming, I sewed the bow on my costume," she told W.
"The haters always say, 'Tonya, tell the truth,'" continues Robbie's voice-over in the trailer. (Had "haters" been coined yet as of 1994? Unclear.) "There's no such thing as 'truth'—I mean, it's bullshit." Truly, a spokeswoman for our times.
Australian actress Margot Robbie is here to show you what vegemite sounds like: