Watch the Tomb Raider Debut Trailer With Alicia Vikander as Lara Croft
Is there anything she can't do?
---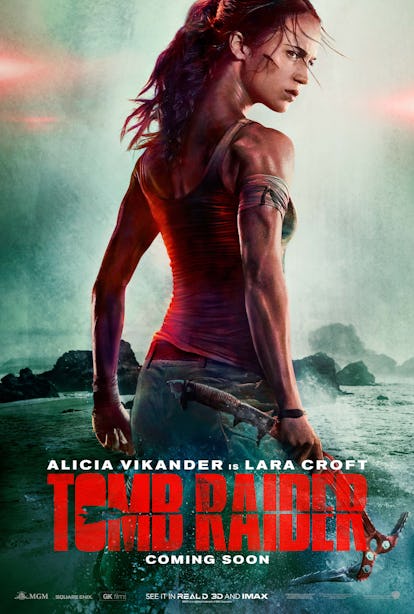 Warner Bros.
Alicia Vikander's Lara Croft for the new installment of Tomb Raider is just what the world needs right now, as evidenced by the first trailer. In the video clip, the action hero proves to be unstoppable in her quest to find her father, no matter the obstacles in her path. "I think I know where my dad went," she tells her friend played by Lu Ren. "Right in the middle of the Devil's Sea?," he asks. "It will be an adventure," she says. Vikander then proceeds to abandon her boat in the throes of a storm, jumping into wall-like waves. She runs through the jungle. She crosses a raging river. She demonstrates the myriad of things you can do with a hammer-shaped machete.
Impressively, Lara Croft manages to pull off all these feats while wearing just a tank top and pants, which Vikander has joked about. "I never think about anything that might hurt me, or that I'll have to wear only a tank top," she told Vogue UK this summer. "During one scene I was thrown into a river of ice cold water fifty times with my hands tied. It had to be continuous, as they didn't have time to dry me off in between because that's when you risk getting hypothermic. My family and friends laugh now because I'm thrown into freezing water at some point in all my films!"
Croft is thrown into that water while on her way to "close the tomb once and for all." "The fate of humanity is now in your hands," a voice says during the trailer for the Roar Uthaug-directed film. It's that kind of resiliency though that makes Vikander such a good fit for the role. "I think people can identify with her for lots of different reasons, but for me I very much see her as a model for many young women," she told Vanity Fair of Tomb Raider's Lara Croft. "She's trying to carve out her place in the world and connect her future with her past. She also has a fantastic mix of traits—tough, smart, vulnerable, plus she's kick ass! She is also uniquely different to other characters I have taken on previously. It's a lot of fun trying to get into Lara's head and the challenge of getting to grips with such a physical role is an element of this project that I find an absolute thrill."
By the looks of the first trailer, Vikander won't be the only one to have that reaction.
Alicia Vikander Can Do No Wrong on the Red Carpet
Alicia Vikander in Adeam on Late Night with Seth Meyers

Lloyd Bishop/NBC/NBCU Photo Bank via Getty Images
Alicia Vikander in Preen by Thornton Bregazzi in New York, New York, July 2016.

GC Images
Alicia Vikander in Rosetta Getty heading to a taping of The Tonight Show Starring Jimmy Fallon in New York, New York, July 2016.

GC Images
Alicia Vikander in Alex Eagle at a photocall for Jason Bourne in Berlin, Germany, July 2016.

Photo by Getty Images.
Alicia Vikander in Louis Vuitton at the premiere of Jason Bourne in Seoul, South Korea, July 2016.

WireImage
Alicia Vikander in Louis Vuitton at the premiere of Jason Bourne in London, England, July 2016.

FilmMagic
Alicia Vikander in Louis Vuitton at the premiere of Jason Bourne in Paris, France, July 2016.

WireImage
Alicia Vikander in Proenza Schouler at a photocall for Jason Bourne in Madrid, Spain, July 2016.

Europa Press via Getty Images
Alicia Vikander in Louis Vuitton at the premiere of Jason Bourne in Las Vegas, Nevada, July 2016.

FilmMagic
Alicia Vikander in Céline at the press conference for Jason Bourne in Seoul, South Korea, July 2016.

Getty Images
Alicia Vikander in Rodarte at the premiere of Jason Bourne in Sydney, Australia, July 2016. Photo by Getty Images.

Getty Images
Alicia Vikander in Louis Vuitton at the Louis Vuitton Cruise 2017 presentation in Rio de Janeiro, Brazil, June 2016.

Getty Images
Alicia Vikander, in Louis Vuitton, with Nicolas Ghesquière at the Met Gala in New York, New York, May 2016.

WireImage
Alicia Vikander in Louis Vuitton at a dinner for the brand in Paris, France, March 2016.

GC Images
Alicia Vikander at the 89th Annual Academy Awards at Hollywood & Highland Center on February 26, 2017 in Hollywood, California.

Kevin Mazur/Getty Images
Alicia Vikander attends the "Tomb Raider" Mexico City Premiere at Oasis Coyoacan on March 10, 2018 in Mexico City, Mexico. (Photo by Victor Chavez/Getty Images)

Victor Chavez
Alicia Vikander poses during the 'Tomb Raider' photo call at Pergamon Museum on March 2, 2018 in Berlin, Germany. (Photo by Matthias Nareyek/Getty Images)

Matthias Nareyek
Alicia Vikander attends the European premiere of 'Tomb Raider' at Vue West End on March 6, 2018 in London, England. (Photo by Mike Marsland/Mike Marsland/WireImage)

Mike Marsland
Alicia Vikander attends the Los Angeles Premiere of 'Tomb Raider' at TCL Chinese Theatre IMAX on March 12, 2018 in Hollywood, California. (Photo by Axelle/Bauer-Griffin/FilmMagic)

Axelle/Bauer-Griffin
Alicia Vikander auditions for Humphrey Bogart's role in "Casablanca"