See Alicia Vikander as Tomb Raider's Lara Croft in First Official Poster
She is taking no prisoners.
---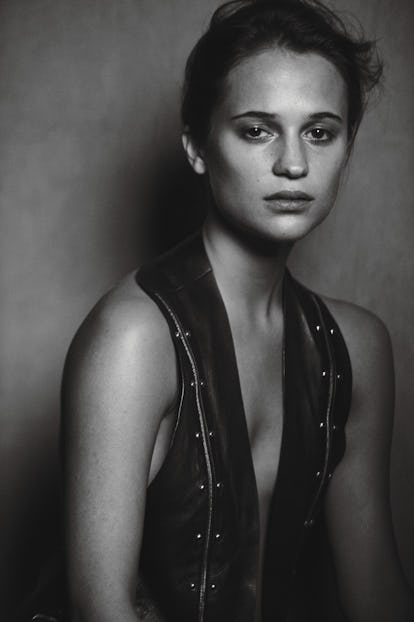 Unsurprisingly, Alicia Vikander's 2016 Oscar win is paying dividends. She not only has five films out this year, has another two on the way in 2018. One of those is a revival of Tomb Raider. So far, the details have been scarce but today brings the first look at the film's poster and a sneak peek of its debut trailer. In that poster, Vikander looks strong and determined as any raider of tombs should, and wades into the water off the coast of Japan clutching a weapon that you wouldn't want to be on the other side of. The poster doesn't reveal a release date, instead saying "coming soon," however, it was revealed back in March that the film will be in theaters on March 16, 2018.
The 15-second clip of the trailer, which arrives in full tomorrow, offers a deeper look at Vikander's take on Lara Croft. Apparently, it will involve Vikander finding her way out of many tricky situations, from falling off a tree branch while crossing a waterfall to dodging a spiked object and narrowly missing it.
Vikander's rendition of Tomb Raider appears to be set before Angelina Jolie's iconic take on Lara Croft. "She hasn't gone on an adventure just yet," Vikander told Entertainment Weekly earlier this summer. "She thought [her father] was a stuck up businessperson living in the modern youth culture of suburban London, but then this whole box of information. This is the beginning."
Indeed, the film's official description promises that "Suddenly, the stakes couldn't be higher for Lara, who—against the odds and armed with only her sharp mind, blind faith and inherently stubborn spirit—must learn to push herself beyond her limits as she journeys into the unknown. If she survives this perilous adventure, it could be the making of her, earning her the name tomb raider." It is perhaps safe to assume that she does indeed succeed in the end.
A film starring an ass-kicking female heroine is just the world needs right now, especially considering how beloved this year's Wonder Woman was and continues to be, with the exciting news that a sequel directed by Patty Jenkins is on the way. And, with the saturated catalogue of male-led action films that exists, there is more than enough room for two strong female heroines. Hopefully Tomb Raider opens the gates for even more to enter.
Related: Red Sparrow Trailer: Jennifer Lawrence is a Sexy, Russian Spy
Alicia Vikander Went to See "Blue Valentine" Alone:
Alicia Vikander Can Do No Wrong on the Red Carpet
Alicia Vikander in Adeam on Late Night with Seth Meyers

Lloyd Bishop/NBC/NBCU Photo Bank via Getty Images
Alicia Vikander in Preen by Thornton Bregazzi in New York, New York, July 2016.

GC Images
Alicia Vikander in Rosetta Getty heading to a taping of The Tonight Show Starring Jimmy Fallon in New York, New York, July 2016.

GC Images
Alicia Vikander in Alex Eagle at a photocall for Jason Bourne in Berlin, Germany, July 2016.

Photo by Getty Images.
Alicia Vikander in Louis Vuitton at the premiere of Jason Bourne in Seoul, South Korea, July 2016.

WireImage
Alicia Vikander in Louis Vuitton at the premiere of Jason Bourne in London, England, July 2016.

FilmMagic
Alicia Vikander in Louis Vuitton at the premiere of Jason Bourne in Paris, France, July 2016.

WireImage
Alicia Vikander in Proenza Schouler at a photocall for Jason Bourne in Madrid, Spain, July 2016.

Europa Press via Getty Images
Alicia Vikander in Louis Vuitton at the premiere of Jason Bourne in Las Vegas, Nevada, July 2016.

FilmMagic
Alicia Vikander in Céline at the press conference for Jason Bourne in Seoul, South Korea, July 2016.

Getty Images
Alicia Vikander in Rodarte at the premiere of Jason Bourne in Sydney, Australia, July 2016. Photo by Getty Images.

Getty Images
Alicia Vikander in Louis Vuitton at the Louis Vuitton Cruise 2017 presentation in Rio de Janeiro, Brazil, June 2016.

Getty Images
Alicia Vikander, in Louis Vuitton, with Nicolas Ghesquière at the Met Gala in New York, New York, May 2016.

WireImage
Alicia Vikander in Louis Vuitton at a dinner for the brand in Paris, France, March 2016.

GC Images
Alicia Vikander at the 89th Annual Academy Awards at Hollywood & Highland Center on February 26, 2017 in Hollywood, California.

Kevin Mazur/Getty Images
Alicia Vikander attends the "Tomb Raider" Mexico City Premiere at Oasis Coyoacan on March 10, 2018 in Mexico City, Mexico. (Photo by Victor Chavez/Getty Images)

Victor Chavez
Alicia Vikander poses during the 'Tomb Raider' photo call at Pergamon Museum on March 2, 2018 in Berlin, Germany. (Photo by Matthias Nareyek/Getty Images)

Matthias Nareyek
Alicia Vikander attends the European premiere of 'Tomb Raider' at Vue West End on March 6, 2018 in London, England. (Photo by Mike Marsland/Mike Marsland/WireImage)

Mike Marsland
Alicia Vikander attends the Los Angeles Premiere of 'Tomb Raider' at TCL Chinese Theatre IMAX on March 12, 2018 in Hollywood, California. (Photo by Axelle/Bauer-Griffin/FilmMagic)

Axelle/Bauer-Griffin