We Elect the Winners of the Summer of 2016
In a season with no clear-cut frontrunner, what will we talk about when we talk about the summer of 2016? Hint: It won't be Trump.
---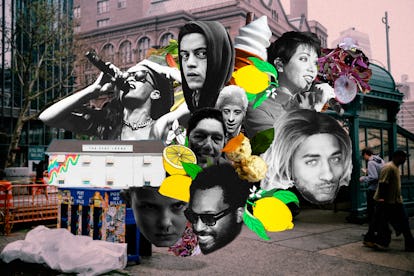 Biel Parklee.
Every hack in Hollywood knows about "Classical Design" — in this model of screenwriting, a story must have causality, a linear narrative, a closed ending, and a single protagonist. In the internet age, such packaging of the news cycle is unachievable. But in the story of this strange summer, we find none of these basic building blocks, much less all of them. There was no linearity: No one tentpole — no single movie, song, or event — was staked deep enough to provide the foundation to carry us through the summer. There was no protagonist: No one celebrity campaigned successfully enough to win the summer (Taylor Swift was seemingly on her way, and then Kim Snapped her back into place). Unless you count Donald Trump, a presidential candidate who — here is where causality goes out the window — appears to take no heed of public opinion. With the death of monoculture, however, we are all reprieved from having to subscribe to any master narrative. (Do we really want this to go down as the Summer of Trump? Or Brexit? Or terror?) In the absence of an A plot, each storyline becomes the A plot of its own narrator. Ultimately, when the story of summer 2016 is written, it will resemble Rashomon. Here, 10 writers take sides.
The Summer of Scammers Kyle Munzenreider: Is there a better mascot for the summer of 2016 than Joanne the Scammer? The comic character created by 25-year old small-town Florida resident Branden Miller went from niche meme to outright sensation. Before the season was out, Joanne would appear on red carpets, magazine covers and viral videos, all while evangelizing the power of being a lying, scamming messy bitch and lover of all fraud, robbery and petty drama. It was a major social media mood shift for a year that started out with people being obsessed with genuine "keys to more success."
This summer, it's no wonder. Never before has the public seriously wondered if one of the major presidential campaigns might be a long con to launch a cable TV channel. Meanwhile, an Olympic hero got caught in a scam that started when he lied to his own mother (to say nothing of the economic scam that is the Olympics). A Silicon Valley billionaire, Peter Thiel, successfully scammed his way into shutting down Gawker.com, while another Valley "billionaire," Elizabeth Holmes, caught blowback over whether her entire company was a scam. It was also the summer Kim Kardashian scammed Taylor Swift by exposing her performed outrage over a few lines of "Famous." Which brings us to the public mockery that is "Hiddleswift."
We've learned our lesson, hopefully. As Joanne once tweeted, "Scam today before today scams you."
The Summer of Sleepers
Katherine Cusumano: In the era of franchises and superhero movies, the pop cultural landscape for each summer has been plotted years and years in advance. But in between the face-plant of Suicide Squad and Batman v. Superman's middling box office and worse reviews, it became instead a great summer for quirky, cerebral projects with fanatically devoted followings. Because there was no dominant summer watch — "Game of Thrones" is between seasons — the anti-blockbuster sleepers were left to fill the void. There was HBO's sleeper hit "The Night Of," the return of USA's challenging "Mr. Robot," and Netflix's "Stranger Things," which received little advance attention but turned out to be a phenomenon. But still, these series were not for everyone. If you were in, you were in. If you were out, well, you're probably wondering why your friends are going on and on about eczema and Eggo waffles. But what has become apparent to all observers this year is that we are growing more and more resistant to prestige dramas we're meant to salivate over: An expensive 70's period piece from Martin Scorsese and Mick Jagger? Axed after one season. But a dark comedy starring an animated, nihilistic talking horse? Entering its fourth season, Netflix's Bojack Horseman is spoken about with a hushed reverence previously reserved for such big-ticket prestige dramas. What these new cult watches lack in reach, they make up for with the extreme vocal-ness of the corners of the internet devoted to them.
The Summer Fashion Woke to Politics Erik Maza: Fashion people, by and large, don't engage with politics. Both as a matter of choice and practice, designers and stylists and models and all the other characters who make up this colorful industry prefer to stay above the terrestrial concerns of our nation's political class, and that's all very well and good. Designers design, pundits pontificate. But this has been an unconventional presidential election, to say the least, and designers have become increasingly more comfortable making their political inclinations explicit. Galled by the ascendancy of Donald Trump, Marc Jacobs, Tory Burch and Maxwell Osborne and Dao-Yi Chow of Public School donated T-shirt designs to the campaign of Hillary Clinton — more designers have since joined this summer — building a swell of support that will reach its apex during this week, when Chelsea Clinton hosts a fashion show to fundraise for her mother during New York Fashion Week. However, on the subject of police brutality, one of the signature issues of the campaign, designers have been conspicuously quiet, but that too started to change after the fatal shootings of Philando Castile and Alton Sterling in July. Designers made use of their social media platforms to express solidarity with the Black Lives Matter movement. And, in an extraordinarily courageous move, Osborne, the most prominent black designer in the business, joined a BLM rally in New York and wrote an open letter in W urging others to join his call. That has yet to happen in a concerted effort, but there's an opportunity around the corner with the start of NYFW for designers to speak out and put their newfound political consciousness on display.
The Summer of Ice Cream?
Kristin Tice Studeman: Ice cream — seems obvious, right? Hot beach days mean soft serve, maybe some sprinkles or a cherry on top. But this summer we reached peak ice cream, and I don't mean a towering sundae. In New York City, ice cream got its very own museum, with a sprinkle pool, a super-sized ice cream sandwich swing, and ice cream-inspired art to go with it. People went so nuts for the sweet spot, the wait list reached more than 70,000; some even went so far as to scalp tickets for $100 on Craigslist. In Chicago, a Gelato World Tour swept through the city, where gelato makers competed to be crowned the best of the best. There were even presidential candidate ice creams born this summer, like Ben & Jerry's founder Ben Cohen's personal recipe for Bernie's Yearning, for his home state Senator Bernie Sanders (a thin disc of milk chocolate laid over a pint of plain mint ice cream = the economic gains of the top 1%). Never to be outdone, Donald Trump got one too, thanks to Mitchell's ice cream in Cleveland, host city of the Republican National Convention. It's aptly named You're Fired. And in the past week, a crime spree has risen, like cream, to the top of the local headlines in Manhattan: an ice cream ring has been heisting pints of Ben & Jerry's, Talenti and Haagen-Dazs from stores across the city. This summer, we all screamed for ice cream a little louder.
The Summer of No Song of Summer Fan Zhong: Last summer, we got "Bad Blood" and "Can't Feel My Face." In 2014, we had "Fancy." And 2013 may have just been the best Song of Summer season in recent memory — that year, we were gifted both "Blurred Lines" and "Get Lucky," a magical double-scoop treat that had every wedding DJ rewriting their set lists. You'll have to go back to 2011, when LMFAO's "Party Rock Anthem" topped the charts during the hottest months — really — to find contenders for song of summer so uninspiring as this crop. There's Drake's "One Dance," an Afropop ripoff that suffers from being both not Drake enough (it sounds like a dance remix of a Drake song) and too Drake (so much yearning to be no. 1 in our hearts). Sia's "Cheap Thrills" is catchy and powerful and yet still can't shake the same problem fundamental to all Sia songs: the lyrics just make too much sense to be a true summer jam. Katy Perry's "Rise"? Too Hillary to be universal. Fifth Harmony's "Work From Home"? Too objectionable. The Chainsmokers' "Closer"? I refuse to link to it. Desiigner's "Panda" had a real chance — a propulsive energy, a memorable hook, specificity — but not the legs to carry it through the end of August. And so here we are, in September, Song of Summer-less. If you see me this Labor Day, I'll still be running back Rihanna's "Work," happily.
The Summer of Carly Rae Jepsen's Revival Helen Holmes: This has been a disaster of a summer. If I ever flick back through my memories of the past couple of months, I would mostly see myself perched in front of the TV in a groggy haze, watching bloated politicians and bloated "Bachelorette" contestants parade across the screen, each begging (in their own particular way) for my approval. But then, out of nowhere, like a pink firework streaking through the dusk, Carly Rae Jepsen delivered us from the sweaty doldrums with her Emotion B Sides, what I am calling the best music of the summer. Now, some might say this is hyperbole or straight up blasphemous, considering the slippery ache of Frank Ocean's latest, gorgeous output. But hear me out: While Frank chose to answer years of fan anticipation with an epic clogged by heartbreaking nights out and devastated, lilting strings, Jepsen dropped a glitter bomb potent enough to catapult us into the future. Her pop declares itself so beamingly that when I first heard "First Time," I had to shriek with laughter at the pure joy in every syllable. The irony is that Jepsen's saved summer once before, when "Call Me Maybe" finally broke through and reached the top of the charts on June 23, 2012, after its release 10 months earlier. It stayed at number one for nine straight weeks. All of which is to say, give her a little time.
The Summer Vegans Took Manhattan Ally Betker: If sushi was the health food of the 90's, and the early aughts brought low-carb, high-protein diets, then we're now officially in the era of eating vegan — without sacrificing our sense of cool or our taste buds. This summer, the previously scorned veggie burger entered the foodie vernacular, when David Chang announced he'd be adding an animal-free patty between a bun to his menu at Momofuku Nishi in New York. The burger is the product of Impossible Foods, a private company founded in 2011 to replace meat and dairy with plants that, with funding from Bill Gates and Google Ventures, also happens to be mercifully hippie-free. And that's not the only sign that veganism is becoming cool in New York: At Nix in the West Village, chef John Fraser has created an homage to plants, with a menu of cauliflower tempura, charred asparagus, and artichoke and broccoli rabe. His co-owner is James Truman, formerly the editorial director of Conde Nast. Meanwhile, it seems that around every New York street corner is another spot serving up vegan fare that is being mobbed, from By Chloe's ever-expanding empire to Screamers Pizzeria in Greenpoint. Watch out, L.A.
The Summer of Face Swap
Stephanie Eckardt: It started back in April. A teen passing by an event for Hillary in New York bumped into one Bill Clinton, who obliged the young man's request for a selfie before quickly becoming bewildered that he'd lost his face. The boy was, of course, using Snapchat's face swap filter, an innovation soon taken up by everyone from Sienna Miller to Cara Delevingne, and just one of its features so popular it became political. In the coming months, women in India used the dragon filter to obscure their faces in order to come out with their stories of sexual assault anonymously, while others worldwide clapped back when the universally flattering dog face one was deemed the "hoe filter." And then there were the company's missteps: Apparently not having learned from the backlash against its "instant blackface" Bob Marley filter, Snapchat rolled out an Asian-inspired one so insensitive even the New York Times suggested it had a race problem. Still, from bread faces to the feel-good angel halo, for the most part, they've all been good fun, and especially in the hands of the Kardashians — no surprise given that Kim used the app to drop the news event of the summer. Unless Instagram Stories can find a way for Rihanna to turn herself into a gazelle while still holding a glass of wine, it doesn't look like the feature is going away anytime soon.
The Summer Montauk Peaked Sarah Leon: The weekend before Memorial Day, I was in Montauk for a W shoot. It was the perfect way to kick off summer: we had a gorgeous up-and-coming model, the best swimwear, and rooms at the Surf Lodge. It was quiet and peaceful, the Montauk most people imagine, with cozy homes, surfers, and lobster rolls. This weekend proved deceptive. The rest of the summer in Montauk was neither easy nor effortless. It's an accusation that may have been leveled before, but for me it was the summer Montauk became entirely commercialized, merchandised and popped up. It's not just the events and concerts being hosted at various venues, it was the amount of curated programming taking place in one small beach town at one time, and the amount of brands yearning to be associated with it. During one weekend, while I was at Gurney's in Montauk for a wellness weekend hosted by Buick Envision, and curated by Jenne Lombardo, John Freida and Billabong were holding a similar event at the same hotel. Tasting Table, too, had a lobster cookout that evening. A few blocks away, Guest of a Guest founder Rachelle Macpherson and eyewear brand Oliver People's hosted a paella party at Crow's Nest. Athena Calderone and Vestiaire Collective were throwing a dinner nearby. Each hotel had pop ups from various artists and designers. And that was just one weekend. Everywhere I turned, influencers with at least 20k followers on various platforms lurked, creating content about Montauk on behalf of brands. Montauk has become just a backdrop to many photoshoots.
The Summer of Merch Emilia Petrarca: It's too painful for me to calculate the exact amount of money I've spent on merch this summer. It all started when Beyoncé released "Lemonade," back in April. I bought a "Slay" shirt with her face superimposed on Joan of Arc's body within seconds of seeing it on her site. I hadn't even listened to the album in full yet, but I didn't need to. Because Beyoncé's unannounced gift came in digital form, I needed some tangible evidence that I was a part of the excitement. I can imagine my future grandchildren asking me where I was when the world's first visual album dropped. "I was at my computer with my credit card," I'll say. And then I'll pull my tattered "Slay" shirt down from the attic and they'll ooh and ahh. Then we'll promptly resell it and become rich.
After that, Kanye happened. I was at a party when I saw his tweet linking to his new "No More Parties In LA" sweatshirt. Again, without hesitation I ran to the nearest bathroom, locked the door, and pulled out my credit card, typing the numbers as fast as I could for fear that it would immediately sell out. I kept messing up. "One minute!" I barked when someone knocked on the door. And then — success! I fake-flushed the toilet and re-joined the crowd, high as could be. I was a full-on merch addict.
From there the gate opened wide: I bought a Rihanna dad hat, two Bieber shirts, a Supreme Morrissey shirt, a DJ Khaled baseball hat, and finally a Lil Yachty "Sailing Team" tee. This was my last purchase before I had to declare merch "dead" — which was maybe as much about my own sanity as it was about cultural oversaturation.
I'm sober now — although every day is a fight — and am able to see a bit more clearly. What the heck happened?
Owning merch, I realized, is like being on a team. In fact, it's a sport in itself. (I've likened it to the only sport I play, which is Pokémon Go.) And this summer in particular, it felt like no one was on the same side. Merch was something we could all safely get behind. And with music being released without notice and then re-worked even after it was out, merch was also something to grab on to, physically and emotionally. But as with all fashionable pursuits, merch's appeal has a shelf life. After the thrill of the chase, your "What if we f—ed at the Vogue party?" shirt actually arrives and you're too embarrassed to wear it in public. Or you meet DJ Khaled in person and the interaction leaves you feeling sad and empty and your "We the best" hoodie no longer has personal value. Then suddenly, it's the end of summer and you look at your closet full of slogans and think, "Who is 'we'?"
Watch W's most popular videos here: