We Margiela, the Martin Margiela Documentary, Could Be 2017's Most Important Fashion Film
A rare look at the Belgian designer's work.
---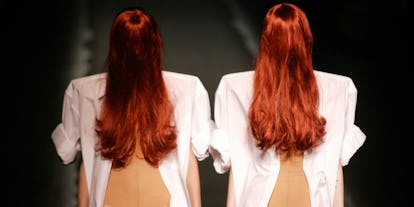 The Belgian designer Martin Margiela, and the influential fashion house he founded almost 30 years ago, are known for being extremely secretive. Until now, that is. In January it was announced that Margiela himself was helping to curate an exhibition on his work at France's Palais Galliera; major news considering the designer doesn't give interviews or even allow his photograph to be taken. And now Dazed Digital is reporting that a documentary on Margiela and his team will also debut this year. Called We Margiela the film promises to tell the "untold and intimate story" of Maison Martin Margiela—i.e. Maison Margiela during the Martin Margiela years, which spanned from the house's inception in 1988 until 2009, when the designer quietly departed from the house.
The co-founder of Maison Martin Margiela, Jenny Meirens, was interviewed for the film for the first time ever, along with a range of designers, models, factory workers, and other collaborators intimately involved with the line in the '90s and early '00s. The film, which was made by the Rotterdam-based Mint Film Office, is said to explore how collaboration and commercialism effect creativity and originality. Fans of Margiela will know that designer never personally took credit for his work, preferring to be credited as part of a design collective instead. The house also remained fiercely independent for many years, until it went public in 2002. Many attribute that move to be the reason for Margiela's eventual departure from the house. By 2009, under majority stakeholder Diesel's influence, Maison Martin Margiela had opened 14 flagship stores and was selling everything from fragrances to sunglasses.
The film comes at a time when Martin Margiela's influence on the fashion industry couldn't be felt more strongly. Two of the most influential fashion designers working right now—Raf Simons and Demna Gvasalia—have cited Margiela as an influence in their work. The themes of luxury, minimalism, deconstruction, and gender fluidity explored by Margiela and his team at the turn of the millennium can be felt across the industry as well. In short, it's about time this documentary came along.
To tide you over until the film's release, you can follow @wemargiela on Instagram, or pre-order a limited-edition mailing of photos and interviews from the film.
Watch W's Most Popular Videos: