The Duo Behind 'We the Women' Can't Wait to Say Goodbye to 2020
Nathalie Love and Samantha Ressler discuss their Amazon special "Yearly Departed," and going from live theater collective to production company.
---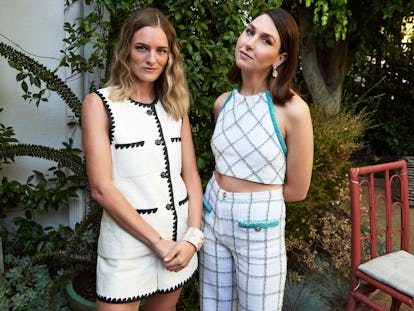 From Left: Nathalie Love and Samantha Ressler, both wearing Chanel, photographed by Lee Morgan. Hair by Melissa Uehara. Makeup by Elie Maalouf.
In 2017, Nathalie Love and Samantha Ressler, the duo behind the production company We the Women, laid to rest what felt like a brutal, endless year with a wake. Part dinner party, part immersive theater experience, the Los Angeles ceremony involved a series of comedians delivering eulogies for things like "the ability to just take out your penis with no consequence" (presented by the Emmy-nominated, former Jimmy Kimmel Live writer Bess Kalb). "It was an idea that was created with our long time collaborator & friend, Bess, that came out of a lot of general disappointment from our last presidential election and a lot of wine," Ressler said, of that first event.
Two years later, they gathered again, this time with 300 people at the Hollywood Forever Cemetery, where Chloe Fineman (playing both Melania and Ivanka Trump) said goodbye to the glass ceiling, HAIM played a rendition of Britney Spears' "Stronger," up-and-coming comedian Ayo Edebiri eulogized Mother Earth, and writer and actress Zoe Chao said a few words about the end of privacy.
Now, as we begin to wrap up what might be the cruelest year yet, Love and Ressler have teamed up with a murderers row of women to say goodbye to its horrors with Yearly Departed, an Amazon Prime comedy special. Premiering on December 30th, the show will be executive produced by Love, Ressler and Kalb alongside Rachel Brosnahan (who will also appear in the special), Paige Simpson, David Jammy, and Katy Mullan. Kalb assembled an all-women writers room, Phoebe Robinson will host, Linda Mendoza will direct, and the lineup of comedians—who will deliver eulogies on everything from TV cops to casual sex—includes Tiffany Haddish, Sarah Silverman, Natasha Rothwell, Ziwe Fumudoh, Natasha Leggero, and Patti Harrison. "The concept is to have the world's funniest women have the last word on this horrible year," Ressler said.
The special is a full-circle moment for Love and Ressler, who founded We the Women in the wake of the 2016 election as a non-profit to support women artists and share female experiences through storytelling, particularly through live performances in their hometown. "Now, with this show coming out at the end of the Trump presidency, it just feels like a big exhale," Love said, adding that the evolution into film and television has felt like a natural one that was accelerated by the limitations of Covid-19. "We started in the live performance space to foster a community and make theater relevant in LA, but the transition into these other areas has been very organic. The pandemic fully pushed us over the edge and into this new space," she said.
Shooting Yearly Departed, even with the craziness of Covid protocols on set, was a thrill: "Sam and I had never been executive producers on a lot filming our own TV show. It was super exciting. We had such insane luck with the talent involved," Love said. "Everyone took us under their wing."
The pair says that the tone of Yearly Departed will be a mix of glee and catharsis, offering a platform for viewers to say goodbye to 2020 in a lighthearted way while taking into an account the very real tragedies that many have experienced. They credit that delicate balance to the open, collaborative environment of the all-women writers room, and to Brosnahan's hands-on approach as a producer. Robinson, in a statement released to Deadline, echoed that happy-sad mix: "I'm ready to put 2020 on fire like I'm barbecuing at a Black family reunion," she said. "All kidding aside, the world is beyond stressful and confusing, so I'm honored to help take everyone's minds off the heaviness with some much-needed comedy while wearing a fresh wig."
As far as what Ressler and Love (who are also working on producing an anthology of pandemic-era plays called Keep This Far Apart) are most looking forward to leaving behind once the last page on the calendar is flipped? "Donald fucking Trump," said Ressler. Love's response is the same: "I'm really hopeful that this new presidency can be the beginning of some much-needed healing—and theater, of course," she added. "Theater is the thing that I'm most looking forward to about next year. I can't wait for theater to come back."