The Stones
Stephen Webster's edgy, Christina Aguilera-inspired collection rocks.
---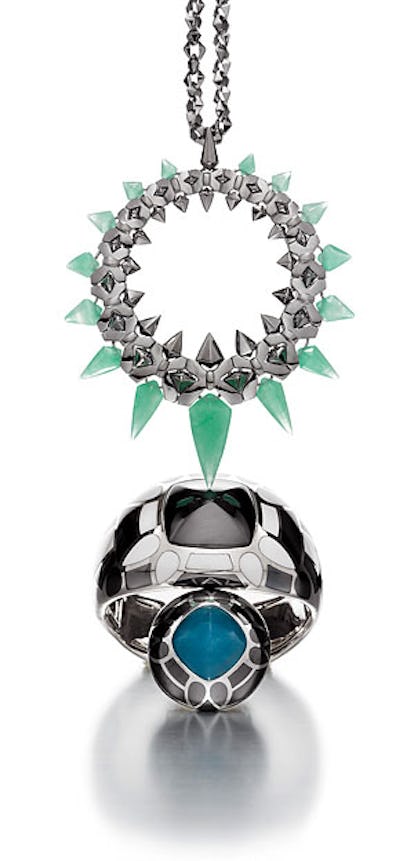 There's an undeniable, often symbiotic connection between music and wildly expensive jewelry. Hip-hop stars and their undying love for scads of diamonds provide one obvious example; British jeweler Stephen Webster's 30-year oeuvre, another. His ultraedgy finery, best described as rock 'n' roll, has lured legions of lyrically minded loyalists, one of whom, Christina Aguilera, provided inspiration, and then some, for his new silver collection.
"I've always made fine jewelry," says Webster. "So it's always been expensive." And, thus, inaccessible to many younger jewelry lovers. Webster aims to change that with a new silver collection, with pieces that retail from $300 to $2,500. As part of his expansion plan, he's chosen Aguilera, who comes with a built-in fan base of potential clients, as general muse and the face of his first-ever ad campaign. Of course, she wasn't selected at random. Since discovering Webster's wares during a photo shoot in 2001, Aguilera has become quite a devotee. With a collection of custom Webster designs that includes her engagement ring, wedding rings for her and her husband, Jordan Bratman, and a bronze microphone stand for her Back to Basics tour, she is, as Webster says, "a brilliant champion of the brand."
"I find a lot of jewelry out there to be sort of the same," says Aguilera. "It can be very conservative, especially for fine jewelry, and Stephen does such a great job offering versatility." Indeed, Webster's goal with his new line was not to replicate his gold creations in silver. "It's not about, Well, I can't afford it in gold, but I can afford it in silver," says Webster. "I wanted it to feel like Stephen Webster, but to be an absolutely different direction for us." Many of the pieces feature stones such as jade and hematite inlaid to create a mosaic effect that maintains his signature rock vibe but is unique to the silver collection.
Although Aguilera has lent more than her image to the line—she also took a financial stake in Webster's company, along with Ron Burkle's Yucaipa Companies private equity group—Webster insists that this is not another case of a celebrity playing designer. "I never, ever wanted this to be like a Christina line of jewelry," he says. "I've let her have an opinion because it's been part of the fun of it. [But] I've done the designing— there's no question about it."