Modelizers Versus Slashies
In case you missed it, here are the top style stories from the week leading up to May 31st.
---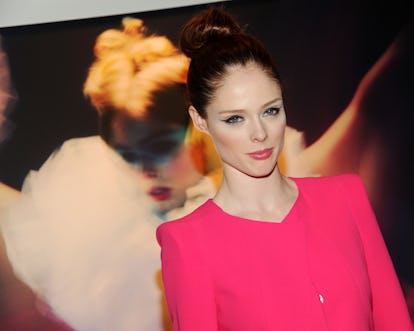 Clinton, Hillary
Will present the Founders Award to Oscar de la Renta at the 2013 CFDA Fashion Awards. Clearly enjoying her newly discovered free time.
Collins, Joan The Dynasty actress will return to the small screen with a guest appearance on British TV series Benidorm. (Shoulder pads not included.)
Delevingne, Cara Lands the grunge-inspired fall 2013 Saint Laurent ad campaign; has yet to receive Courtney Love's seal of approval.
Gurung, Prabal Now designing airline uniforms that were not commissioned by Michelle Obama for Air Force One.
H&M The Swedish brand's CEO reveals a plan to use less "skinny" models, like Beyonce.
Hathaway, Anne Dyes hair back to her natural brunette hue, apparently did NOT have more fun as a blonde.
Kardashian, Kim Inspired artist Daniel Edwards to make a nude, pregnant fertility statue with her likeness. Surprisingly, Kanye did not place this commission.
Keibler, Stacy "Accidentally" revealed her undergarments; continues to go to great lengths to maintain George Clooney's affections.
Menkes, Suzy Auctioning off her personal wardrobe at Christie's. For sale: a personalized Chanel clutch. Not for sale: her signature hair products.
Modelizers Leonardo DiCaprio is dating yet another Victoria's Secret model: Toni Garrn. Perhaps he should start casting for the lingerie giant, too.
Adam Levine is branching out with model Nina Adgal. People Magazine writes that the relationship is "casual." Shocker.
Overalls Declared to be "really happening." Rough news for the over-five set.
Pejic, Andrej Takes it almost all off for Vogue Brazil; leaves just enough to the imagination.
Rocha, Coco Now a contributing editor to PCMag; receives the honor of being the first model/tech writer.
Sewell, Yasmin Taps up-and-coming designers to create a '70s California skater-inspired collection… available for sale in rainy London.
Stone, Lara Pictured nude and pregnant in a portrait by Marc Quinn. What else would you expect from the artist behind the solid gold statue of Kate Moss?
Swift, Taylor Likes to dress like her friends. A lot.
Swinton, Tilda Our May cover girl lands the Scottish-inspired Chanel pre-fall campaign. Who else could they have picked: Sean Connery?
Testino, Mario Steps out from behind the camera to design a collection for Net-a-porter. Is not the first photographer/designer, so Rocha still wins "slashie" award of the week.
Upton, Kate Appeared on the back of the Victoria's Secret catalog, in a photo that was taken in 2011. News reports that she is both "furious" and "not furious." Take your pick.
Windsor, Camilla The Duchess of Cornwall visited Raf Simons at Christian Dior in Paris, hopefully picked up some Kate Middleton-approved pieces.
Wu, Jason Designed t-shirts in collaboration with Nate Lowman to benefit Acria; creates the first affordable designs since his Target collaboration.
Photo: Getty Images