The Complete Guide to Gigi Hadid
In case you missed them, here are all the stories about W's September cover star Gigi Hadid.
---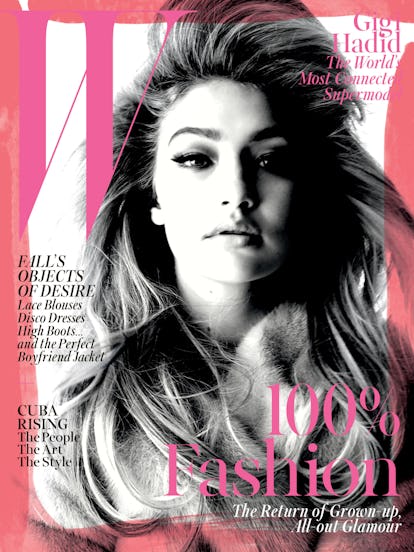 Gigi Hadid: The Post It Girl Beautiful, ambitious, and spectacularly connected, Gigi Hadid is a model for the digital age. See the cover photos here.
Gigi Hadid's Best Beauty Looks
Now everyone knows you can have chic hair without scheduling a blowout, but in 2012 Gigi Hadid was way ahead of the curve.
Photo by Getty Images
Sporting brushed-out curls in Miami in 2014, Hadid highlighted her natural beauty with mocha-colored lipstick and subtle smoky eye.
Photo by Getty Images
Naturally, the model turned things up for the 2014 Vanity Fair Oscar party, with golden lids and Old Hollywood ringlets. Va va voom!
Photo by Getty Images
Part of Gigi Hadid's charm is that in spite of being a Beverly Hills progeny and an IMG model, she is, somehow, relatable. The superstar flaunted this aspect of her versatility at a formal Chanel dinner in 2014, where she dressed down the house's storied tweed with easy hair and minimal makeup.
Photo by Getty Images
Rosy lids, lips, and cheeks came along for the ride as the model celebrated Melbourne Cup Day in Australia. (For those searching for "festival beauty inspiration," look no further.)
Photo by Getty Images
Hadid's scraped-back hair at the OnePiece New York Concept Store Grand Opening makes a major case for using hair gel again.
Photo by Getty Images
But the model can do sexy, too, as evidenced by her winged eyeliner, crimson nails, and Victoria's Secret-worthy curls at the 2015 Met Gala.
Photo by Getty Images
A face of Maybelline, Hadid sported a hybrid between a smoky eye and a cat-eye at the brand's 100 Year Anniversary Celebration in New York…
Photo by Getty Images
And an icy white and black cat-eye for the brand's party in Toronto.
Photo by Getty Images
A true California girl, Hadid always looks best with a bit of bronzer and a laid-back 'do.
Photo by Getty Images
Gigi Hadid: The World's Most Connected Supermodel Get to know the girl at the center of everything. Find out how here.
Gigi Hadid's Entourage The Post-It Girl rolls deep. Meet the faces behind the social media star here.
Gigi Hadid's Style Evolution With a supermodel mom and a famous family tree, it's no wonder Gigi Hadid has lived a life of style. See the It girl's best looks over the past few years here.
Gigi Hadid's Best Beauty Looks Gigi Hadid was definitely born with good looks—see model mom Yolanda Foster as exhibit A—and could pull off that no-makeup makeup look every day if she wanted. Lucky for us, she has a little fun. Here, our favorite hair and makeup moments from W's September cover star.
Gigi Hadid's Runway Hits Supermodel Gigi Hadid may be relatively new to the runway compared to friends like Cara Delevingne and Karlie Kloss, but she's a quick study, walking her way to the top at a fast clip. From New York to Paris, Desigual to Dolce & Gabbana, here are 10 of her best runway moments.
How to Instagram Like Gigi Hadid With more than 5 million Instagram followers, W's September cover star Gigi Hadid isn't just a star on the runway. Here, 10 things to learn from the social media pro.
Gigi Hadid Is Beautifully Connected Explore her social universe here.
Gigi Hadid Talks About Her Squad Watch the video here.
The Gigi Hadid Runway Workout! Hint: it involves a treadmill and an Alexander McQueen gown. Watch the video here.
Watch: Model Gigi Hadid Teaches a Runway Lesson In a new film. Watch it here.
Gigi Hadid's Good Jeans We know that Gigi Hadid lives a very stylish life, but what about when she's not on the red carpet or in the spotlight? On Instagram, the model shows that she can nail off-duty style too, with the perfect pair of jeans and a good T-shirt. Here's how to get her look.
A Brief History of Gigi Hadid's Boyfriends Meet the model's memorable plus ones.
Meet @AnwarHadid 16-year-old Anwar Hadid is the only boy in a family of stunning women, including his sisters Gigi and Bella and his mother, Yolanda Foster. While he used to be a little shy on social media, he's got selfie skills in his genes and some professional coaches. Get to know the next biggest Hadid here.
Everything You Want to Know About Gigi Hadid In 6 seconds. See the best Vines here.
Don't Misquote Gigi Hadid The supermodel takes to Twitter to correct click bait.
Pretty in Pastels like Gigi Hadid 10 pieces that channel our September issue star's ladylike look.