Weekend Warriors
When it comes to dressing the part, a fashion girl's work is never done.
---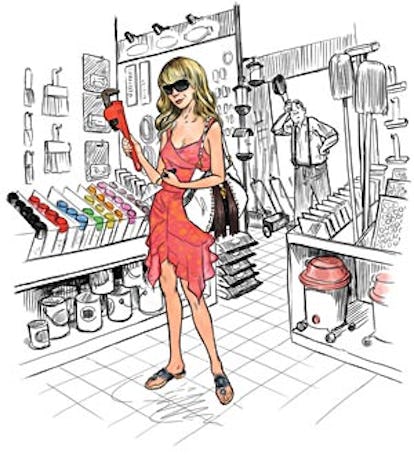 The Devil Wears Prada, that cinematic paean to the magazine world, may have made a few style missteps (blue eye shadow and Eighties Thierry Mugler shoulders, anyone?), but its opening montage of glossy-haired girls approaching their morning toilette with the precision of soldiers preparing for battle got one thing right: Working in fashion necessitates being fashionable from the moment you leave the house. And it is an implicit requirement that can prove exhausting for even the most passionate of clotheshorses.
From left: Eleanor Ylvisaker, Julia Restoin Roitfeld, Kate Etter.
"I don't know how people do the shows in Paris. It must take hours to pick out those outfits—it's like a job in itself," says designer Charlotte Ronson.
Fashion girls certainly appreciate the art of a well-crafted ensemble—after all, that's probably how they arrived at their chosen careers in the first place. But when the weekend rolls around, they are faced with a dilemma: how to keep up appearances while giving their Yves Saint Laurent Tributes and Balenciaga sheaths a breather—if they choose to do so. Between trips to the gym, brunch dates and grocery store excursions, that 48-hour stretch is hardly a time for hibernation. Such chic types never give in to fashion fatigue; they push to the Sunday-night finish line—however, often sans stilettos.
"I feel like there are people who are so excited to not have to [get dressed up in their downtime], and then I feel like there are fashion people who never stop," says designer Shoshanna Gruss, who places herself firmly but chicly in the former category. "When I'm in the Hamptons getting stuff at Citarella on the weekends, I'll see fashion girls who are in Marni and Lanvin in the daytime and I'm in a Tracy Feith cotton dress, Jack Rogers sandals and a ponytail, and I kind of got fancy to go to town in that." Of course, only on a fashion-girl-in-the-Hamptons spectrum would an oh-so-adorable Tracy Feith register as off duty. Gruss's appropriately pulled-together look extends beyond Long Island summers to her Upper East Side residence. Relying on staples like Anlo jeans, a poly-blend American Apparel T-shirt ("It looks very Seventies gym shirt, but it's clean and crisp") and ballet flats—replaced by Mayle sweaters and Michael Kors fur-trimmed boots in the winter—she keeps things "super toned down."
"I think because we work in fashion, you have to look your best and you have to represent, like I have to represent the line," she explains, referring to her contemporary Shoshanna collection. "So for me it's such a great break to not have to wear heels and makeup and blow out my hair. But at the same time I always do want to look presentable—it's simplified."
From left: Charlotte Ronson, Samantha Gregory and Shoshanna Gruss.
Samantha Gregory, vice president of global communications for Tory Burch, takes a similarly streamlined approach, giving her workweek Christian Louboutins a rest in favor of Tod's driving shoes, along with Tory Burch cardigans and tunics, J. Crew corduroys, and Steven Alan and A.P.C. shirts. "I think that Sex and the City ruined people's notion of weekend casual. People saw that show and thought that you were supposed to wear cocktail dresses on the weekends," muses Gregory. "I think it's odd when I see four girls out having brunch in wrap dresses and heels." Indeed, it is those who insist on hobbling their way through errands in the latest Givenchy platforms who give one pause: Trying too hard is never a good look.
Gregory has a kindred spirit in Eleanor Ylvisaker, who, thanks to her position as public relations director and partner of Earnest Sewn jeans, has perfected the art of 24-7 denim dressing. Though she may don a Carolina Herrera or Chanel frock for a high-end affair, her typical nine-to-five ensemble consists of fitted dark jeans with heels and a "nicer top." Downgrading for weekends in her SoHo hood is as simple as switching to a lighter wash and more relaxed cut, paired with Balenciaga and Loro Piana knits, tank tops by The Row, and Repetto flats or Loeffler Randall boots. And Ylvisaker doesn't sweat maintaining a stylish demeanor, even after clocking out. "I really like fashion, and I like being creative with my clothing, so to me it doesn't feel like pressure," she says.
Yet for all the talk of relaxed, easy attire, there are certain items considered verboten on even the most casual of days. "Definitely never sweatpants and sneakers unless I'm going to the gym," says Kate Etter, public relations manager for Nina Ricci, who trades towering Pierre Hardys for black Chanel flats during her Lower East Side errand runs.
"French people don't really 'underdress' on the weekends.…[The gym] is the only time I would wear sneakers," agrees Chelsea resident and art director Julia Restoin Roitfeld.
"I don't really do the Ugg thing," Ylvisaker adds of the still ubiquitous winter footwear.
Throw a zip code change into the mix, and the casual-chic ante can rise and fall with the corresponding real-estate prices. "I definitely think the Lower East Side allows you to be more hip and fun. It might be easier to get away with a more pared-down look there than, say, the Upper East Side," Etter says.
Gregory is all too familiar with the neighborhood effect on shifting clothing patterns. She divides her time among eternally laid-back Los Angeles (where husband Roberto Benabib works); über low-key Washington, Connecticut, where she keeps a country house; and Manhattan's relaxed-but-hip West Village—with the occasional foray uptown to 10021 land.
"My husband and I went to have an Upper East Side day and we were like, 'What are we gonna wear?'" Gregory recalls. "I remember feeling like I had to brush my hair and look a lot nicer because everyone's decked there." It's certainly a 180 from her time spent in the country. "There's a coffee shop we go to every morning, and once in a while we'll run into someone and I'm like, Oh, my God, I can't believe I'm basically wearing my pajamas," she says. "But everybody looks like that there."
That may be true in comfy Connecticut, where fellow fashion toilers are few and far between. Alas, the same cannot be said for the concrete jungle, where weekend industry run-ins are common. Leaving the house in a less-than-presentable outfit can become increasingly perilous with the rising fashion gal–to–civilian ratio. While the Upper East Side may necessitate only a hairbrush and a clean-lined blazer, Chelsea and its stylish cohorts require a more artful approach. Should the inevitable encounter occur, it seems a girl's best armor is a que sera, sera attitude.
"I don't find it a pressure to always be 'ready to run into people.' We all go to the gym at some point!" Restoin Roitfeld says. "Your look is very important in this industry, but dressing up is for my own pleasure, during the week or on weekends."
Ronson concurs. The designer—who on off days turns to her own cool-girl, albeit artfully disheveled, pieces like cardigans and plaid shirts, as well as distressed Current/Elliott jeans and Alexander Wang tank tops and T's—says "Bring it" to anyone who criticizes her wardrobe choices. "If someone's going to judge me, please, that would be kind of fun," she says with a laugh. "I'd love to hear why."