Welcome, North West
In case you missed them, here are the top style stories from the week leading up to June 21st.
---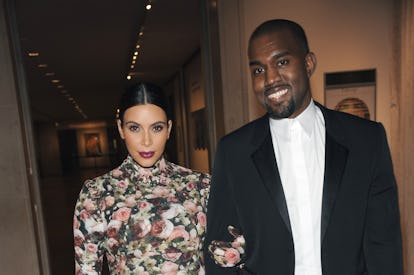 In case you missed them, here are the top style stories from the week leading up to June 21st.
Balenciaga The luxury fashion house is suing former creative director Nicolas Ghesquiere for criticizing the brand's management. Watch your words, Wang.
Bieber, Justin Announced plans to release a third fragrance; how, oh HOW, can he top "Girlfriend"?
Cashmere One of the ingredients in a blowout treatment in Chicago. No sweater included with the price of treatment.
Chen, Eva Named the Editor-in-Chief at Lucky magazine; plans to drastically increase her shopping habit.
Domenico, Dolce and Gabbana, Stefano The design duo was found guilty of tax evasion; orange is so the new black.
Fitch, Abercrombie & Incites anger by designing a t-shirt that reads: # more boyfriends than TS. Clearly forgot their key demographic loves Taylor Swift.
Ford, Tom Starting a men's beauty line. Is there anything he can't do?
Gyllenhaal, Jake Now dating Sports Illustrated model Alyssa Miller. Poor Switfy, this just isn't her week.
H&M Encourages customers to recycle clothes by offering discounts in exchange for cast-offs; solves global problem… kinda.
Jackson, Joshua Reportedly went shopping for an engagement ring for his ultra stylish girlfriend Diane Kruger; hopefully brought major style consultants in tow.
Kors, Michael His eponymous brand may be valued at $12.38 billion, but the designer himself only made $7.6 million in the past year. Something doesn't quite add up.
Lopez, Jennifer Launching a swimwear collection; signature curves not included.
Louboutin, Christian Explains the very boring reason for why his red-soled shoes are so expensive: "there is a gap of raw materials and leather." Yawn.
McQueen, Alexander Inks fragrance deal; is upstaged by Justin Bieber. Tragic.
Ottenberg, Mel Rihanna's stylist was named the fashion director of 032c magazine in an attempt to land the singer for the cover.
Scherrer, Jean-Louis The French couturier known for dressing Jackie Kennedy and Sophia Loren passed away at age 78.
Vreeland, Diana The iconic editor's clothes will be available at auction; good news for her most petite fans.
Vuitton, Louis Announced partnership with street artist Eine. Who's next, Mr. Brainwash?
West, North Is apparently the name of Kim and Kanye's spawn; Anna Wintour approves. (Not A Joke. I repeat: This Is Not A Joke.)
Zimmer, George The founder of Men's Warehouse, best known for his "You're going to like the way you look" commercials was fired. So much for guarantees.
Zoe, Rachel Is reportedly pregnant with her second child. Skyler's fingers are crossed for a sister so he'll be able to cut his hair .
Photo: Steve Eichner/WWD