Welcome to the Twisted Fairytale World of Calvin Klein Model, Rapper, and Artist Tommy Genesis
The self-described "fetish rapper" is ready to storm the fashion world.
---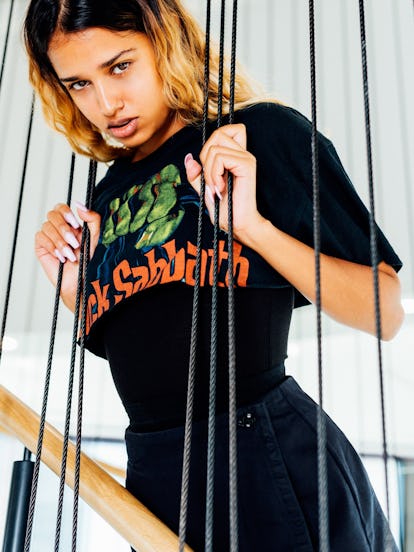 Photo by Arturo Olmos.
During Hood By Air's show at New York Fashion Week last month, rapper Tommy Genesis ended up on PornHub's Snapchat. The porn streaming site sponsored Shayne Oliver's Spring 2017 show; its logo popped up on the runway on tanks and briefs, while the theme was played out in the models' Vaseline-streaked hair, styled to appear soaked in ejaculate. Slogans like "Never Trust a Church Girl" and "Do You Know Where Your Children Are," appeared throughout, along with key words like "Wench" and "Hustler." And in the front row absorbing it all was rapper and sometime-model Tommy Genesis, who appeared at a selectively curated array of shows — Hood By Air, Telfar, Alexander Wang — throughout New York Fashion Week.
The fashion world has been quick to usher in the Canadian musician, who first broke out in Calvin Klein's Fall 2016 campaign back in July. She was one of 29 actors, musicians, athletes, and supermodels — including the likes of Anna Ewers, Margot Robbie, Young Thug, and Selah Marley — photographed for the campaign, which also starred a series of street-cast models.
But during her first fashion week, it was not the collections but the models wearing them that really caught Genesis's eye: "All the models looked like baby aliens," she said of the Telfar show. "They were all really glossy and bug-eyed." And at Hood By Air, "certain models were walking kind of like ogres," she recalled. It's the performance of it all that gets her the most, which makes sense given that she is the consummate performer of her identity as an artist.
Genesis — that's her birth name (she gave herself the name Tommy) — declined to reveal her age. She was reluctant to talk about her past. And: "If I had it my way, you wouldn't know my gender," she said. "I hate being put in any box." A half-Swedish, half-Tamil native of Vancouver, she played field hockey and learned piano from her mother as a child. Though she wrote her first song at age 10 and imagined herself a future pop star, she ended up at art school before she turned to music. In 2015, she signed with the Atlanta-based Awful Records, the rap collective helmed by Father that rose to notoriety. Her label-mate Abra features on the standout track "Hair Like Water Wavy Like the Sea," off Genesis's debut album World Vision. The follow-up, World Vision II, is slated for late 2016 — her debut is part of a trilogy of similarly titled records. Until then, she's keeping up her momentum with a lineup of performances: She and the Awful crew take the stage at the Red Bull Music Academy showcase in London October 20, kicking off a short European tour that culminates for Genesis with a set at Pitchfork Paris at the end of the month.
If Tommy Genesis is the identity the Canadian rapper has fashioned for herself, so too is the dark underworld beneath her songs. Like the anime characters that sometimes populate her Instagram feed, she's bright and bubbly in person — and she dresses almost exclusively in cropped merch tees (Thrasher, Black Sabbath, Iron Maiden) and pleated miniskirts, many embellished with patches by her designer friend Julie Kucharski of Left Hand LA. Yet her lyrics have a sinister quality. They embody what she called a "dark purple underworld where everyone has demons" — a place she likes to imagine she resides, even as her buoyant personality and easy smile give her away.
"They're like twins, but they're not identical ones," she said of the relationship between fashion and music. "They just walk around holding hands." Genesis retains a reformed art kid's interest in performance art: She reads critical theory texts on art for fun; she compared the Hood By Air show to a Vito Acconci performance piece; and she cited a pre-Kanye West Vanessa Beecroft as among her favorite artists.
"I think bodies are art," she said. I pointed out that post-Kanye, Beecroft has come under fire for the very principles that Genesis admired — using human bodies as paint.
"Everything gets out of hand, in the end," she said. "It steps into other worlds. It steps into fashion, it steps into TV. … Once you can't really control everything and all the ideas as an artist, you sort of lose your purity a little bit because it's not someone stepping into your gallery." This is in some ways a diagnosis of Genesis's own approach to art, which is to create a controlled space through an assumed name and imagined world.
In her Instagram bio, Genesis describes herself as making "fetish rap." Her lyrics can be hyper-sexual, with a candor reminiscent of Azealia Banks. In the first lines of World Vision's opening track "Hate Demon," she chants, "Before I was yours, I belonged to her / She taught me how to fuck, Venus in Furs."
"I read a lot of erotica," Genesis said. "Sometimes when I'm writing, I write it like an erotica novel, but it's about my life." Yet she never set out to make a grand sex-positive feminist statement — it just happened that way. "I am a very sexual person, and it's something that has always been a con in my life because it's something that I have always had to defend," she explained. "I'm not unaware of what I'm saying, but I don't realize it's so explicit until it comes out."
Her flow is languid and sing-song, backed by a minimalist trap beat. Still, despite her background with Awful Records and music that evinces the hallmarks of southern rap, she defies strict categorization. And on her upcoming World Vision sequel, she ventures even further outside rap, experimenting with beats and sounds — and even singing a bit. (She started in rap, she told me, because she just didn't think she could hold a tune.)
"Even if you say I'm hip-hop, I'm not hip-hop," she said. "I make sex-talk art weirdness."