Wendi Deng and Megyn Kelly Are Doing Just Fine Without Rupert Murdoch, Thanks
Freed from the media mogul, the pair are finally getting theirs—with a little help from a 21-year-old male model and NBC.
---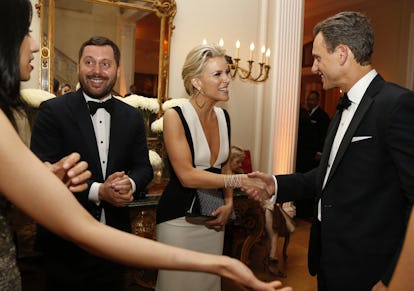 Media mogul Rupert Murdoch's Fox News may have ended the year as the most-watched cable news network, but, in many ways, 2016 was an embarrassment for both the network and the businessman. Roger Ailes, the man Murdoch entrusted to run Fox News, was ousted amid multiple claims that he sexually harassed female employees. Murdoch took over as acting-chief executive of the network, but just a few days into the new years, things aren't going well for Murdoch either professionally or personally.
In a bit of poetic justice, some of the most notable women ever connected to Murdoch are starting off 2017 by going public with some fresh starts.
Wendi Deng was married to the billionaire media mogul Rupert Murdoch, who is 37 years her senior, until 2013. For the new year, though, Deng, 48, opted to take the age gap in the opposite direction: She started off 2017 wandering the beach in a bikini with the 21-year-old chiseled Hungarian model. After rumored relationships with the like of Tony Blair and Vladimir Putin, it's certainly a new romantic direction for the divorcee.
Zahoran has walked runways for everyone from Versace to Balmain, appeared in numerous magazine editorials and is a campaign favorite of Polo Ralph Lauren; in fact, Zahoran is officially a certified underwear model for the brand. Her former beaus may have had world-changing power, but did they look nearly this good in boxer briefs?
Deng isn't alone in making a serious upgrade.
On Tuesday, back in New York, word broke that Megyn Kelly will also be breaking off her own dozen-year relationship with the mogul and stepping away from Fox News, the Murdoch-owned network. As the host of The Kelly File, Kelly became the cable news channel's second top-watched host and also faced vitriol and personal attacks from president-elect Donald Trump, not to mention the scrutiny after coming out as one of the many, many women former Fox CEO Roger Ailes abused before he was forced to step down last year.
Instead of a six-pack, though, Kelly is relishing her freedom with a new "triple role" at NBC News, where she'll helm both daytime and evening shows and take part in special programming. No wonder she named her 2016 memoir Settle for More.
The move comes after months of speculation about the host's future. Though reports suggested that few would be able to match the salary Fox News was willing to offer, Kelly repeatedly hinted that she'd be willing to take a lower offer for more visibility. Notably, Kelly said she wanted to spend more time with her three young children. No word however on how much the NBC contract is worth.
Of course, things aren't all bad for Murdoch. In 2017 he'll celebrate the first year anniversary of his marriage to a model of his own, Jerry Hall, the supermodel most notable for her long-term relationship with Mick Jagger.
See W's most popular videos: