Wes Anderson Directed a New Short Christmas Film for H&M
Wes Anderson's collaboration with H&M is just the latest between a blue-chip director and a fashion brand.
---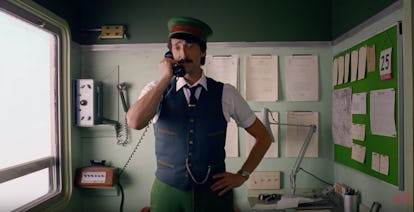 The train in Wes Anderson's new Christmas-themed short film for H&M may be delayed, but it's evidence that the train of Oscar-nominated being commissioned by fashion brands to make mini-movies is not slowing down any.
Anderson's latest entrant into the mini-genre sees him reteaming with his The Darjeeling Limited actor Adrien Brody for another train-based adventure albeit in the service of the fast fashion chain. In this one, Brody stars as a train conductor who remorsefully informs his passengers that their travel has been delayed and that their holiday plans will surely have to be canceled. Like most of Anderson's work, it's bittersweet with a happy ending. We'd add a spoiler alert, but it's a Christmas advert? What would you expect?
Anderson employs his trademark visual style here, although this time the wardrobe aren't plucked from vintage stores, but, naturally, H&M's latest holiday collection. Well, most of it anyway. Unfortunately, you won't be able to cop Brody's green train conductor hat at your nearest H&M.
It's just the latest collaboration between a fashion brand and a blue-chip director.
Earlier, this month David O. Russell debuted Past Foward, a surrealist, experimental film for Prada that starred the likes of John Krasinski, Allison Williams, and Frieda Pinto. The director told us the experience let him scratch some creative itches he'd had for years, but couldn't explore in his feature films. He was happy to finally quench those creative yearnings for his good friend Miuccia Prada. Later that week, Spike Lee debuted a music video for luxury lifestyle brand Moncler, a collaboration he said came about because the label called him up out of the blue one day.
Of course, Burberry also recently enlisted director Asif Kapadia, fresh off his Academy Award win for the documentary Amy, to make a fake trailer for an epic biofilm of the brand's founder Thomas Burberry.
Maybe our favorite example this year was Spike Jonze's perfume commercial for Kenzo. The wacky dance clip served as something of a spiritual sequel to the director's famed "Weapon of Choice" music video for Fatboy Slim.
Anderson, too, has been down this road before. In 2013, he teamed up with frequent collaborator Roman Coppola to direct a short film that doubled as a commercial for Prada's Candy fragrance.
The results of the collaborations vary. Some can function as interesting stand-alone works by world famous filmmakers that just happen to feature characters dressed in the sponsoring brand's wares. Others are basically beautiful commercials.
This may fall into the later category, but it is the world first taste of Anderson's style since his last film The Grand Budapest Hotel, and it might be the only taste we get for a while. His next film isn't expected to reach cinemas until at least 2018. The still untitled project is a stop-motion animated film about dogs. Little is known about it, but Bryan Cranston, Edward Norton, Jeff Goldblum, Bob Balaban, and, perhaps obviously for an Anderson film at this point, Bill Murray have all signed on to provide voice work.
All Aboard! The Holiday Shopping Train Is Leaving the Station