Wes Anderson's French Dispatch Poster Has Timothée Chalamet in a Bathtub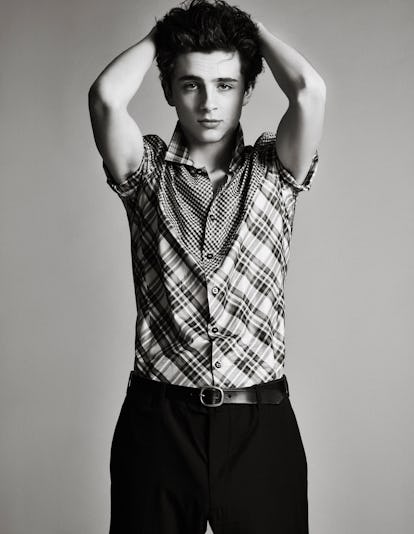 Photographer: Luca Khouri Stylist: Sam Walker
On February 11, the Wes Anderson faithful awoke with reason to wear their chunky glasses, berets, and tasteful tweed overcoats with pride: the poster for the filmmaker's next project, The French Dispatch, had at long last been released. The typically hand-drawn poster for the Timothée Chalamet–starring movie suggests that we shouldn't expect any wild divergence from Anderson's trademark style, and also gives us clues about what to expect.
Previously, the film has been described as a "love letter to journalists." It will focus on three stories woven together through Chalamet's character. Identified only as Zeffirelli, the lead is an American journalist who starts up a magazine in a fictional French town at some point in the 20th century. The all-star supporting cast is made up of Anderson regulars like Bill Murray, Tilda Swinton, Frances McDormand, Owen Wilson, Saoirse Ronan, and Anjelica Huston, while Anderson newcomers like Henry Winkler, Elisabeth Moss, and Jeffrey Wright also appear.
In fact, there are so many A-List stars in the credits that not all of them were even illustrated in the poster.
Still, let's take a look at what Anderson did give us.
Timothée Chalamet in a Bathtub
Chalamet's Zeffirelli is pictured nude in a bathtub, wearing a makeshift hair turban while simultaneously smoking and writing away. Andersonian scholars would of course describe this as "major Margot Tenenbaum vibes," while also noting that Natalie Portman's character from Anderson's short film "Hotel Chevalier" was also depicted in a towel turban.
It's interesting, then, that the poster depicts Chalamet in a way that calls to mind Anderson's previous depiction of young female starlets, but, then, would the Chalamet hive have it any other way? Of course, we could step away from the bathtub of it all, and point out that his character might be so obsessed with writing that he doesn't even take a break to bathe.
Bill Murray Seems to Lead a Newsroom
While Timmée is writing in a bathtub, Bill Murray seems to lead a proper newsroom that also includes Tilda Swinton, Frances McDormand, and Jeffrey Wright. Are they the veteran staff of the titular French magazine working under a young whiz kid, or are they perhaps working at a rival publication of some sort?
The addition of a new subtitle, "…of the Liberty, Kansas Evening Sun," suggests that Chalamet's magazine might be a special insert for an American newspaper back home.
These Men Are Doing Their Little Things
Adrien Brody seems to like money. Benicio Del Toro seems to like art. Owen Wilson seems to like directionless leisure. We can't speculate too much about how this dovetails with the rest of the plot, but, yes, these are three distinct things men of privilege like to do with their time.
Elsewhere we see Léa Seydoux as a police officer, Lyna Khoudri pensively reading and wearing a helmet, Stephen Park cooking, and Mathieu Amalric eating away.
Of course, more answers should come soon as the trailer, is expected on Wednesday, February 12.
Related: Here's What We Know About The French Dispatch So Far