A Guide to Wes Anderson's Latest Streaming List
Where to stream oldies starring John Wayne and Humphrey Bogart for free.
---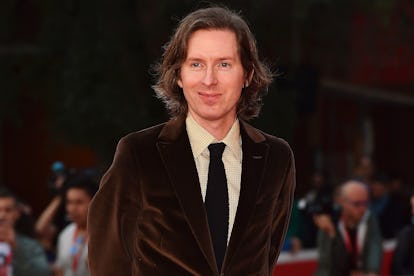 Stefania D'Alessandro
If it weren't for the pandemic, Wes Anderson would currently be at the Cannes Film Festival, screening his tenth film ahead of its July 24 release. Instead, The French Dispatch has been pushed to October 16. (Consider Timothée Chalamet's bathtub scenes the light at the end of the tunnel of social distancing.) The festival has been postponed. And Anderson has been holed up at home, where he and his family have developed a new routine: "We watch a movie every night," Anderson told the New York Times this week.
The director also shared a list of some of the Anderson family's recent favorites, making for his second streaming guide in the era of social distancing. His first, created for the Criterion Channel, was a notably high-brow selection featuring three films from the 1930s. His latest is more accessible—both emotionally and logistically. (Films like Raymond Bernard's 1932 war drama Wooden Crosses aren't exactly readily available to stream.)
Of Anderson's 11 picks, you'll have to rent or buy five: Spike Lee's Do the Right Thing (1989), Marco Ferreri's La Grande Bouffe (1973), David Lean's The Passionate Friends (1949), Seth Holt's Station Six-Sahara (1962), George Cukor's What Price Hollywood (1932). But six of them are easy to find, whether for free on Tubi or included in an Amazon Prime, Hulu, or Criterion Channel subscription.
Nothing Sacred (Tubi)
William A. Wellman's 1937 film is the first of three free options on Anderson's list, and the first screwball comedy ever filmed in color. Carole Lombard stars as a woman who's pretending to be dying of radium poisoning, which works out surprisingly well for her romantically.
Beat the Devil (Tubi)
Truman Capote and John Huston wrote the screenplay of this 1953 film, which the latter also directed. Humphrey Bogart, Jennifer Jones, and Gina Lollobrigida are on their way to Africa, where they're hoping to get rich, but the plot quickly unravels into a spoof of The Maltese Falcon.
The Long Voyage Home (Amazon Prime and Dailymotion)
John Ford's 1940 drama stars John Wayne, who's part of a hard-drinking crew that travels from the West Indies to Baltimore to England. It's available on Amazon Prime, or for free on Dailymotion.
Winter Kills (Amazon Prime)
"It doesn't make a bit of sense, but it's fast and handsome and entertaining, bursting with a crazy vitality all its own," the New York Timesonce said of William Richert's 1979 film. (His director's cut is available on Amazon Prime.) It follow Jeff Bridges, son of the "most merrily depraved man in America" (John Huston), on his quest to discover who killed his brother, a former president who died 19 years ago.
Alice Adams (Hulu)
The trailer for Alice Adams begins with a question: "Can a girl from the wrong side of the tracks find happiness with a man from the right side?" The girl in question is Katharine Hepburn, who falls for an upper-class playboy played by Fred MacMurray. The 1935 film, which was a contender for Best Picture, earned Hepburn a Best Actress nomination.
A Story From Chikamatsu (Criterion)
True to the name of its alternate title, The Crucified Lovers, Kenji Mizoguchi's 1954 film follows a couple on the run, facing death for having an affair. The Criterion Channel, where you can stream the film, describes it as "exquisitely moving," and a "delicately delivered indictment of societal oppression."
Related: Tilda Swinton Listed Her Favorite Films. Do You Dare Stream Them?