Wes Anderson Shares His Very High-Brow Streaming List
Featuring a Louis Malle doc and a nearly five-hour 1930s adaptation of Les Misérables.
---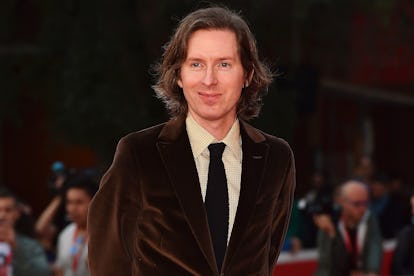 Stefania D'Alessandro
Great news for those who've already burned their way through Tilda Swinton's streaming list: Wes Anderson has released one of his own. "I've been streaming and Blu-raying Criterion movies every day," the director wrote in a letter to the Criterion Channel. "How fortunate we are to have this Louvre of movies at our fingertips!"
Like Swinton's, Anderson's list is comprised of films you've likely never heard of—including one that he only recently learned of himself. Streaming them might require a subscription to the Criterion Channel, but according to Anderson, it's well worth the $10.99 if you plan to run through his syllabus in a month. (There's also a 14-day free trial, and a free YouTube version of one of his nearly five-hour picks.)
The Out of Towners (Arthur Hiller, 1970)
"It is a great time machine," Anderson said of the Canadian director Arthur Hiller's 1970 comedy. Jack Lemmon stars as a sales executive from Ohio, who takes a disastrous trip to New York City for a job interview. Sandy Dennis, an Oscar and two-time Tony Award winner, plays his wife, who comes along for the ride.
Anne-Marie (Raymond Bernard, 1936)
Anderson is clearly a fan of Raymond Bernard, but admits that even he had never heard of Bernard's 1936 drama Anne-Marie. The mononymous French actress Annabella stars as an aspiring pilot, in what turned out to be her penultimate French film before she made the leap to Hollywood. The screenplay is written by The Little Prince author—and aviator—Antoine de Saint-Exupéry.
Les Misérables (Raymond Bernard, 1934)
Seventy-eight years before Anne Hathaway took on the role of Fantine, Bernard tapped the French singer and actress Florelle to star alongside Harry Baur as Jean Valjean. A head's up: Bernard's version clocks in at nearly five hours.
Wooden Crosses (Raymond Bernard, 1932)
The New York Times named this Bernard film "one of the great films in motion picture history" at the time of its 1932 release. Criterion describes the World War I drama, which centers on a French regiment, "Frances's answers to All Quiet on the Western Front."
An Angel at My Table (Jane Campion, 1990)
Finally, a name you might recognize on Anderson's list. The Academy Awards has only ever nominated five women for Best Director. Dame Jane Campion was the second. "How many times will I re-watch An Angel at My Table?," Anderson asks of her 1990 biopic of the acclaimed New Zealand writer Janet Frame.
…And the Pursuit of Happiness (Louis Malle, 1986)
Anderson praised the French Oscar nominee and two-time Golden Lion winner Louis Malle's entire oeuvre of documentaries, which range in topics from Calcutta to the depths of the ocean. But only this doc, about the lives of immigrants to the U.S. in the 1980s, earned a special shoutout.
Related: The French Dispatch Trailer: All Timothée Says Is, "I'm Naked!"