Westminster Abbey Lit Up Like Stained Glass for Lumiere London Festival
You've never seen the church like this.
---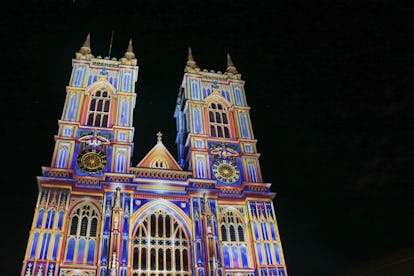 Amer Ghazzal/Barcroft Images/Getty Images
If you thought massive, over-the-top light shows were reserved for Christmas and Disney World, you would be wrong. These days, even London's Westminster Abbey is getting lit. Lumiere London, a festival of lights that casts colorful creations on the city's landmarks, began in 2016 with a whopping 1.3 million visitors and is back for a second year with a total of 50 installations.
One of the most eye-catching is at Westminster Abbey, where the West Towers and Great North Door have been lit up with a stained glass design that's truly spectacular. According to the Westminster Abbey official website, artist Patrice Warrener is behind the intricate design, titled The Light of the Spirit. Warrener is known for his chromolithe projection system that, when applied to buildings, fool the eye into believing the surface is actually painted in a bright kaleidoscope of colors. To celebrate, Westminster Abbey will open its doors to visitors from 6:30 p.m. to 9 p.m. on Thursday, January 18, and Friday, January 19, for a special reduced entry fee of £10 for adults and £5 for children.
The four-day-long festival will also brighten up London destinations including King's Cross, Fitzrovia, Mayfair, South Bank, and the West End, according to City A.M.. Though the lights are free to enjoy, visitors are encouraged to make a donation by purchasing a map of the installations for any amount. For the technologically savvy, there is a free app which gives details about the works, as well as helpful information about nearby activities.
But tourists should make haste: Lumiere London began on Thursday and will end this Sunday, with shows running between 5:30 p.m. and 10:30 p.m. And if you can't make it in person, the spectacular display is sure to be all over Instagram.