What Do You Wear to a Björk Show? Eight Björk Fans Answer the Immortal Question
Björk's surprise Iceland Airwaves concert brought out fans decked out in fur and glitter, plus the Mayor of Reykjavik, himself a huge Björk devotee, and they all paid homage to the mother-goddess of Icelandic music in their own unique ways.
Photography by Magnús Elvar Jónsson
---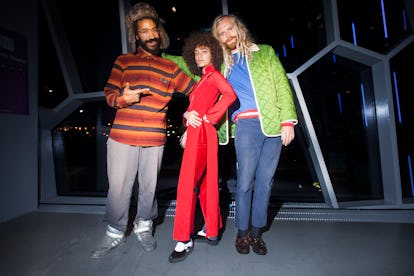 Photo by Magnús Elvar Jónsson.
In late September, Björk announced a landmark homecoming: She planned to join the lineup of Reykjavik's Iceland Airwaves festival with a special, separately ticketed, two-hour concert backed by the Iceland Symphony Orchestra. The announcement gave her devotees — including American musician Kelsey Lu and the mayor of Reykjavik, Dagur Eggertsson — just over a month to plot the perfect look to pay homage to the mother-goddess of Icelandic music. By all appearances, they didn't waste a moment.
So it was that on Saturday night at the national concert hall Harpa, she took to the stage clad in a sky-blue silk Emanuel Ungaro ensemble, her head and face shrouded in a Gucci headpiece that might best be described as a cocoon. (Not 100 feet away was the entrance to her virtual reality exhibition, Björk Digital.) Backed by a forty-piece string section, she played "Joga." (Four members of the orchestra played on the original Homogenic recordings.) And the crowd, clad in fur, velvet, and lots of sparkles, wept.
Kelsey Lu, 27, "musician, acrobat, and part-time lover." "I got my outfit from his mistress's closet." [points to stylist Giles King, left]
Richard Miller, 36, interior designer "It was the thing on the top of my suitcase. We had like five minutes to get ready so it was the first thing I could grab that was good for tonight. Layers, partly because it's so cold outside but so hot inside. I never wear black; I always wear lots of color. I think it was this. [points to necklace] I really wanted to wear this tonight. It's a Danish designer. Just wanted something quite simple but made me stand out."
Erna Ómarsdóttir, "forty-something," dancer and choreographer "This is a thing that I wear for special occasions — a Martin Margiela thing that I have had for 15 years. We used to work with Martin Margiela; my mother-in-law was the manager of Margiela — my ex-ex-mother-in-law. She gave me this. So of course I wear it for this night."
Mai Le, "I'm old enough that I don't say that anymore," writer "I'm here from San Francisco, so I chose clothes that I can wear every few days. The skirt is a Max Mara skirt and this is a vintage shirt, and then I'm wearing Doc Martens. I have two gold items — that's my color, so that it would match my makeup. I also have a gold lamé dress; I knew I was going to wear one of those gold items to match my makeup."
Johann Berglund, 38, architect "I like black and white, as you can see. I wasn't sure if it was a dress-up event or a more kind of clubby even so I tried to find a balance. Shirt, but sneakers."
Dagur Eggertsson, 44, Mayor of Reykjavik, and Vala Egilsdóttir, 35, lawyer Egilsdóttir: "That was easy. The first thing that I saw on the rack. Jeans and a Danish dress, and a leather jacket, which is an essential for a concert." Eggertsson: "I picked a jacket so you couldn't see the tears."
Nadia Artman, 41, opera producer "I love to be colorful when it's grey outside. I was not expecting to be here — I didn't have a ticket. I woke up at 3:45 a.m., just in time for the concert, so I had to rush here, determined to get a ticket. I just got it. I was packing to come here, and I was thinking about this jacket. That's the Desigual jacket; it's one of a kind. I usually wear it without anything on top."