What It's Like Backstage at Chanel's Most Exclusive Show
Model Éléonore Toulin, a Chanel regular who was discovered by Simon Porte Jacquemus, talks getting ready for Chanel Métiers D'Art with Sofia Richie and Lily-Rose Depp, and doing karaoke with Pharrell.
---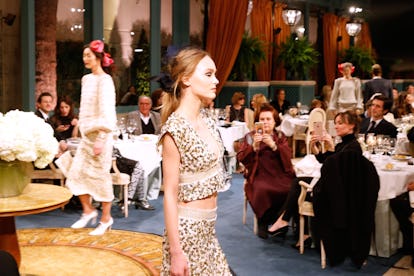 Getty Images
At 7 a.m. on Tuesday morning, Chanel's eclectic cast of cool French models, It girls, and Pharrell were already at the Ritz Paris to prepare for a marathon day presenting Karl Lagerfeld's latest Métiers D'Art collection, entitled "Paris Cosmopolite." Though a few novice faces populated the informal runway that wove through the Ritz's dining room, model Éléonore Toulin, who was discovered by designer-of-the-moment Simon Porte Jacquemus on Facebook, knew the drill: The Chanel regular had previously walked couture for Fall 2014, ready-to-wear for Spring 2015, and Métiers D'Art in Salzburg for Pre-Fall 2015.
"The atmosphere is more intimate," she said of the Métiers D'Art show. "Everything is just insanely beautiful."
Each year, Chanel's Métiers D'Art show showcases the artisans who produce Chanel's leather, lace, knitwear, and even the silver buttons that adorn tweed jackets. It holds forth during the usual Pre-Fall calendar, but it's something more of an occasion. Where designers usually opt for more casual silhouettes during the Pre-Fall season, Lagerfeld elevates his craftsmanship even further, presenting what could pass for yet another couture collection. For this year's hometown show at the Ritz, Lagerfeld scheduled three separate shows: one lunchtime, one teatime, and one during dinner. Willow Smith kicked off the day with a solo guitar performance of her new song, "November 9." Models wandered between tables, where fashion editors, friends of Lagerfeld, and a few professional dancers perched; occasionally, a dancer would stand and take a model's hand, sending her for a spin.
"When we started the first one," Toulin explained, "nobody was really in the mood to dance." But by the time dinner rolled around — eased, no doubt, by the Champagne and sake they enjoyed backstage — "it was explosive. Everybody was dancing and screaming," she said. That included supermodel Cara Delevingne, walking her first show since Chanel Spring 2016 last October, musician Pharrell Williams, noted scions Georgia May Jagger, Levi Dylan, Kenya Kinski-Jones, and Sofia Richie, and current Lagerfeld muse and actress Lily-Rose Depp, in her runway debut. It's rare that a show's cast is as stacked as the front row, but Chanel managed to deliver (despite competing with the Victoria's Secret show just days before): Rowan Blanchard, Bella Heathcote, and Jada Pinkett Smith were all in the audience.
It's a grueling day for the models — they're on set from 7 a.m. through 10 p.m., with something like four hours of wait time between each pass — but by the end, they were ready to celebrate. Toulin, her friend Louise Parker, and the rest of the Chanel girls descended to a private bar of the Ritz for the "secret" afterparty, a karaoke bash. Pharrell sang "Happy," because what's a musician to do when he's already penned a karaoke classic?
(Toulin took a turn, too, singing Mariah Carey's "Fantasy." "It was not good," she said.)
Toulin didn't set out to be a singer, or a model for that matter. She's a photographer by trade — and she brought her camera backstage during the grueling day of the Métiers D'Art show. Here, an exclusive look at the images:
French Model Éléonore Toulin Captures Willow Smith, Sofia Richie, Selah Marley, and More Backstage at Chanel Métiers D'Art
Willow Smith at Chanel Métiers D'Art 2017 in Paris, France, December 2016.

Eléonore Toulin
Soo Joo Park backstage at Chanel Métiers D'Art 2017 in Paris, France, December 2016.

Eléonore Toulin
Selah Marley and Louise Parker backstage at Chanel Métiers D'Art 2017 in Paris, France, December 2016.

Eléonore Toulin
Selah Marley, Sofia Richie, and Louise Parker backstage at Chanel Métiers D'Art 2017 in Paris, France, December 2016.

Eléonore Toulin
Louise Parker backstage at Chanel Métiers D'Art 2017 in Paris, France, December 2016.

Eléonore Toulin
Eléonore Toulin and Louise Parker backstage at Chanel Métiers D'Art 2017 in Paris, France, December 2016.

Eléonore Toulin
Backstage at Chanel Métiers D'Art 2017 in Paris, France, December 2016.

Eléonore Toulin
Backstage at Chanel Métiers D'Art 2017 in Paris, France, December 2016.

Eléonore Toulin
Backstage at Chanel Métiers D'Art 2017 in Paris, France, December 2016.

Eléonore Toulin
Backstage at Chanel Métiers D'Art 2017 in Paris, France, December 2016.

Eléonore Toulin
Backstage at Chanel Métiers D'Art 2017 in Paris, France, December 2016.

Eléonore Toulin
Backstage at Chanel Métiers D'Art 2017 in Paris, France, December 2016.

Eléonore Toulin
Backstage at Chanel Métiers D'Art 2017 in Paris, France, December 2016.

Eléonore Toulin
Backstage at Chanel Métiers D'Art 2017 in Paris, France, December 2016.

Eléonore Toulin
Backstage at Chanel Métiers D'Art 2017 in Paris, France, December 2016.

Eléonore Toulin
Louise Parker backstage at Chanel Métiers D'Art 2017 in Paris, France, December 2016.

Eléonore Toulin
Backstage at Chanel Métiers D'Art 2017 in Paris, France, December 2016.

Eléonore Toulin
Louise Parker after the Chanel Métiers D'Art 2017 in Paris, France, December 2016.

Eléonore Toulin
After the Chanel Métiers D'Art 2017 in Paris, France, December 2016.

Eléonore Toulin
See W's most popular videos: