What Looks Like Soho's Newest Clothing Destination Is Actually a Chilling Ai Weiwei Installation
The Chinese artist's exhibition at Deitch Projects looks like a thrift shop on Instagram, but is really a heartbreaking reminder of the ongoing refugee crisis.
---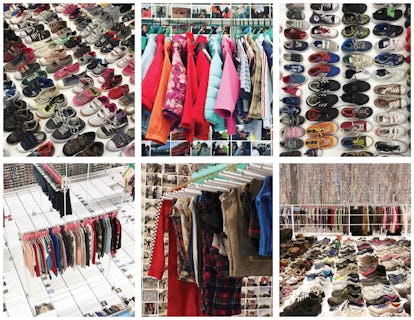 Courtesy of Instagram
Just a year after the Chinese government returned his passport, the artist Ai Weiwei, finally free to roam once more, made his return to New York this month with a splash. He currently has no less than four exhibitions up in the city — a spread that stretches from Mary Boone Gallery in Midtown to Lisson Gallery in Chelsea to Deitch Projects in Soho. It's all the more impressive given that the artist has devoted much of the last year on the ground engaged in activism around the current global refugee crisis.
All that, of course, has made its way into Weiwei's work, the most chilling of which is his unassumingly titled show "Laundromat," at Deitch Projects, which at first glance resembles a sort of hybrid thrift /concept shop. But like the 1,005 life jackets Weiwei filled a pool in Austria with earlier this year, and the 14,000 he brought to a concert hall to Berlin, each clothing item, pair of shoes, and personal keepsake currently filling the gallery space represents one of the hundreds of thousands of people around the world forcibly displaced from their homes.
In this instance, each item comes from a camp on the border of Macedonia and Greece named Idomeni, which migrants had to once again evacuate after they'd already been forced to call it home, leaving behind belongings that were then carted off to landfills in truckloads. Some, though, wound up in Weiwei's hands, and with the help of his staff in Berlin, the artist converted his studio there into a makeshift laundromat, washing and cataloging each item so he could display them at Deitch's gallery in the boutique-heavy neighborhood, making for one of the most heartbreaking clothing displays to ever grace Soho.