What Makes Raf Run?
With the fashion world fixated on Raf Simons's next move, the man of the moment tells Alice Rawsthorn about his aesthetic obsessions.
---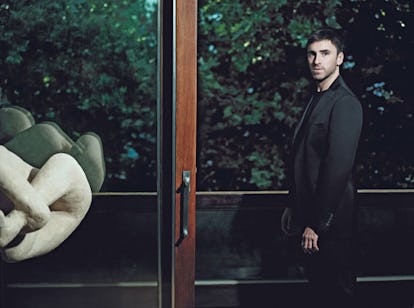 Photography by Willy Vanderperre Styled by Olivier Rizzo
When W invited Raf Simons to work with someone who intrigued him but wasn't one of his usual collaborators, the designer knew exactly whom to choose: the post-punk British dancer and choreographer Michael Clark. "He's genius, just genius," Simons, 44, says. "Michael brings together so many things that are important to me: style, club culture, youth, anarchy. So we shot Michael and his dancers wearing my clothes for different Jil Sander collections over the years."
Simons's obsession with Clark and a kaleidoscope of ­other performers, artists, musicians, and designers has inspired his work as creative director of Jil Sander in Milan for the past seven years as well as the eponymous men's-wear label he runs from his native Belgium. Many of these fixations are visible in his Antwerp duplex. A favorite album—the xx's trippy 2009 debut—is on repeat, and a cluster of Sterling Ruby's ceramic sculptures stands beside mid-20th-century furniture by George Nakashima and Isamu Noguchi, French pottery by Pol Chambost and Georges Jouve, and flags by the artist Mike Kelley.
The apartment, which Simons snapped up just minutes after walking through the door with the real estate agent seven years ago, is a period piece. He had been searching for a sixties-­era space for months, and he made an offer before even bothering to look at the other floor. Consciously or not, he had chosen a home that was the height of interior chic at the exact time he was growing up 50 miles away, in the village of Neerpelt. "There was nothing like this there," he says. "Our home was nice but full of very ordinary furniture. The only culture in our village was a record store; whenever I had any money, I went there."
With music as his initial spark, ­Simons soon steeped himself in film and art before developing a passion for design and architecture while studying industrial design in the ­Belgian city of Genk. (Fashion came later, after he moved to Antwerp in the early nineties.) We asked the designer to tell us about some of the people and things that have most influenced him over the years.