What the Album of the Year Grammy Race Means in a Year When the Album Was Everything
Lemonade faces off against 25 in the most important category for 2016. But are the Grammys a relevant metric of, well, anything?
---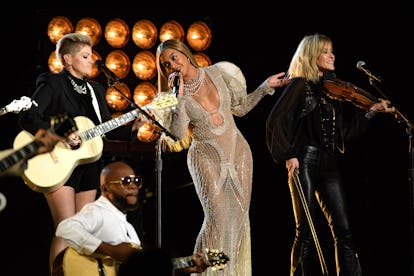 ABC via Getty Images
Last week, vinyl music sales overtook digital downloads in the United Kingdom for the first time — by some £300,000. (For reference, The Guardian reports that this time last year, digital sales exceeded vinyl by £4.4 million to £1.2 million.) And while this statistic might say more about the state of digital sales in a landscape overwhelmingly dominated by streaming services like Apple Music, Spotify, and Tidal, it might also highlight a modest resurgence in the album-as-artifact, a renewed appreciation for both the physical object and the artist's stage-setting. It's tough to put a track on repeat on a record player. This year's best releases, both by popular and critical standards, were those that offered a cohesive, album-length vision: Beyoncé's Lemonade, Solange's A Seat at the Table, Frank Ocean's back-to-back releases Endless and Blonde, Bon Iver's long-anticipated 22, A Million, Kanye West's The Life of Pablo, Chance the Rapper's Coloring Book mixtape, Radiohead's A Moon-Shaped Pool, James Blake's The Colour in Anything, even Justin Bieber's Purpose.
It's a trend that lends some logic to the year's Grammy nominations across the various album categories. For Album of the Year, Purpose and Lemonade face off against Adele's 25, an album that crushed records for both physical copies sold and digital downloads in a year when music sales have floundered, as well as Drake's Views and dark horse Sturgill Simpson's A Sailor's Guide to Earth, a country album constructed as a letter from a father to son. Elsewhere, David Bowie's Blackstar (Best Alternative Music Album) and PJ Harvey's The Hope Six Demolition Project (ditto) earned nods and both demand a listen in their entirety. Bowie offers a meditation on mortality in his final album and Harvey's polarizing Hope Six is her most overtly political to date. Meanwhile, Kanye West famously continued to tinker with Pablo (Best Rap Album) long after its release, making it part album, part philosophical reflection on the nature of a finished record. Very meta, very Kanye. The third Chance the Rapper album, Coloring Book, which was nominated for Rap Album of the Year and released for free like his previous efforts Acid Rap and 10 Day, proved an exception to the recording academy's tendency to reward commercially successful albums. What's commercial success when a record is available to everyone?
Still, the Grammys skipped over a few significant releases: Solange's A Seat at the Table was snubbed for any album awards, though single "Cranes in the Sky" earned a nomination. Frank Ocean took home the Best Urban Contemporary Album Grammy for Channel Orange and was then nominated for Album of the Year back in 2013, but this year he declined to submit Endless or Blonde for review. And the Grammys are by no means taste-making awards — artists don't make Grammy-bait records the way directors make Oscar-bait films — but, by offering a recognizable survey of some of the year's biggest releases, and even with a few notable exclusions, the awards can't help but underline a trend that's prevailed throughout 2016.
Selena Gomez's Revival, released in the tail end of 2015, also failed to make the cut. The Grammy nominations process is notoriously murky, its categories problematic ("Best Urban Contemporary Album"?) — "I think the infrastructure of the awarding system and the nomination system and screening system is dated," Ocean told the New York Times — but Gomez's snub might also result from an album that, as Fusion put it, "is a fourteen-song collection, built entirely out of singles." And while the Grammys nominate more individual songs than albums, few of those singles come from albums that weren't themselves nominated. A nominated record does not always produce nominated singles — Bon Iver's 22, A Million was only nominated for a production award and Alternative Album of the Year — but the inverse is, at least anecdotally, infrequent. (An exception being the aforementioned "Cranes in the Sky," of course.)
Conversely, each aforementioned record contained a few standout tracks, but the sum of Lemonade is so much greater than "Daddy Lessons," 22, A Million so much greater than "715 CR∑∑KS." This year was also the year of the visual album, a format that wouldn't work without a coherent musical throughline. Lemonade debuted on Tidal as an hour-long film featuring a Gucci, Givenchy, and Hood By Air-clad Beyoncé against a southern gothic backdrop. Parris Goebel's choreography threaded together the moody atmosphere of Justin Bieber's comeback album Purpose. Vince Staples released an extended The Shining-inspired video to accompany his Prima Donna EP. Music videos were once made with budgets in the millions, but as money has drained from the music industry, artists are forced to do more with less, resulting in more unified projects. Musicians, too, are contending with broader, more complicated cultural and political themes (look no further than Lemonade or Prima Donna for evidence) that can't be expressed in three minutes of air time.
The Grammys won't be a referendum on what worked in 2016 — they're too capricious, too obtuse for that. But they do provide a cross-section of what we listened to in 2016, and how. The Album of the Year category pulls from across the musical spectrum, this year bringing together five records with little in common except their clear artistic perspective. In a year without a song of the summer, maybe a more important metric would be album of the summer — or album of the year. It just might not be the one the Grammys have in mind.
See W's most popular videos: