What W Editors Are Cooking, Baking, and Eating to Stay Sane
Mom's matzo ball soup recipe, Pepperidge Farm cookies, and garlic-anchovy dip.
---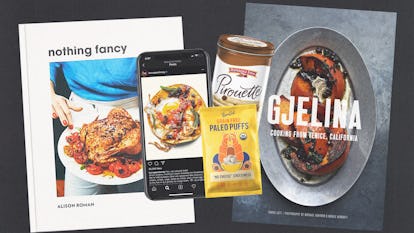 Welcome to How W Editors Are Staying Sane, a weekly column featuring a selection of items, practices, and sources of entertainment that are keeping all of us here at W magazine afloat during these strange, if dire, days. Some of the things listed here are newfound interests—others, we've just plain loved forever, and have been seeking solace in their comforts of late. Each week, we'll bring you a new theme based on what's bringing us as much balance as we can muster.
Sara Moonves, Editor in Chief
Although I must admit my boyfriend is doing most of the cooking, there has been something therapeutic about eating each meal at home. Every dinner has been a bit of an adventure. We had a disaster of a couscous night—but made up for it with homemade Kung Pao chicken. With all the mass emails urging us to drink hot liquids, we have also been making a lot of soups. Among them, butternut squash, (a great vegetable soup) and we hope to master my mom's matzo ball soup recipe this week. We're going to tackle a few recipes from the Gjelina cookbook, as well: roasted yams with honey, roasted chicken and grilled broccolini. For my friends reading this, (they will not believe it,) but I hope when quarantine ends, my dinner parties, at least, will be a huge success.
Brooke Marine, Associate Digital Editor
What has kept me sane (so far) is working my way through Alison Roman's recipes. And when I say working my way through, what I mean is eating my way through, because my roommate is the one who's doing most of the cooking while I've had early seasons of Curb Your Enthusiasm playing on the TV in the background (somehow it is oddly soothing to see Larry David's neuroses express themselves ad nauseam). So far, we've tried the "Overnight Focaccia, Tonight" from Nothing Fancy and her caramelized shallot pasta recipe (actually, I made that one) from the New York Times. I'm looking forward—see, there is something to look forward to!—to trying out the salted chocolate chunk shortbread cookies at some point, whenever that may be.
Allia Alliata di Montereale, Special Projects Editor
Typically, baking is too time-consuming for my daily routine, but now it has become an exciting distraction from work and the constant churn of news. Baked goods, I'm finding, are great to share with your parents, partners, roommates, or if you're living alone—it's the ultimate treat. This week, I made a simple gluten-free banana bread to satisfy my sweet tooth. And each week, I intend on trying a new recipe.
Tilden Bissell, Digital Designer
Cooking dinner for my parents every night is a big part of my routine. I've made baked blueberry oatmeal, beet tostadas, squash au vin, pho from beef bones in our freezer and fresh focaccia—the goal is to stay creative with what's readily available while making sure nothing is going to waste. If you're a Brooklynite and looking for ways to stay up to date on the food industry, give @thisneedshotsauce a follow—she has tons of tips on where to donate and other little ways to help your community.
Laura Jackson, Associate Market Editor
I've been watching Barefoot Contessa all day, every day. If you have Apple TV, download the Food Network app, where all of Ina Garten's old episodes are housed. I strongly believe everyone needs a little Jeffrey in their lives.
I'm a grain-free/dairy-free chip connoisseur. My favorites are Siete Tortilla Chips and Lesser Evil "No Cheese, Cheesiness" Paleo Puffs. My family thinks they both taste like cardboard—which is fine, because that means more for me. I have also been making this vegan pesto for a while now, and it's the ideal addition to any toast, pasta—or on its own as a dip, perfect for all the chips my family is skipping and, therefore, giving to me.
One of my next quarantine activities will be making sugar cookies using my grandmother's recipe. As a child, I would make them with her every Christmas, so they always bring back memories.
Diego Hadis, Copy Director
Lately, with all this time we've been spending cooped up at home, I've been craving the simple pleasures of a good slice of toast loaded with something salty and something sweet. Toward the end of our first week of working from home (I think that was two weeks ago? The days are starting to blur), we placed a few orders with some favorite suppliers.
Big Spoon Roasters, out of North Carolina, makes a toasted coconut almond butter with sea salt that my wife and I discovered the last time we were at Bi-Rite Market, while visiting San Francisco over the holidays. We stocked up on Big Spoon's excellent lemon cashew butter and the more subtle, but also quite tasty, Fiji ginger almond butter with sea salt.
Of course, we needed something to pair these nut butters with. And when we heard that Sqirl, Jessica Koslow's excellent breakfast-all-day spot in Los Angeles, was dealing with the same uncertainty that a lot of restaurants are these days, we wanted to support it. So we mail ordered Sqirl's delicious jams: seascape strawberry with rose geranium is a go-to for us, and we also went for jars of rhubarb kumquat and blood orange and hibiscus marmalade.
Other food-related things that have been keeping me happy in these uncertain times: the New York restaurant Dimes' brand-new cookbook, Dimes Times: Emotional Eating (the green smoothie is a perfect way to start the day), and the New Mexico–based chef and farmer Marjory Sweet's Farm Lunch, which offers not simply recipes but a whole approach to cooking daily (we're going to make her pizza monk's salsa verde as soon as we can get our hands on some cilantro and parsley).
Jenny Oliver, Social Media Manager
Growing up, I would always beg my mom to buy Pepperidge Farm's Pirouette cookies. While stocking up on some pasta, frozen dishes and strawberries (only the necessities), I saw a can of the chocolate hazelnut treat. I immediately added them to my (sanitized) basket—to satisfy my inner kid.
Lizzy Wholley, Accessories Editor
I've been making an easy Italian dip called bagna cauda, which translates to "hot dip." I usually share this snack with close friends but since I can't be with them now, I am whipping it up just for myself. (More for me, I guess?) The recipe consists of three ingredients: an entire head of garlic, olive oil, and a tin of anchovies. I love it because it is fantastically easy to make and I burn through raw veggies if I have too many hanging around in my fridge. You can dip anything in bagna cauda—I highly recommend having it with bok choy, broccoli, or bread.