What to Do This Weekend: a Guide to Entertainment During Quarantine
We are now confined to methods of entertainment inside the home. Here are some ways you can spend your weekend staying safe.
---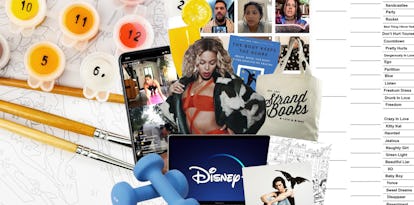 Art by Tilden Bissell.
The first official weekend of widespread quarantine, social distancing and shelter-in-place measures in the United States is upon us. Back when things were normal, you might have been planning on going to a concert, meeting with friends and family at a bar or restaurant, watching a movie at the theater, checking out a museum's new exhibition (I'll stop before this gets too depressing), or at the very least, electing, on your own free will, to hang out at home. In any case, we are now restricted to house-bound entertainment—or the kind that allows us to stand six feet away from others. Some of you might be wondering: what in god's name am I supposed to do now? Here are some ways you can spend your weekend occupied, while staying safe.
Video Brunch or Happy Hour with Friends
In these strange times, human interaction is essential to relieving the stress brought on by the pandemic and the 24-hour news cycle that comes along with it. Social distancing doesn't necessarily mean being alone. Since it's difficult to link up with friends and family in person, schedule a brunch or happy hour on a video-based chat service like Zoom, Skype, Houseparty or FaceTime. Cook a meal and sit down with your kin virtually—or have a drink with your coworkers remotely. Set a date and time, and make a calendar invite for all attendees, so it's scheduled, and something to look forward to.
Catch Up on New Music
Although many musicians are postponing upcoming album drops indefinitely, a handful of artists are forging on with their initial plans. Donald Glover as Childish Gambino released a stellar, surprise album called "Donald Glover Presents" (and there are rumors he'll put out another project on Sunday). The songs are only available on the website above, and listeners don't have control over the tracklist. Dua Lipa's remix to "Physical" came out on Wednesday—the new version now features K-pop band Mamamoo's Hwa Sa. And Conan Gray, the pop star most people under 25 years old might not know, debuted his first EP, "Kid Krow," earlier this week.
A creative outlet will do wonders to clear your mind. If you desire putting ink to paper, but don't want to think too deeply about it, buy a Paint by Numbers board—right now, the company is offering free-of-charge canvases, so all you pay for is shipping.
"Go to" the "Theater"
The 24 Hour Plays launched an Instagram account on Tuesday night, offering a digital platform for the likes of Rachel Dratch, David Cross, and Patrick Wilson—all of whom performed monologues penned by other famous writers. In lieu of actually going to the theater to see a stand-up comedian, or a play, get lost in the stories shown on these short videos.
Fill Out the Beyoncé Best Song Bracket
Before the apocalypse hits, state your position: what's the best Beyoncé song of all time? Complete this bracket (with friends, on Zoom!) and see who's a "Love on Top" purist, or a norm-circumventing "Schoolin' Life" fan.
Go Live on Instagram
You may have noticed a marked uptick in Instagram notifications letting you know someone is going Live. Celebrities who might not usually share their private lives on IG are now either so bored, or pushed to the brink of sanity, that they've resorted to connecting with fans and friends on the app. Miley Cyrus, John Legend (who gave a piano-accompanied concert with Chrissy Teigen), and poor, poor Vanessa Hudgens (dragged for her comments on the coronavirus threat lasting until July being "a bunch of bullshit") have all made appearances on Live. Feel free to participate—just don't be like Jonathan Cheban and take a "should I go Live later?" poll beforehand.
Sign Up for a Disney Plus Account to Recall Simpler Times
Remember the '90s? Neither do I; all I can think about is getting up, working from home, cooking, and going to sleep. But to jog my memory, I'm copping a Disney Plus account, so I can stream the cartoon films from my childhood. (Let's be real—in this shaky economic climate, I'm going for the free 30-day trial, and we'll see what happens from there). Toy Story, The Lion King, Beauty and the Beast; as most people are saying online these days, take me back.
Buy Books From Indie Bookstores
From Tattered Cover in Denver, Colorado to The Raven Bookstore in Lawrence, Kansas, and The Strand in New York City—local and indie bookstores hit hard by the downturn in sales are finding alternate ways to make sales, and give people much-needed reading material. Most are slashing prices on deliveries, but others are offering curbside pick-up, to ensure that their customers receive books safely. So this weekend, instead of buying off Amazon, research what's available from your neighborhood bookshop.
Try These Home Workouts
If your thoughts start to get a little too overwhelming, and things start to spiral, combat that anxiety by moving your body around. Here are some of our favorite in-home workouts, from the relaxing and quiet if you've got thin floors and neighbors downstairs, to a full-blown cardio session.
If All Else Fails…
Here are our guides on what to stream, YouTube video favorites from Virgil Abloh and friends, and the movies Tilda Swinton's watching now.