Read & Resist: W's Daily Briefing for June 29
From rethinking the narratives associated with our nation's monuments to the latest Supreme Court ruling, here are the stories not to miss.
---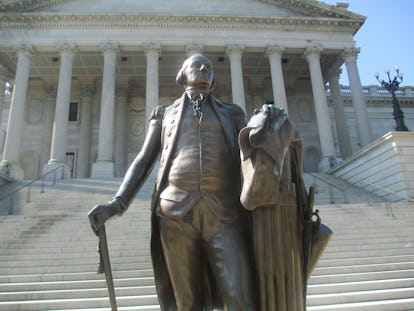 By Billy Hathorn – South Carolina State Capitol (1907), copyright expired, CC BY 3.0, https://commons.wikimedia.org/w/index.php?curid=20535217
Back in the day, W started off the morning with a quick round-up of links to that day's fashion- and culture-related news. Times have changed; in the weeks since a now former white police officer named Derek Chauvin killed an unarmed Black man named George Floyd, protests have erupted across the country. Now, more than ever, it's important to stay up to date, which is why we're reviving "Chic in Review" as the slightly more radical "Read & Resist." Here are the stories, videos, and tweets we're hoping you don't miss this Monday:
Charles M. Blow takes what he considers to be an absolutist approach when it comes to assessing American slavery. "Enslavers were amoral monsters," he writes, before explaining why anyone who owned human life—whether they were Confederate generals or American presidents—should not be honored with monuments.
It turns out that Cards Against Humanity might just be a game drenched in ironic humor that ultimately disguised the toxicity of its creators and intent behind it, according to this report from Polygon. Former staff writer Nicolas Carter wrote about his experience with the Cards Against Humanity team in his own words, alleging that after he spoke out against a proposal to include "the N-word" as one of the cards in the game, his colleagues had him committed in a mental ward against his will, then fired him when he returned to work.
Had the Louisiana abortion restriction law gone into effect, only one doctor in the state of Louisiana would have been able to perform abortions (there are only three remaining abortion clinics in the state). Instead, Chief Justice John Roberts has sided with liberal Supreme Court Justices for the second time in two weeks (last week, he agreed that they should stop Donald Trump from ending DACA), and blocked this highly restrictive law.
Erin L. Thompson traces how a small sculpture from Benin (which is now Nigeria) ended up on the auction block at Christie's Paris. The answer? It was likely stolen, like thousands of other artifacts on display in museums and galleries across Europe.
Over 180 companies—including Coca Cola, Starbucks, The North Face, and Levi's—are boycotting Facebook and Instagram, as part of the #StopHateForProfit hashtag, which aims to pressure CEO Mark Zuckerberg to handle the spread of false information and hate speech on his platforms.
Newsreel
Food for Thought
Related: 21 Queer BIPOC Photographers Illustrate What "Pride" Really Means